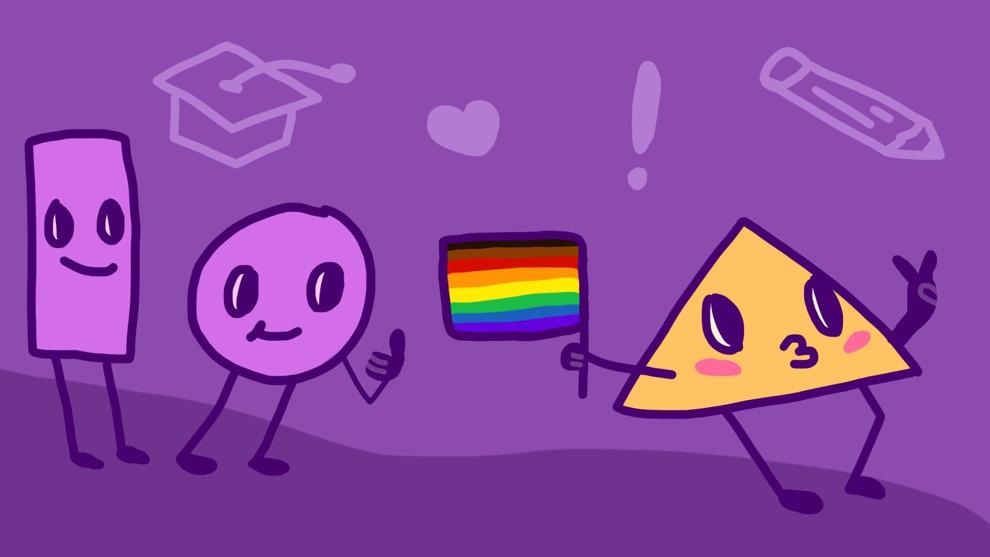 In the sixth grade, the summer before I came out, I returned to the classroom from recess to a note left on my desk. A group of boys stood at the door, staring at me, laughing — the piece of paper said the word "f----t" on it in bold black letters across the page.
The first day of freshman year of high school, we were asked as a class to come to the gym. As everyone began filing into the bleachers, I sat with a friend of mine as a cluster of boys gathered a few rows behind us. Their stares and laughs mimicked the sixth-grade trauma, but my friend tried to assure me that their laughs weren't about me. Buzzes on my phone interrupted his affirmations as I looked down to my home screen to see a flood of comments on my pictures saying "f-g." The laughs ensued.
Today is Spirit Day, an annual campaign that aims to take a stand against bullying of LGBTQIA+ youth. GLSEN's 2019 National School Climate Survey found that 81% of LGBTQ students reported being verbally harassed and that two-thirds of LGBTQ students reported hearing homophobic remarks from teachers and/or school staff because of their gender expression.
"I faced bullying in the form of derogatory terms and hate speech while I was in high school," Danny Lennon, a mixed-race queer sophomore and aspiring nursing major, said in an email. "Names and words would be thrown at me regularly that I would not react to, and when I look back, I wish I had the power to stand up to those who belittled me."
Lennon grew up in a small town and modeled his career path after his early experiences with bullying. He exemplifies the resiliency of BIPoC queer folks who have turned their traumas into inspiration. 
"I want to be someone that steps into the medical field with no biases against anyone, including those who are a part of the LGBTQ community," Lennon said. "Any way that I can make a difference in someone's life, for the better, brings me happiness. I want to bring that energy to the youth of our community."
When you're at the critical and fragile time of developing your queer identity, it's hard to stand up for yourself. We become conditioned to feel unworthy and accept the worst from people around us.
"Everyone had an assumption or branded me as gay before I was even sure or comfortable of who I was, so that made it more stressful to realize if that was truly who I was or if I was just adjusting to what people thought I was," George Conzuelo, a Latinx queer sophomore studying political science, said in an email. "The anxiety of me being gay at home wasn't helpful either, having my parents state that I couldn't know who I was at such a young age and that I must've been manipulated or basically groomed by someone else."
When I was called slurs, or when I was inherently bullied by racism within the queer community as a non-white body, it ingrained into me that all that I am as a queer, Indigenous, and Filipinx person was invalid. This began an ongoing battle of accepting abuse, trauma, neglect, and distrust from men, my educational spaces, my friends, and even myself.
"How many of us have been verbally abused, or beaten, or even killed because we just wanted to live our lives in peace? I know it's difficult to find or ask for help," Conzuelo said. "As minorities in the systems we live in, it's harsh and we must be there to support one another."
Bullying is more than just the slur said aloud by the boy in the hall, the punch to the gut for your femininity, the microaggressive reprimand from your cisgender heterosexual white teacher; it's about what happens after. It's the seed planted in our queer youth that their identity makes them deserving of violence and hate. It's the dysphoria of wanting to love your core being but also knowing that it is a reason why people don't want you to live. 
To be BIPoC in this country is to be set back by the color of our skin, especially for our Black and Indigenous community members. Combatting bullying is key to ensuring this next generation of queer BIPoC folks have their best chance at liberation, and living at all. 
It's imperative we model the initiatives of Spirit Day beyond the one day of the year, actively creating spaces to amplify and uplift the community.
If only I could go back in time to that sixth-grade classroom back in my small hometown, take that piece of paper out of my younger self's hand, and say: To be of color, and to be queer, is to be excellent. 
Reach Opinion Editor Andre Lawes Menchavez at opinion@dailyuw.com. Twitter: @itsjustdrey
Like what you're reading? Support high-quality student journalism by donating here.