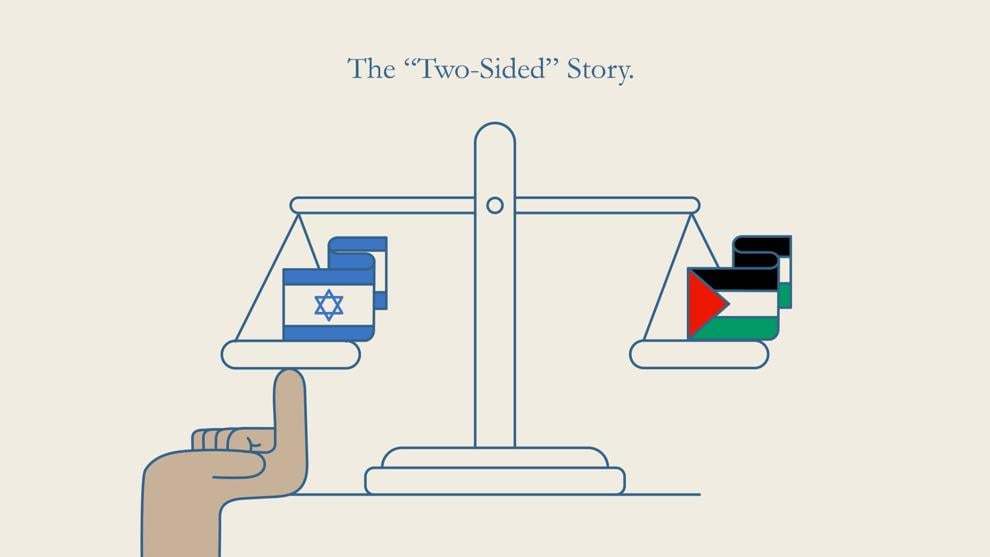 With the recent events involving Israel and Palestine, the media has turned its attention to the Middle East. The New York Times said, "Conflict spirals across Israel and the Palestinian territories." The Washington Post declared, "Israel-Hamas conflict hurtles into its second week as cease-fire talks struggle." CNN went as far as to say, "The latest violence between Israel and Palestinians will end when both sides can declare victory. But it will be no more than a truce."
Institutions like the UW have reinforced this two-side narrative, specifically by protecting ties with Israel by claiming "academic freedom," most publicly done by the UW in a 2014 statement. But presenting this situation as a "conflict" or a "two-sided" story goes beyond naive and becomes grotesque. 
The difference between forces is undeniably disproportional. 
On one hand are the Palestinian people, who lost their land to British imperialism and resisted for 73 years with little or no advanced technology. They used obsolete rockets and homemade weapons to fight back against the military attacks, oppression, and segregation to which a declared Zionist state subjected them. On the other hand is a state and technological power with a straightforward program of ethnic cleansing, supported by the leading imperialist powers, especially the United States. 
But as usual, the latest developments of Nakba (the Arabic terms for the mass dispossession and expulsion of Palestinians from Palestine in 1948) were portrayed by the imperialist media as a culturally based religious dispute. Filtered with imperialist lenses, news anchors and columnists make a collage of facts that fit the "conflict" narrative — showing the advanced technological apparatus of the Zionists knocking down the missiles fired by the Palestinian resistance organizations. 
"There are a lot of reasons for why this is happening, and it is very clear: One is because America did not want to come to terms with its own settler-colonial history," a member of Students United for Palestinian Equal Rights UW (SUPER UW), who requested anonymity, said. "They will paint similar settler colonial projects in the same way, by white-washing them. News outlets and media institutions are all essentially a part of the state apparatus and within this neoliberal bubble that works directly with the state, and the state's projects of imperialism, which the 'western' profits directly from." 
This collage of facts fails to mention that since 1948, Israel colonized Palestine and expelled more than 750,000 Palestinians from their land and murdered thousands of people (including more than 2,000children). The Israel Defense Forces (IDF) is one of the most prepared armies in the world, with billions of dollars of funding from the United States annually. This all coincides with an ethnic cleansing program which demolishes houses, deliberately murders innocent Palestinians, and impedes Palestinians' access to basic needs such as electricity and water. 
"When the media tries to frame it in this 'both side[s]' way, it's not only an easy stance to take, but it is also rewriting the entire narrative to frame Israel as a victim rather than the perpetrator that it is," another member of SUPER UW said. "It is framing that there is an equal stake from both Palestine and Israel when clearly there isn't. Israel is the state that is carrying out ethnic cleansing, and it has the superior military, technology, and defense system. When we look at Palestinians in Gaza, they are an imprisoned vulnerable population, and they do not have bomb shelters or defense systems." 
Moreover, much coverage has failed to explain that much of the "retaliation" from Palestine occurred because of the increasing dispossession of Palestinians from their land, which was forced by Israel during the biggest health crisis of the last century: the COVID-19 pandemic. 
During this time, beyond increasing Palestinian unsettlement, Israel denied vaccines to the Palestinian population. Our World in Data shows that while only 5.3% of Palestinians are vaccinated, Israel has 62.8% of its population vaccinated and is considering discarding thousands of AstraZeneca vaccines.
The UW has also endorsed this two-sided narrative in the past. In 2014, the UW opposed the boycott of universities and faculties in Israel. 
The UW also has various exchange programs through the Jackson School of International Studies in which students are invited to know more about Israeli history. 
"Recently Ana Mari Cauce, in an email response [to a SUPER member], talked about how UW's Israel studies program is one of the most prestigious in the country and how the university cares about academic freedom and providing diverse perspectives and viewpoints," a member of SUPER UW said. "[It was] as if viewpoints that propagate genocide are justifiable to be included in their curriculum or within an educational institution ... like, what are you teaching people?"  
Israel's oppression of Palestine reveals its colonialist and imperialist practices, which do not deserve any kind of support from nations or institutions that have a minimal commitment to democracy. The mainstream media, fueled by the liberal ideologies from imperialist countries, practices a specific type of reality denial. 
"Continue to educate yourself on both of what is going on and the complicity of the institutions you are in, and educate your friends too," a member of SUPER UW said. "If you see people you know talking about stuff and you know it is not right or that they are not framing this in a liberatory lens, make sure to talk with them about it. We need to start having these difficult conversations with people around us, because in comparison to what Palestinians are going through right now — having the threat of their community being erased — this is really the minimum."  
Everybody has to denounce what is happening in Palestine. There is no conflict or fight; it is colonialism and ethnic cleansing in its most visceral form. 
Reach writer Victor Simoes at opinion@dailyuw.com. Twitter: @victorhaysser 
Like what you're reading? Support high-quality student journalism by donating here.