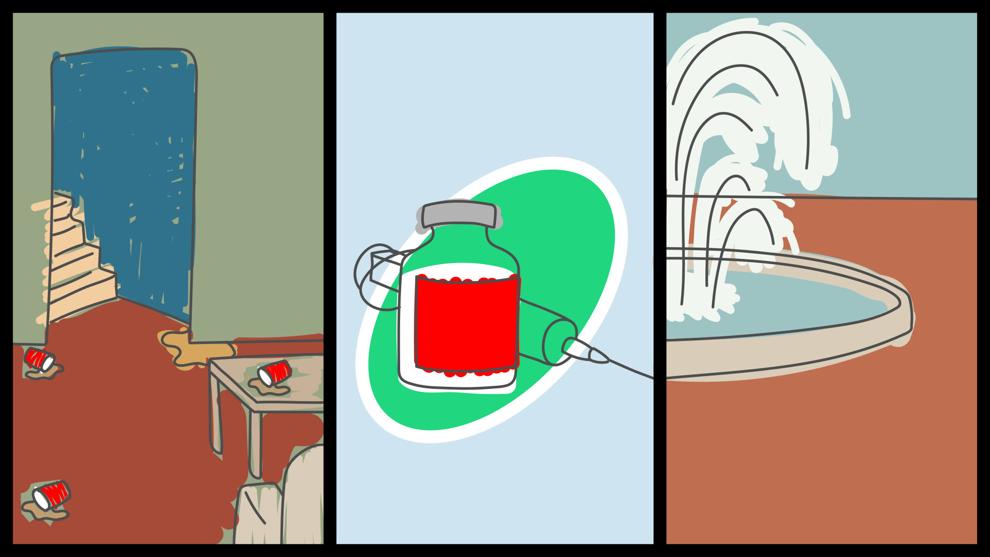 Entering the new year, I hoped as much as everyone else that all our problems would go away at the stroke of midnight –– but I was sorely mistaken. COVID-19 is sadly still here, and I can't go out with the girls and party. However, there is still hope, with the current distribution of a vaccine that could return us to "normalcy" and allow us to finally be the social creatures we were born to be.
But even before the pandemic, we've heard of anti-vaxxers and their rhetoric. Unsurprisingly, they've resurfaced again in regard to this COVID-19 vaccine, often supported with baseless claims that create fear about what is in the vaccine itself.    
But as students, should we worry about what's in the vaccine? 
Let's look at some of the things around the UW — and what many of us have done before the pandemic — and answer that question ourselves. 
From frat parties to questionable food offerings all the way to student traditions, campus life can offer some shocking, if not hilarious, revelations to most students about what they were doing before COVID-19 — and what that they might think twice about partaking in again in the future. 
I consider myself quite the party girl when it comes to what I do on campus, and I've had it pretty rough with the party scene halted for the time being. But even before the pandemic, in hindsight, I still had it pretty rough. I was partaking in a campus culture that, after over nine months of quarantine, I'm realizing was quite disgusting. 
Being crammed shoulder-to-shoulder in packed 300-square-foot apartments that took 20 minutes to get from one side to the other, or using a frat house bathroom that looked like it hadn't been cleaned since the university opened in 1861 — if I've voluntarily participated in that, I truly should not be worrying about what is in this vaccine.
Parties aren't the only tradition as old as the university. The Drumheller Fountain, known as "Frosh Pond" to generations of students, has always been a beacon for student pranks and activities. Often a part of many students' bucket lists before graduating from the UW, swimming in Drumheller Fountain is a semi-normal occurrence. 
Especially at its age and considering the amount of animals that wash themselves in it every now and then, it makes me wonder how safe it ever truly was to go for a swim. 
Even though students acknowledge it may not be the most sanitary, some still believe doing it was a great way to celebrate the end of a long year.
"So I was like, let's just end freshman year by jumping into the fountain," junior Roshani Ravi said. "I definitely see the humor in how this activity made whatever's in the vaccine look like nothing. Especially with the history of how many people and things have used that fountain before."
Many students will remember the many eateries beside our campus on the Ave — and some will remember it being a heavily rat-infested area.
"There was a restaurant on the Ave … I had seen that someone posted a picture on Reddit of a rat sitting on one of the seats in the restaurant when it was closed," junior Alex Larson said. "And so, you know, just things like that happening on the Ave really make you worry a little bit less about taking a vaccine."
After looking back at the many different ways the university has made us aware of our own disgusting habits before the pandemic, I'm certain I don't need to be worried about what's in the vaccine.
I ask you to reflect on some of your own campus experiences to come to a conclusion for yourself, and I hope they don't involve rats — but I wouldn't be surprised if they do.
Reach writer Liam Blakey at opinion@dailyuw.com. Twitter: @LiamBlakey2
Like what you're reading? Support high-quality student journalism by donating here.