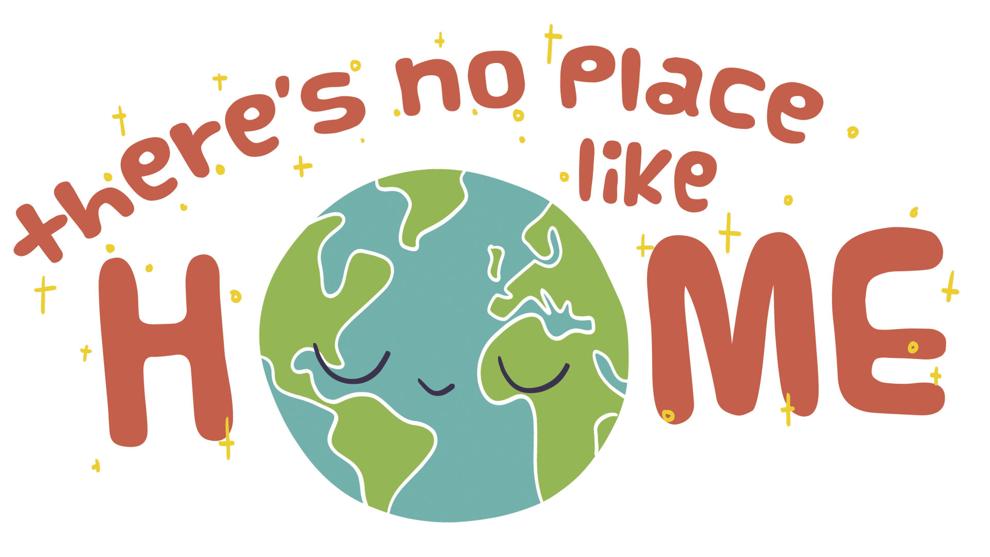 Editor's Note: It is an undeniable truth that the spiraling thoughts about the current environmental crisis entangling our planet have become an unwelcome bedfellow — one I would so love to get rid of. Dearest tree-huggers, climate change opposers, and unaware residents of planet Earth, this multi-series column, which broadly encompasses environmental topics, searches for a way to create a deeper understanding of this big pile of rocks and grass that we call home.
Last February, I remember gleefully walking through the Quad one day, basking in sweet sunlight and admiring rays of light that permeated my stroll through campus. The next day, I was treated yet again, but this time I donned an even more radiant persona. I was walking in a seemingly perfect Quad filled with joyous students sprawled out across the grass lawn. 
I admit at first the sunshine felt deserved. As a native Californian who had just made it through her first Seattle winter, the week of warmth reignited the dimming fire within me. But of course, no gift this grand could be without consequence.
Articles began flooding my feed chronicling the year's record-breaking heat in Seattle. As I absorbed the intensifying evidence of planetary destruction, my smile escaped me. It was replaced with environmental anxiety about the irreversible plague of climate change and the possibility for severe ramifications for life on Earth. 
In 2018, the Intergovernmental Panel on Climate Change (IPCC) released its official report on the impacts of the earth warming just 1.5 degrees "in the context of strengthening the global response to the threat of climate change, sustainable development, and efforts to eradicate poverty."
It is important to understand that the 1.5 degrees Celsius difference relates to the average global temperature and does not apply to any single area. Therefore, certain regions around the world will exhibit temperature differences much higher and could even become dangerously hot, while others may experience little or no change.
It is certainly hard to conceive that a number so minute could have such a significant grasp on the fragile ecosystems of our planet. Even scarier, this number is merely meant to be a safe estimate that assumes substantial efforts will be taken to slow down the climate crisis. When that 1.5 is exceeded, rises in sea levels will submerge parts of continents, coral reefs will decline by about 99%, and individuals will silently aggregate to rethink their lack of action in the face of blatant facts.
With an introduction to a column about the environment like this one, I acknowledge the often depressing tone of environmental journalism, attributed with fear-inducing language that creates tension from big data. In the current state of this planet, however, the expanding business of environmental reporting is even more crucial than ever before and must be consumed with great commitment. 
News organizations have taken steps to emphasize reporting on climate change. "The New York Times established a desk dedicated to climate change in 2017, with editors and reporters in Washington and New York who collaborate with bureaus around the world," as stated in an article written by Marc Tracy. In May 2019, The Guardian elected to replace the term "climate change" with "climate crisis" or similar terms of harsher verbiage. 
As news agencies expand upon their current presence in environmental coverage, journalists now struggle to simultaneously convey the facts about climate change, like the aforementioned power of 1.5 degrees, while also engaging audiences in a way that does not induce acute, paralyzing dread about acting on environmental crises.
In a phone call with Bobby Magill, the president of the Society of Environmental Journalists, he discussed the transforming nature of environmental news coverage. 
"We [environmental journalists] were talking about clean air and clean water and public lands management issues and endangered species and that sort of thing, and we're writing about all those things now, but it's in the context of climate change," Magill said.
How journalists are narrating environmental news is still changing, and journalists bear the weight delivering this sometimes arduous content in a manner that does not communicate hopelessness, but rather instills productive understanding. 
"Environmental journalism encompasses the biggest stories of our time," Magill said. "There is nothing more fundamental to our future than the impacts of climate change."
Breathing in climate change can be suffocating; but when the circumstances are this fatal, the best weapon to combat this war is by having environmental literacy. 
Reach columnist Suhani Dalal at opinion@dailyuw.com. Twitter: @DalalSuhani
Like what you're reading? Support high-quality student journalism by donating here.