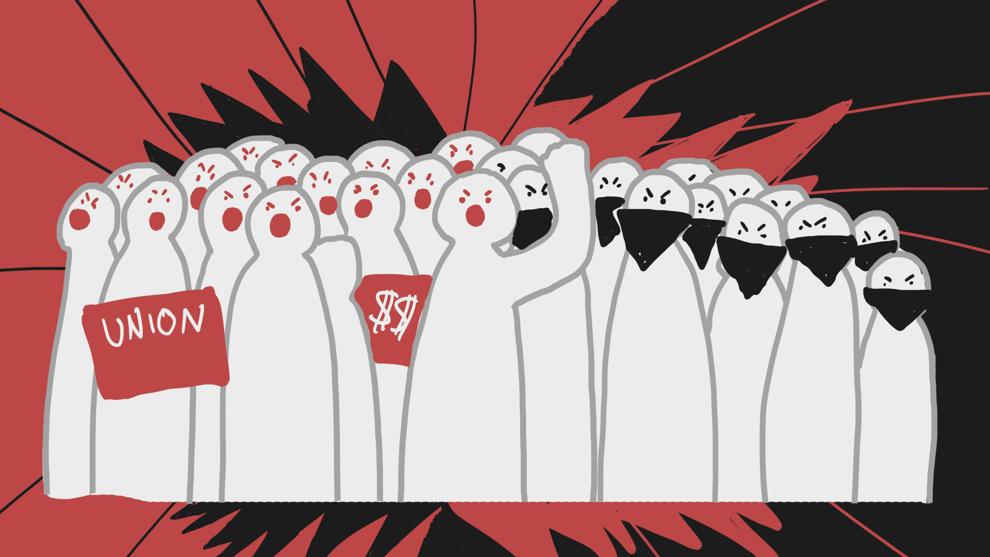 When I think of May Day, I just remember seeing news channels covering live street protests on the first day of May and questioning why people were breaking storefront glass displays. Now, I catch myself joining the class of people dismissing it as another day where people somehow find a way to make Seattle traffic even worse. So, what is May Day, and why do people light shit on fire and break windows for it?
Oddly enough, the origins of May Day lie in a spring festival celebration with dancing and fun. But after a labor demonstration in Chicago in the late 1880s turned violent, socialists and union supporters of the Second International adopted May 1 as International Workers' Day to commemorate the event. From then on, May Day became more and more associated with the protests, marches, and occasional riots in the name of labor rights because it shared the day with International Workers' Day.
In Seattle specifically, International Workers' Day takes form through the annual May Day March for Worker and Immigrant Rights. 2019 marks the 20th year of this event, which is organized by multiple labor organizations, as well as El Comité Pro-Reforma Migratoria Y Justicia Social, an immigrant rights organization. El Comité describes itself as a "grassroots organization in Seattle to draw attention to the plight of immigrant workers in Western Washington," which explains their commitment to the early march through Seattle. While the morning marches are usually peaceful and have enough participants to shut down a few streets each year, sometimes the day doesn't go as planned.
In the past few years in Seattle, some protests and marches have given way to less peaceful demonstrations. The Seattle Police Department (SPD) posted a timeline of the May Day events in 2015. Some protesters were carrying wrenches, bottles of paint, slingshots, wooden poles with metal bolts inserted, and, in one case, a foot-long machete. SPD spent the day arresting people for smashing windows, throwing rocks, starting fires, launching explosives, damaging cars with bricks, and even vandalizing a school. But sometimes it's not all bad. In 2017, a video taken by the Seattle Times shows protesters (both Trump supporters and Trump protesters) sharing a "peace joint" to demonstrate May Day camaraderie.
I'm not advocating for abandoning a reform platform in exchange for smoking with people protesting your position, but vandalizing a school? Is that really necessary?
Most of the organizations that plan and coordinate the peaceful marches to demonstrate a need for better workers' rights or to draw attention to immigrant rights just want better treatment for laborers and better rights for immigrants. People who turn a day of nonviolent activism into a promotion of hostility through property damage and threats of physical violence are doing nothing but giving the entire movement a bad name. And they are decreasing the ability of nonviolent groups to demonstrate next year due to increased restrictions and permit requirements.
Starting a revolution through property damage might have worked when it was 1773 and the Boston Tea Party happened, but it's 2019 and Seattle is a developed, urban city with somewhat proper infrastructure. Protests and marches symbolize a movement; they express power, exude passion, and show commitment. People see others taking a day to walk through winding Seattle streets to support something they care about, and people recognize that it's an important issue.
The signaling that takes place through that exchange becomes tainted, if not destroyed, when news channels aren't showing speeches from immigrants and labor unions, but are instead covering the arrests of people trying to punch police officers and destroy grocery stores in the name of who knows what.
May Day and International Workers' Day are excellent examples of both sides of civic engagement: productive, articulate protest of an issue, and lighting shit on fire because you can. Property damage and threats of violence aren't a movement or signs of something important. They're just annoying. Maybe, just maybe, next year will bring about a completely peaceful, nonviolent demonstration with the capacity to spark real change.
Reach writer Kiran Singh at opinion@dailyuw.com. Twitter: @SinghKiran20
Like what you're reading? Support high-quality student journalism by donating here.