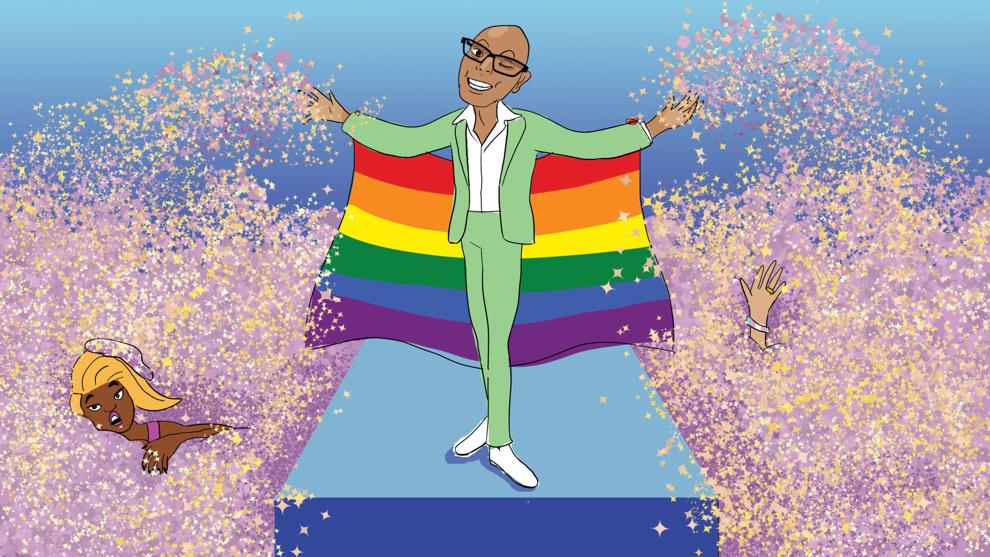 RuPaul's Drag Race (RPDR) is credited as powerful mainstream representation for the queer community, bringing drag queens to screens across the world. 
However, behind this facade lies the truth of the show's racism, transphobia, and environmentally damaging actions of RuPaul himself. 
Queens of color, especially black queens, are faced with racism from the show and its fans. For example, the producers give these queens the "villain edit."
"The notorious 'villain edit' is just one of the many reality tv stereotypes that the producers of RPDR incorporate into their story lines each season," senior Ryann Funk, a communications major, said in an email. "If you go back and look at the queens that receive villain edits from the twelve seasons of RPDR, 11 of the 12 seasons have at least one queen of color who clearly receives the villain edit for their respective season."
These portrayals of queens of color are molded by and uplift racist stereotypes that people of color are angry. 
The Vixen, a black queen given the villain edit from the 10th season of the series, was constantly provoked by her castmates. Production capitalized off of it by editing her clips to portray her as an instigator, while they pushed the victim narrative onto her white cast members. 
"I genuinely think the producers know the audience wants drama, and they most likely look at black queens and [their] behaviors and know exactly what kind of villain the audience wants," Michael Xi, also known as local Asian Seattle drag queen Kylie Mooncakes, said in an email. 
This racist treatment of queens of color extends to social media. 
"A New Yorker e-mailed me and said, 'If I ever see you on the platform and the train is coming, I will push you in front of the subway because you are a disgrace to NYC,'" Brita Filter, a polynesian queen who is this season's "villain," said on her Facebook page. 
Queens of color for years have consistently spoken out about receiving death threats for their portrayal on the show. They are the most attacked on social media, yet are the ones with the least amount of followers. 
Every white winner from the show, with the exception of one, has more than a million followers. In contrast, although five winners of RPDR are black, only one of these winners — Bob the Drag Queen — has 1 million followers. Only two black queens in the show's history have reached this milestone, out of nearly 50 black contestants on the show thus far.
Black winners of the show have less followers than non-black contestants who didn't even make it halfway through their respective seasons. It's important to question why that is.
"Drag Race has taken the standard of drag and made it more white, skinny, binary, and classist," Xi said. "That's exactly why the queens that gain the biggest following and praise reflect that. The show and fandom has a formula to success and part of it is not being melaninated."
Xi sees this treatment of queens of color in the local Seattle drag scene as well, experiencing in our own community how RPDR is gentrifying drag.
"I'm not sure why the community in general love to be so thinly veiled about their racism, but it's literally just that: racism," Xi said. "[Drag Race] reflects real life local drag scenes too: across different venues and circles I've seen queens of color be villianized, usually just for being outspoken."
The show's problematic racism is unfortunately paired with RuPauls' scandals. 
RuPaul has made it clear he'd never let assigned female at birth (AFAB) or transgender women compete on the show. He believes that drag loses it's "sense of danger and its sense of irony once it's not men doing [drag]." 
Although RuPaul only wants men on the show, he casted a transgender woman named Peppermint on the ninth season of the show. When asked why he allowed her given his stance against trans women on the show, he stated it was because Peppermint didn't get breast implants until after they filmed the season.
"You can identify as a woman and say you're transitioning, but it changes once you start changing your body," RuPaul said in an interview with The Guardian.
This implies that RuPaul didn't perceive Peppermint as a woman because of her lack of medical procedures. Regardless of her self identification as a trans woman, RuPaul considered Peppermint as fitting the show's guidelines of having to be a man. This struck a nerve with many fans as RuPaul's actions perpetuate problematic beliefs that trans women are not actually women unless they undergo transitional surgeries.
He also owns a 60,000 acre ranch in Wyoming and was exposed as an owner of various fracking wells within the ranch. Fracking is widely advised against by environmentalists for its impacts in creating methane air pollution and contaminating water supplies. 
Xi perfectly states that this situation is a reflection of how RuPaul views POCs and trans people: "He doesn't care, it's whatever makes RuPaul more money."
Although RPDR has brought drag queens and the topic of queerness into the mainstream media, we cannot allow this fact to erase the voices of queens of color, transgender contestants, and even environmental activists who are speaking out on the problems the show and RuPaul himself are perpetuating. 
"Representation on RuPaul's Drag Race means nothing anymore," Xi said. "We need to continue to speak up against the show's ethics, uplift other platforms of drag (local talent and online personalities not related to the Drag Race brand), and loosen the monopoly RuPaul has on drag culture."
Although it's a lot of fun to watch queens go down the runway every Friday night, we can't forget about the oppressive powers from both behind the camera and the man in front of it.
Reach columnist Andre Lawes Menchavez at opinion@dailyuw.com. Twitter: @itsjustdrey
Like what you're reading? Support high-quality student journalism by donating here.