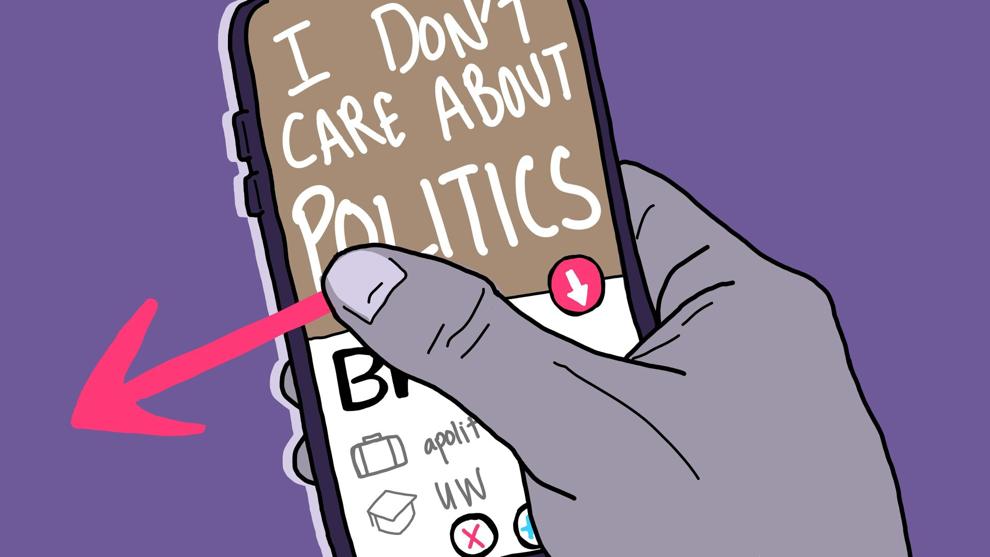 "What do you mean you're neutral?"
"I just try not to get involved. I'm apolitical." 
Let's unpack that. Are you actually a unicorn human being who has transcended above the masses into a higher echelon of self-guided neutrality, or do you just have the privilege of not giving a s---? 
2020 kicked off with fears of World War III after 109 U.S. troops were diagnosed with traumatic brain injuries from a retaliatory Irani attack on an Iraqi base. It only went downhill from there: the impeachment of Trump, the murder of Ahmaud Arbery, an unmanaged pandemic, 59 mass shootings in May (breaking a seven-year record), the worst economic recession since the Great Depression, the murders of George Floyd and Breonna Taylor and resulting national protests against police brutality, the California wildfires, and probably so much more that I'm missing. 
Yet, you want to tell me that you "don't want to pick a side" in politics? 
Every time I hear that, I wrestle between walking the hell away, or breaking out the Powerpoint. 
See, I sort of sympathize with people who "don't want to get involved," because politics are complicated. There's tons of dense jargon, plenty of flip-flopping political actors, and complex, ancient institutions; it can be difficult to care about something you don't understand.
However, in the modern age where Google is literally a thumb-swipe away, is it really that difficult to educate yourself? Instagram is littered with aesthetically pleasing voter registration infographics, Twitter is bursting with threads of local mutual aid organizations to support, and Facebook has event pages for social justice protests and workshops –– what excuses do we have to not be informed, aware, and engaged?
On the grand scale, politics are the process by which laws are created, enforced, and torn down. It's not just the campaign circus that comes to town every four years; it's the air we breathe during wildfire season, the class accomodations your Muslim friends can request when they're fasting for Ramadan, the safety of your roommate taking the Burke-Gilman trail home, the unemployment checks your sibling got when they were laid off, and so, so much more. So how can you stay "neutral"? 
I never thought I'd say this, but I'd rather talk to a Trump supporter than a self-described "apolitical" person, because at least I can ascertain their values, their hopes for the future, and their rationale. Maybe it's racism, maybe it's tax law, and maybe it's Maybelline, but at least there's a reason or a conviction.
I would also seriously rather hear Jeff Bezos' take on foreign policy, because at least I know it's guided by greed and corporate domination. Apathetic Amy, on the other hand? She just doesn't care, and that sort of self-destructive behavior should be reserved for your high school ex-boyfriend and him only.
So, yes, I do try to prod people into giving the tiniest of s---s about the measures by which we hold ourselves accountable to our planet, the ways in which we protect each other, and the means by which we commit ourselves to a more equitable, sustainable future for all. 
But at the end of the day, some people choose to stay constipated, and I can't be around those individuals. I can't grab coffee with someone and multi-task between hearing about their classes and grappling with their unwillingness to engage with the systems that affect my rights and daily life. I can't date someone who thinks, "I don't care who lives or dies, because I know I can survive." I can't support someone who genuinely believes that neutrality is an option when lives and liberties are both at stake. 
Why? Because it's not that hard to just give a s---. 
Reach writer Kiran Singh at opinion@dailyuw.com. Twitter: @singhkiran20
Like what you're reading? Support high-quality student journalism by donating here.