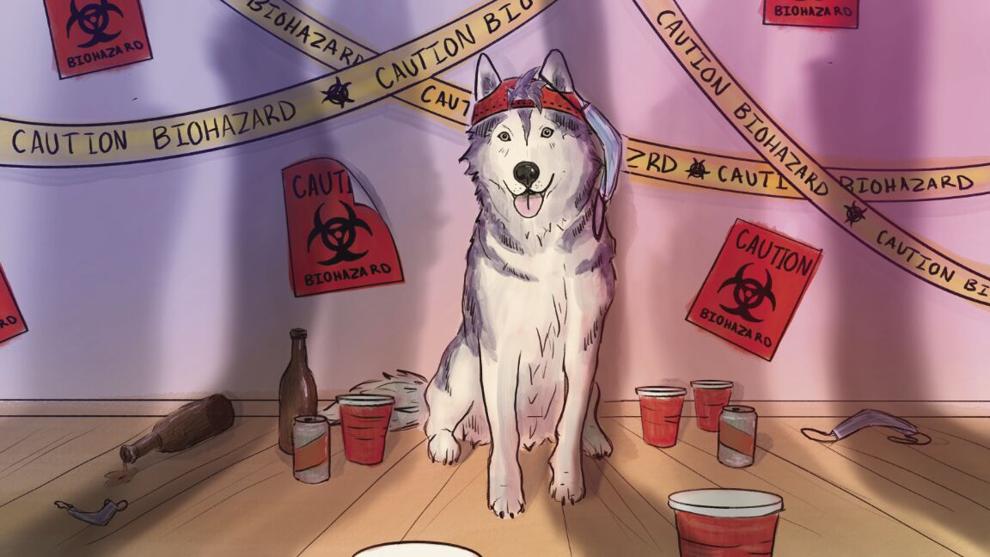 If you've been online in the past week, you've seen the pictures and videos from the Greek Row snow-day parties over Valentine's Day weekend, just days after it was announced that a UW student tested positive for the extra-contagious UK strain of COVID-19. 
Like many students who took to social media to express their outrage, I was left feeling a mix of shock, anger, and exhaustion that these parties are still happening a year into the pandemic –– even despite all the warnings and public health guidance.
But I was also left wondering something that has echoed throughout the past year for me: Do people not know how bad things are, or do they just not care?
On Feb. 13, the same day these parties happened, almost 3,500 Americans died of COVID-19. That same day, according to the COVID Tracking Project, the running total of COVID-19 deaths in the United States reached 474,462 — more American deaths than in World War II. 
Try really hard to wrap your head around that number. 474,462 deaths. That number represents unimaginable suffering of those who died and those they left behind — suffering which you contribute to every time you decide to go out in public without a mask or attend a jam-packed party.
You personally may not be worried about COVID-19, but this isn't about you personally. COVID-19 spreads like wildfire, and according to the Centers for Disease Control and Prevention, over half of all COVID-19 cases are transmitted by people who don't show symptoms. You could be carrying the virus right now and not know it, and every time you go out without a mask, you're actively choosing to put other people's lives in danger.
If it sounds like I take this personally, it's because I do. 
I live with a condition called immunoglobulin A deficiency, which is a fancy medical way of saying my body can't fight off infections on its own. If I contract a virus like COVID-19, my body has no defense mechanism, so I'm not exaggerating when I say the possibility of catching COVID-19 makes me fear for my life. When you decide to throw a party and risk spreading the virus to the larger community, the message you're sending is that my life matters less than yours.
While you're partying, also remember that each new superspreader only increases the time many families have to spend away from each other.
"I have not seen my family since December of 2019," a UW junior, who asked to remain anonymous, told me. "I don't see a realistic way of traveling without becoming a potential vector for disease … I can't be sure that the people I'm flying with would be safe in my presence, or that I would be safe in theirs. I also have high-risk family members that I don't want to take any chances transmitting the virus to."
It's hard to hear this and not be heartbroken, and even harder not to be outraged at those who aren't taking this pandemic seriously –– people whose actions are literally keeping families apart.
It's also important to remember who's bearing the brunt of this pandemic. According to the Mayo Clinic, "research increasingly shows that racial and ethnic minorities are disproportionately affected by [the] coronavirus," a consequence of the deep-rooted structural racism in our society. 
The UW has publicly stated that it seeks to "combat the racism and inequities, both individual and institutional, that persist here and throughout our society," yet its students are contributing to a crisis which puts people of color on our campus — and in our community — at a disproportionate risk. 
"Police violence and COVID are both public health crises that disproportionately affect Black and Indigenous people of color, and the UW administration must take actionable steps to address both," the anonymous student said.
We have a duty to protect the most vulnerable members of our community right now, but each new superspreader makes that task even more difficult.
"I hope that the residents of Greek Row realize the harm they have done and that they stop hosting superspreader events, but they have given me little reason to be hopeful," the anonymous student said. "UW community members have been voicing their concerns for months now about the parties on Greek Row, and nothing has been done to stop their behavior ... I think that suspension or expulsion of the students involved would be a completely reasonable punishment, as would the disbanding of fraternities and sororities which participated in the parties."
I'll be the first to admit that when it comes to the Greek Community, I'm an outsider looking in. Maybe there's something I don't understand about the social culture of Greek life. But this isn't the first time we've seen this kind of disregard for public health. 
The administration's response to the Greek Row outbreak over the summer didn't stop another outbreak this past fall, and their response to that outbreak didn't stop this latest superspreader from happening. Another lukewarm condemnation from the university isn't going to stop another outbreak; it didn't work over the summer, it didn't work in the fall, and it's not going to work now.
I genuinely applaud those in the Greek Community who are speaking out against these pandemic parties, but that's not enough. I was encouraged to see the UW administration's statement it released Thursday condemning the parties and outlining potential disciplinary action, but that's not enough either. 
How many students have to get sick because of these parties before the university intervenes in a serious way? How many times do we let these violations of local, state, and federal health guidelines go unchecked before there are serious consequences? We can no longer afford to be reactive. The university needs to take a proactive stance to shut these parties down before they happen, not try to contain the damage after it's already too late. 
We're past the time for emails and official statements; we need real action and real accountability. To do anything less is to give a green light to more superspreaders and to be complicit in allowing more sickness and suffering among our fellow students.
This is on you now, UW. Do you not know, or do you just not care?
Reach contributing writer Baylor Blair at opinion@dailyuw.com. Twitter: @BaylorBlair98
Like what you're reading? Support high-quality student journalism by donating here.