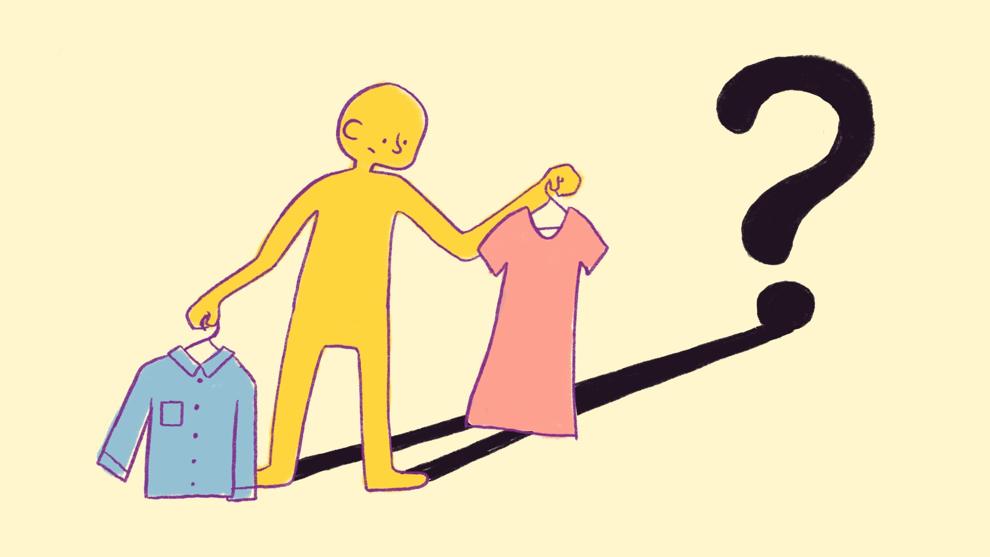 Just like how there are "COVID babies," I'm a self-proclaimed "COVID transgender peep." In other words, quarantine allowed myself and others to explore and question gender identity in a space less touched by the pervasive gender binary. However, the COVID-19 pandemic continues to shape my transitioning as much as it did my questioning.
I cannot count how many times I've changed my pronouns in the Zoom tag, but the structure of online courses made it so that spring quarter, I could start by easily introducing myself with my preferred pronouns: they/them. When I felt especially courageous and safe, I could relatively easily change them to "they/she" in class in a way that's easily known to my peers.
However, while normalizing pronouns seems more accessible in virtual spaces like Zoom, I still experienced isolation and otherness in both physical and virtual spaces as I transitioned socially. At work, I violated dress code to scrawl THEY/THEM in Sharpie on my Metropolitan Market name tag — eerily similar to when I see only my own, and other transgender people's, pronouns on Zoom during class and group projects.
Even when displaying my pronouns, others often misgendered me in person and online regardless. As someone struggling to transition, I fell into a deep abyss of insecurity toward this fresh, ever-growing identity, swarmed by dysmorphic thought patterns.
I cannot count how many hours I spent watching masculine makeup tutorials on YouTube. I kept trying to wear my only handed-down binder when going out in public, brushing off signs that it was too small. I considered shaving parts or all of my hair to appear more masculine in the hopes of others feeling more inclined to use my pronouns. I even tried lowering the pitch of my voice at work, anxious that customers would assume she/her pronouns and use other misgendering language.
Regardless of my tireless efforts, others misgendered me daily, and as much as I still identify with femininity, I wrestled with a lot of shame when presenting feminine as someone assigned female at birth. I struggled to reconcile this with affirming that my genitalia and gender identity do not determine my gender expression and presentation, nor am I culpable for others misgendering me. Even though I cognitively believed this, it was and is another feat to manifest this spiritually and emotionally.
It took an outsider perspective for me to recognize that these feelings of isolation and otherness driving me to attempt androgyny and masculinity would never be satisfied. I was shopping at Ikea last-minute and requested help from a couple of employees, one of whom wore a they/them pronouns button and presented androgynous. The other employee misgendered them without acknowledging it, and then proceeded to misgender me as well. After nearly three hours of running through Ikea, with no energy to correct the employee or advocate for myself, I went on my way.
I realized then that no matter how much I changed my presentation and body, especially in ways I didn't feel called upon to do, I could never be perceived by uneducated cisgender people as "naturally" using they/them pronouns. That's the harsh reality of the constrictive gender binary: There's no cisgender standard of nonbinary gender identities.
When the transgender community upholds this goal of "cis-passing," this inherently excludes trans nonbinary gender identities, such as myself. I learned that "cis-passing" is overrated and caters toward the gender binary; I live by the belief that my assigned sex at birth does not limit the ways in which gender and its expression live through me.
In the words of Dylan Kapit, a trans queer special educator, "It doesn't count as trans inclusion if all the trans folks in the pride campaign are cis-passing."
My existence is disruptive to the gender binary, which upholds and reinforces cishetero-patriarchy — and as energizing as that is one day, it can be exhausting and overwhelming the next. As research shows that gender affirmation is suicide prevention, and when many do not have the ability nor privilege to "pass" as cisgender, normalizing pronouns and including nonbinary gender identities in research is necessary to provide gender affirmation and dismantling the restrictive gender binary and systemic transphobia.
As the UW plans to return to in-person classes in the fall, and students begin to lose Zoom tags as an opportunity to share pronouns, anxiety weighs on me as to how living openly trans and genderqueer may manifest in my daily life. 
While the Q Center at the UW serves as a welcoming space to all nonbinary gender identities, gender affirmation belongs everywhere, not just in spaces focused on the LGBTQIA+ community. 
With Pride Month upon us and many campaigns excluding visibly nonbinary and transgender individuals, all UW spaces need to reevaluate their relationships to the transgender and nonbinary community. While I am just one perspective from the transgender community, the UW community needs to do more to support transgender and nonbinary gender identities. We need to introduce ourselves with pronouns, change the exclusive and grotesque gendered marketing of clothing at the University Bookstore, and expect faculty to demonstrate queer allyship and address transphobic comments.
Above all, we need you to listen to us.
Reach writer Tatum Lindquist at opinion@dailyuw.com. Twitter: @TatumLindquist
Like what you're reading? Support high-quality student journalism by donating here.