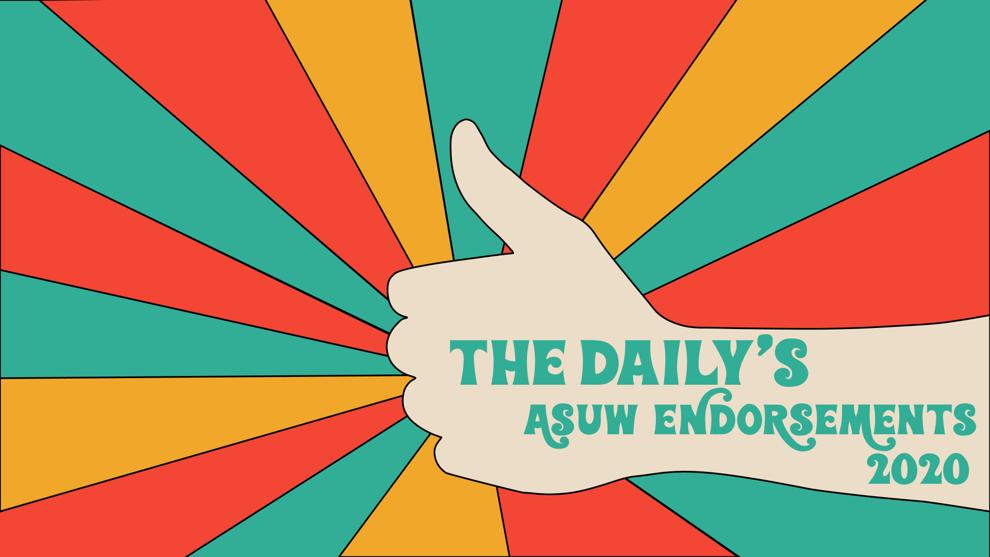 The opinion section today is devoted to a fair assessment of the candidates for the ASUW Board of Directors (BOD). The Daily's Editorial Staff collectively reviewed candidates' platforms, prior experience, and performance at the Election Administration Committee (EAC) forum. The Daily recognizes that due to the circumstances of COVID-19, our endorsements were based on fewer forums than past endorsements have been. There are three unofficial tickets running —  Connect the Pack, Elevate UW, and Dawgs United — despite prior election reform stating that official tickets will not be recognized by ASUW or the EAC.
We encourage you to read through the candidates' platforms as well as the Editorial Staff's suggestions provided below before casting your vote. Polls are currently open and will close May 13 at 11:45 p.m.
---
President 
Camille Hattwig (Connect the Pack) and Cooper Robertson (Elevate UW)
As head of the BOD, the president serves as the face of the ASUW. The person in this role is responsible for running the student government and representing student interests in front of the Board of Regents and the administration. 
Camille Hattwig has been involved with the ASUW for three years, serving most recently as the Student Disability Commission assistant director. Her platform includes several action items related to increasing campus accessibility, including increased funding and staffing for on campus disabilities resources. Additionally, Hattwig is invested in offering an opt-out insurance plan for students and extending mental health resources. Hattwig is focused on making herself accessible and her actions transparent through a monthly newsletter. 
Cooper Robertson is currently serving as the ASUW director of internal policy. He has gone beyond the scope of his role this year and worked to support international student advocacy. Robertson's platform outlines plans to implement strategies to combat housing and food insecurity, as well as work with several campus entities to ensure that the UW is employing a diverse faculty. He is a supporter of underrepresented groups on campus, and this is shown through his platform and the work that he has accomplished within the ASUW thus far.
On paper, both of these candidates are undoubtedly qualified for the position due to their extensive experience within the ASUW. However, The Daily is concerned that these candidates may be unprepared to lead the ASUW. At the EAC forum, Hattwig stated that she would continue fighting for what they thought was best for students, even if it meant fighting against an existing majority on the BOD. The Daily believes that it is the job of the president to act as a referee, and lead the ASUW toward cohesion instead of fighting for a single agenda on their own. Robertson reflected a better understanding of the position's duties, however, we are skeptical that this understanding will translate to his performance in the role.
Despite the unique qualifications of each candidate, The Daily has decided to forgo an endorsement for the position of ASUW president. We feel as though neither of these candidates foster a sense of community in a way that we feel our ASUW president should. 
Endorsement: No endorsement
---
Vice President
Dalton Owens (Connect the Pack) and Rae Lo (Elevate UW)
The Daily has chosen to endorse Dalton Owens for the role of ASUW vice president. The vice president serves as the Chief Operating and Internal Officer of the ASUW and as the Chief of Staff for the BOD, working to make sure the association's budget, personnel, and volunteer operations are functioning as they should. We believe that Owens has the interpersonal skills necessary for this position and would be approachable throughout his tenure, supported by his experience working as a First Year Programs Orientation Leader as well as the Brotherhood Initiative Intern. The Daily is concerned, however, about Owens' lack of specific action items relevant to his position, showcasing a lack of understanding as to what the role fully entails.
Rae Lo highlights her commitment to accountability, accessibility, communication, and collaboration in her platform. In the EAC forum, Lo outlined several goals that she had would implement should she be elected. However, The Daily recognizes that this position focuses on the inner workings of the ASUW on a day-to-day basis, which is not consistent with the goal achievement that Lo spoke of. Lo's ideas for promoting internal bonding do showcase her desire to maintain the cohesiveness of our student government, which The Daily believes is necessary. 
Endorsement: Vote Dalton Owens
---
Director of Campus Partnerships 
Mohammad Waleed Khan (Connect the Pack) and Wesley Bahng (Dawgs United)
The director of campus partnerships is responsible for creating and sustaining relationships with non-academic entities tied to campus, ensuring that students are represented. With this in mind, The Daily has decided to endorse Mohammad Waleed Khan. Khan's platform and performance at the EAC forum indicate that he has a more holistic understanding of the position. His action items specifically mention working with UWPD and health organizations such as the Student Health Consortium and the Mental Health and Hall Health Task Forces to bring in student perspectives and increase accessibility to these resources. The Daily is confident that Khan's experience as the Pakistani Students Association President and active member of the Muslims Students Association will help in his goals to elevate marginalized voices across campus. 
Wesley Bahng's platform does not include any clear action items aside from his goal of donating $50 of his pay per week to the Husky Pride Fund. While this is an admirable effort, donations to the Husky Pride Fund must be self-reported, so there is no way for constituents to monitor Bahng's actions freely. While The Daily likes that Bahng wants to develop personal relationships with the organizations he would liaison to, Bahng's platform does not mention some of the larger entities he would be working with such as the UWPD and SPD.
Endorsement: Vote Mohammad Waleed Khan
---
Director of Community Relations 
Alexandra Schroeder (Connect the Pack) and Kaitlyn Carter (Dawgs United)
The director of community relations serves as a liaison to the various living communities on campus, including the Residential Community Student Association, Greek organizations, and Housing & Food Services. The Daily has decided to endorse Alexandra Schroeder for this position due to her experience working as the Lead Intern for the ASUW Sexual Assault and Relationship Violence Activists and her involvement in the Panhellenic community. Schroeder's platform outlines clear action items that include working with students living on campus, in the Greek community, and commuter and transfer students, which demonstrates Schroeder's understanding of the position, although The Daily is concerned that her platform mentions working with SPD and UWPD which falls outside the scope of the role.
Kaitlyn Carter's platform focuses on her plans to increase communication between living communities in order to bridge the existing divide between those who live on campus and those involved in Greek life. While The Daily liked that Carter mentioned her plans for the 2020 Homecoming Weekend, W Day, and Parent & Family Weekend, we do not believe that Carter has a complete understanding of what the position entails nor the experience.
While The Daily is confident in endorsing Schroeder, we want to recognize that this position is traditionally filled by someone who is involved in the Greek system. While this affiliation may be an asset to the person in this role, The Daily would have liked to see a more varied set of candidates that are a part of the various different living communities across campus. 
Endorsement: Vote Alexandra Schroeder
---
Director of Diversity Efforts
Rachel Smithers (Connect the Pack) and Vanessa Lam (Elevate)
The director of diversity efforts works to create diverse programming and collaboration. Due to her experience as the Black Student Commission SAB Liaison, The Daily has decided to endorse Rachel Smithers. Smithers' goal is to uplift the voices of all marginalized students, as evident through her initiatives that advocate for these communities in various positions on campus. Smithers is the most qualified to ensure true equity for marginalized communities and is capable of bridging a direct pipeline for these communities, especially those that feel left out of ASUW decision making. The Daily is concerned that Smithers' goal of expanding the diversity requirement may not be actionable within the year, and that further specifying what classes satisfy the course requirement may be a more attainable goal.
Although we are endorsing Smithers, The Daily also believes Vanessa Lam is a qualified candidate to give a voice to historically marginalized communities on campus. Lam may not have the experience Smithers' has, but we believe this is also her strength as a representative of a large population of the student body that often is not allowed space within ASUW. 
Endorsement: Vote Rachel Smithers
---
Director of Internal Policy
Antonio Gonzalez (Dawgs United)
Antonio Gonzalez demonstrates a thorough understanding of the ASUW policies and procedures, and runs on a platform of transparency and accountability. For these reasons, The Daily endorses Antonio Gonzalez for director of internal policy. Gonzalez's platform may lack specific action items for his vision in this role, however, The Daily was impressed by Gonzalez's desire to review the specific language used in existing bylaws in order to ensure inclusivity, fairness, and transparency that he expressed at the EAC forum. While Gonzalez does not have any experience working within the ASUW, The Daily is confident that he understands the scope of the role within the organization. 
Endorsement: Vote Antonio Gonzalez
---
Director of Programming 
Rahul Prasad (Connect the Pack)
The Daily is endorsing Rahul Prasad for director of programming. Running unopposed, Prasad has demonstrated experience and passion for working on event-planning and liaising, as well as being representative of marginalized voices in his previous work. Prasad brings in worthwhile years of experience working with TEDxUofW, and while he does not bring in previous experience working with ASUW, The Daily believes that Prasad has outlined relevant actionable items such as improved accessibility at events, the creation of a centralized RSO event database, and the push for an increase of RSO representation in the ASUW Senate. 
Endorsement: Vote Rahul Prasad 
---
Director of University Affairs 
Maha Sohail AlHomoud (Elevate) and Clara Coyote (Connect the Pack)
The Daily has decided to endorse Maha Sohail AlHomoud for the role of director of university affairs. This position is responsible for telling student stories and representing student opinions in front of faculty and administration. In the EAC forum, AlHomoud passionately conveyed her understanding of the role within the ASUW organization, which The Daily believes demonstrates her ability to succeed in this role. Her platform mentions increasing textbook affordability and accessibility to DRS, which are important issues that should be prioritized. AlHomoud has experience working within the ASUW as a Communications Intern for the Office of Government Relations.
While we are endorsing AlHomoud for the position, this was a difficult decision to make as The Daily believes that Clara Coyote is qualified in her own way for the position. Coyote currently serves as the speaker of the senate and has spent three years working within the ASUW. The Daily was impressed by Coyote's idea regarding expanding classroom accessibility by advocating for a budget for lecture recording technology. 
Endorsement: Vote Maha Sohail AlHomoud
---
Signed,
The Daily Editorial Staff
Rachel Morgan, Opinion Editor
Mira Petrillo, Editor-in-Chief
Josh Kirshenbaum, Managing Editor
Armon Mahdavi, Arts and Leisure Editor
Mac Murray, Health and Wellness Editor
Andy Yamashita, Sports Editor
Ash Shah, Science Editor
Hannah Krieg, Engagement Editor
Kyle Bender, Co-Development Editor
Soraya Marashi, Co-Development Editor
Billie Featherson, Podcast Editor 
Dylan McKone, Co-Design Editor
Chamidae Ford, Co-Pacific Wave Editor
Charlotte Houston, Co-Pacific Wave Editor
Alex Nagode, Video Editor
Lydia Ely, Photo Editor
Mo Tilmo, Photo Editor
Abigail Dahl, Illustrations Editor
Tatum Lindquist, Assistant Opinion Editor
Deborah Kwon, Assistant Opinion Editor
Andre Lawes Menchavez, Assistant Opinion Editor
Reach The Daily Editorial Staff at opinion@dailyuw.com. Twitter: @thedaily
Update: A previous version of this article reflected that Cooper Robertson showed that he did not understand the duty of the president to act as a referee without an individual agenda. After reviewing footage of the EAC forum, we have clarified that Robertson does understand this aspect of the job, however, we are not confident that this will translate in practice. 
Update 8:15 p.m.: A previous version of this article stated the Wesley Bahng did not have detailed plans of what to use additional money in the Husky Pride Fund for. Upon further review, this statement has been removed.