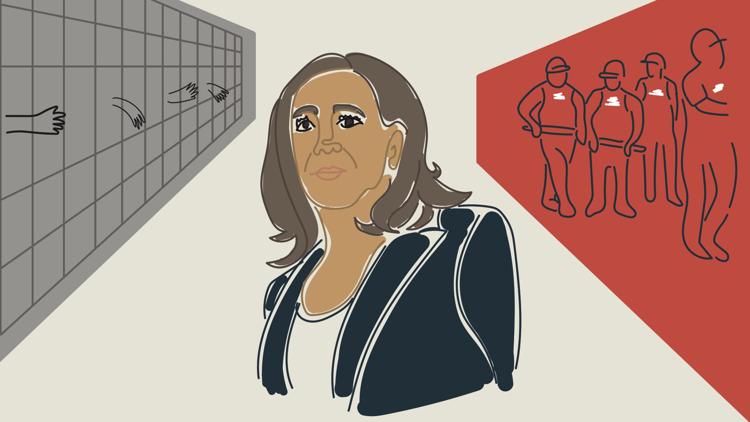 The past few months have been littered with "#BidenHarris2020" in people's bios, that Ruby Bridges/Kamala Harris image reposted on Instagram stories, and praises for the historical moment being made with our first Black female vice president being inaugurated in less than two weeks.
Unfortunately, this means it has also been a time of liberal hyperfixation on identity over politics. More and more people are becoming aware of Harris' spotty history regarding criminal justice reforms, previous opposition to recreational marijuana legalization, anti-truancy policy, and overall record in dealings with sex workers and transgender people.
However, Harris still receives quite a bit of praise for the historical moment of the Biden-Harris win.
This brings up the idea of "identity politics" — the focus on the identities of political candidates — in the electoral arena. Mostly, the phrase is referred to in a negative light, because, of course, identities are not monoliths — no one who holds a given identity can represent all who do.
Sophomore Saron Tekle alludes to this in reference to Barack Obama and other Black elected officials and candidates.
"When we had Barack Obama, everybody saw him as this cool, first African-American president, but they literally ignored what he was doing in the Middle East … I don't really know why people try to excuse Barack Obama for imperialism," Tekle said. "Black capitalists do not represent the working class of Black people. I think people try to ignore intersectionality and just see one component representing all."
This is a big part in why many left-leaning people tend to frown on identity politics. People of marginalized identities can still do immense harm. 
Identity politics are also evident when seeing white liberals become defensive and offended when U.S. House Speaker Nancy Pelosi is criticized — obviously, she must only be being criticized because she's a woman, right? Trust me, we also abhor Sen. Mitch McConnell; it's not sexism. The issue is also clear when seeing white liberals in the last couple days tweeting about Black organizers in Georgia with racial fetishization veiled behind praise.
To be honest, identity politics can be better phrased as "representation politics" for this very reason. Today, identity politics have been very much co-opted by white liberals into the wishy-washy, superficial, and harmful politics of representation.
The origin of the term "identity politics" was actually a radical sentiment from Black lesbian feminists in the Combahee River Collective Statement in 1977.
"We believe that the most profound and potentially most radical politics come directly out of our own identity, as opposed to working to end somebody else's oppression," the Collective wrote. "In the case of Black women this is a particularly repugnant, dangerous, threatening, and therefore revolutionary concept because it is obvious from looking at all the political movements that have preceded us that anyone is more worthy of liberation than ourselves."
The revolutionary intent of the identity politics strategy was to build and organize with others for liberation and freedom, but instead, it has been co-opted into an electoralism-focused game of diversity and representation politics.
"It's great that [Biden and Harris] made a historical moment … [but] diversity doesn't solve all issues that we have in this country," Tekle said. "I think people just need to understand the importance of intersectionality and how that itself can play a critical role when you're thinking about people that you want to represent in office."
The issue with today's representation politics is that it isn't very meaningful when it comes down to issues like defunding the police, U.S.-backed sanctioning and intervention, the climate emergency, migrant detention camps, and more. When there is so much focus on representation, you get moderately decent officials like Harris whom we praise to a fault.
Representation politics is also a very neoliberal idea that prioritizes power over liberation and electoralism over community coalitions and protection. It prioritizes getting a seat at the high table, being on equal ground with privileged white people, and making equal success with white people the standard, when we could be working to rid of the table altogether. 
Getting to the table oftentimes just leads to more oppression, but at the hands of people who look like the marginalized.
Reach writer Deborah Kwon at opinion@dailyuw.com. Twitter: @scoobydeeby
Like what you're reading? Support high-quality student journalism by donating here.