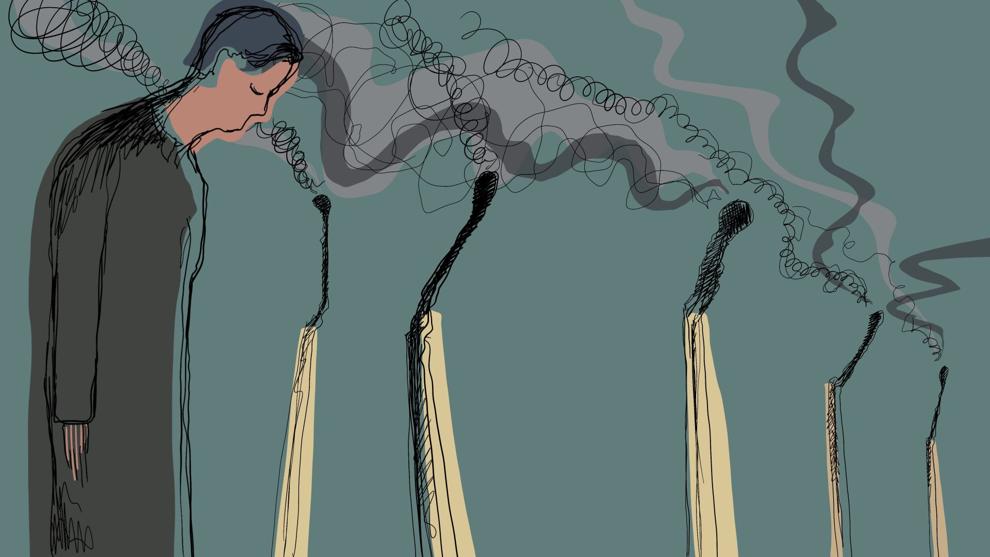 It is easy to become cynical of the future.
Without much social interaction, exercise, or club involvement, it was especially difficult to engage with much of anything this year.
However, with about 40.7% of the U.S. population fully vaccinated and with the UW vaccine requirement for fall quarter, next year is going to look a lot different. 
While we feel the pressure of this year slowly lifting off our shoulders, we should be cautious not to let go of the helpful strategies we used to cope with the pandemic stress when the in-person fall quarter comes around.
Around this time of the year, many of us are experiencing an especially nasty case of burnout.
Burnout can be defined as a case of serious mental, emotional, or physical exhaustion that can be caused by stress relating to academics, work, or any sort of relationship.
It manifests itself in symptoms of listlessness, detachment, loss of motivation, and in my case, self-doubt.
For those who consider themselves high achievers, it is important to understand that this year is not a normal year of school. There is nothing wrong with you if you did not achieve exactly what you set out to do.
Burnout can target those who feel the need to see tangible progress in their life. Given that many avenues to tangible success (such as clubs on campus and in-person classes) haven't resumed since last year, it is unrealistic to expect that same level of progress.
But that is OK. 
Everything is slowly returning back to normal, and hopefully we can take some lessons from this school year to keep us going strong in the fall. Dealing with burnout is difficult, but there are constructive ways to deal with it. 
Excluding the generic advice to exercise, eat healthy, and sleep more, you can also take steps in your class choices ahead to keep yourself going.
It's common for UW students to have to take classes for our major and feel a pressure to continue down a path that is supposed to give us the best skills — especially with the fast pace of the quarter system. I recommend balancing your schedule out with at least one class that you are taking out of pure curiosity or passion.
This is how I discovered my passion and talent for the Russian language. It has kept me going strong this quarter despite the burnout.
While I do not advocate skipping class or assignments on a regular basis, there are definitely times where it would be better to take a day off and readjust your mental well-being. This is especially important because burnout doesn't just happen all at once — it is a gradual process that builds up through time, often in the minds of those who think they need to be perfect at everything.
This kind of mindset can take a toll on your mental health. 
Another method that helped me live in the present was meditation, which has a whole lot of positive and tangible mental health benefits. I used a Spotify binaural beats playlist to get myself grounded, and it has helped reduce my overall stress.
Given the circumstances of the COVID-19 pandemic, I have learned to be OK with uncertainty regarding the future. Uncertainty was an uncomfortable and unavoidable feeling for many students at the UW even before the pandemic. 
Uncertainty always forced me to jump onto any opportunity in desperation, because if I didn't, I felt like the unknown would overcome me — and by waiting for the unknown to happen, I felt I was also wasting my time. This last year of burnout in this pandemic allowed me to live in this uncertainty, embrace the discomfort, and reflect on my current state and my future goals. 
The stress of life in quarantine won't magically go away next year. But as we return to campus in the fall, I'm going to be sure to keep caring for myself and take it easy, and I hope you all will too. 
Reach writer Raj Kumar at opinion@dailyuw.com. Twitter: @rjswizel
Like what you're reading? Support high-quality student journalism by donating here.