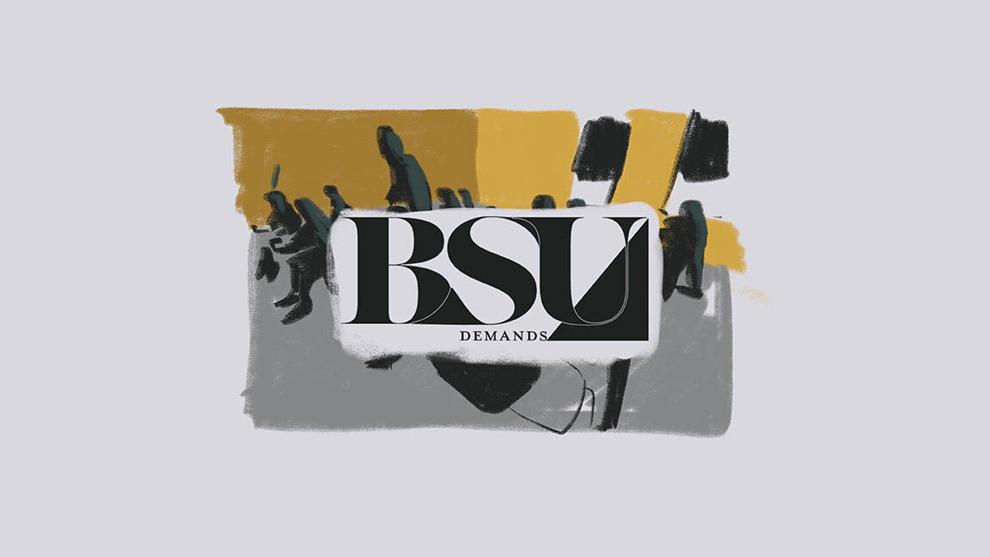 Editor's Note: In an attempt to uplift and amplify the UW Black Student Union, the Opinion section is pursuing eight pieces that will address the UW BSU's demands for the University of Washington. This piece dives into the nuances of the demand to hire more Black faculty — and retain them.
Each of the UW's Black Student Union's (BSU) demands for the UW build on each other, advocating for the university to meet Black students' needs and actively work to dismantle the institutional racism and inequity at a school that prides itself on diversity.
Fourth in a list of seven demands: Hire more Black faculty.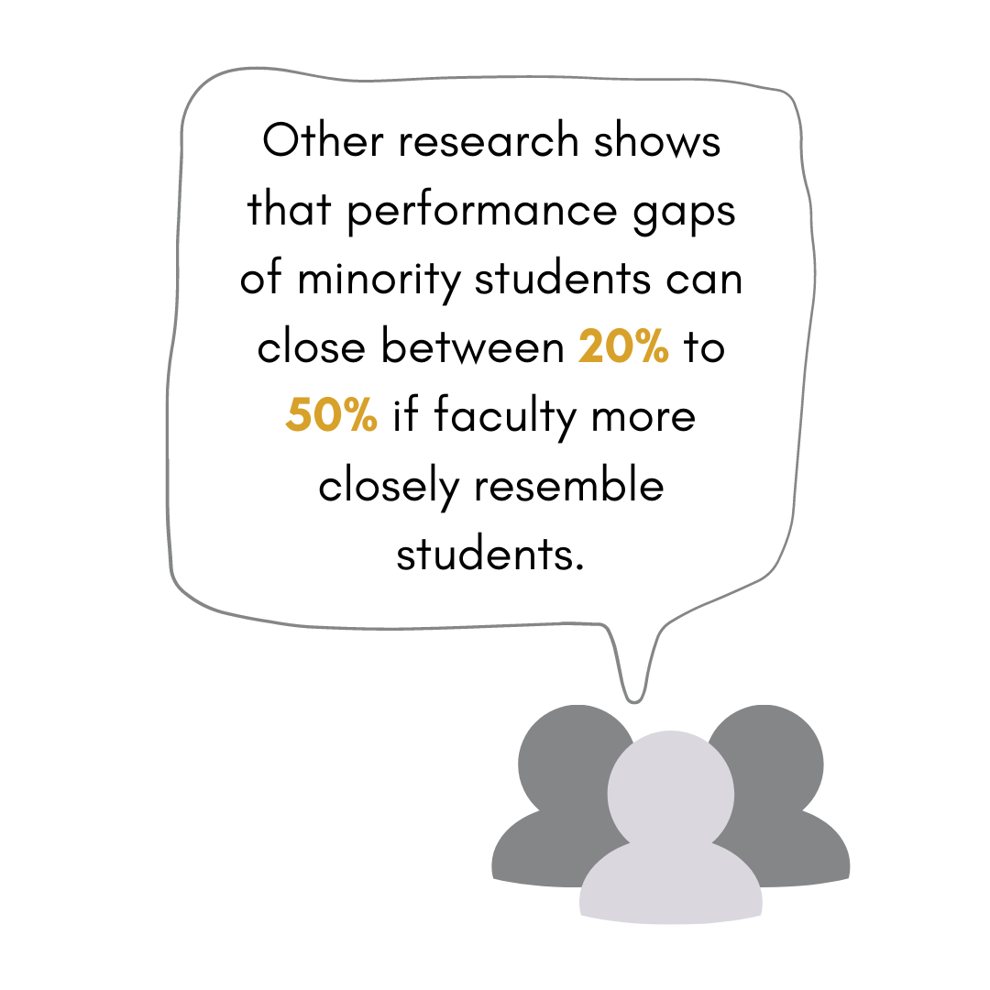 The nuances of this demand extend to more than simply increasing faculty diversity at UW. Research shows that performance gaps of minority students can close 20-50% if faculty demographics more closely resemble those of students. Not to mention, Black professors provide role models and resources for Black students who can better relate to them.
"Black students connect better with Black professors," BSU vice president of campus affairs Navon Morgan said. "They can see and understand your worldview."
Black professors can bring more visibility of Black experiences and history, as well as a critical awareness of how these shape our education today, into the classroom. In fact, a study suggests that students prefer professors of color, and it's crucial to recognize that a professor's identity will inherently shape how they approach the classroom and how they connect with students.
That's why hiring more Black faculty is also foundational to the BSU's fifth demand: to increase the diversity requirement at the UW. A class on critical race theory taught by a white professor will not be the same as one taught by a Black professor.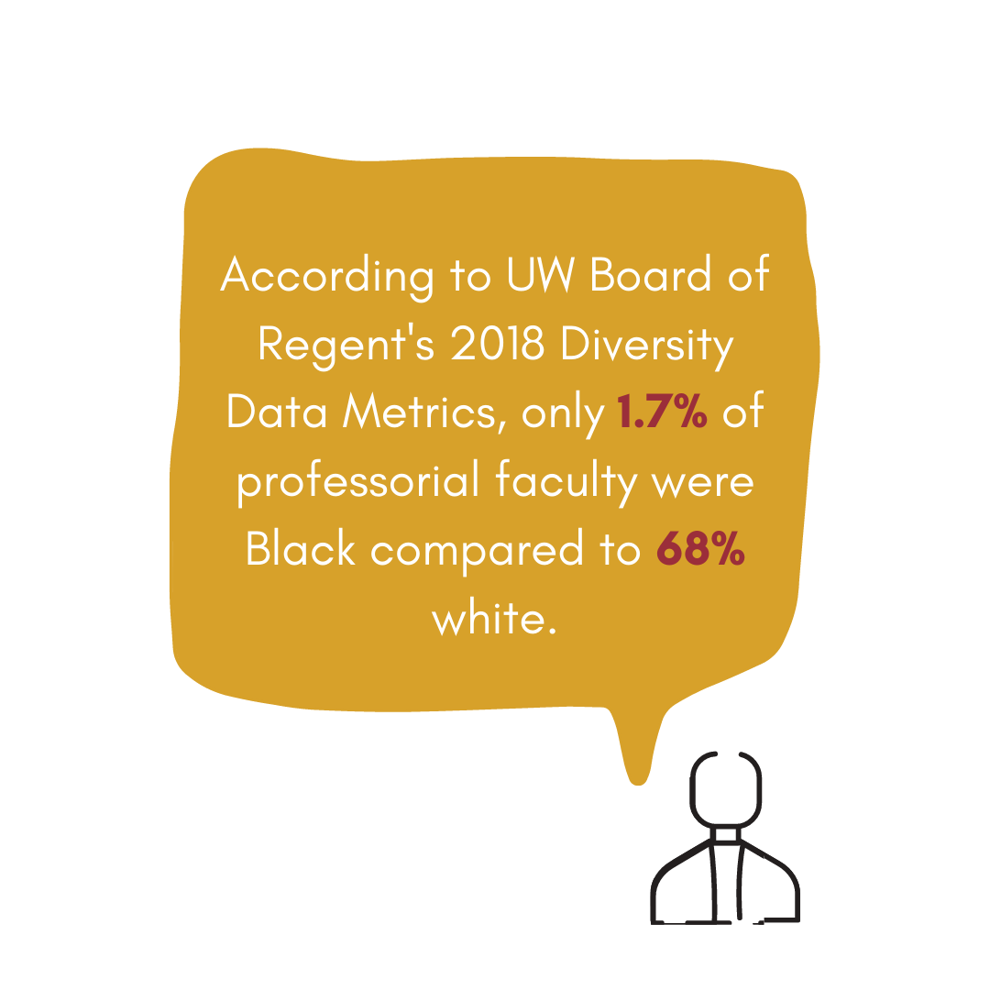 According to the 2018 Board of Regents (BOR) Diversity Metrics Databook, only 1.7% of professorial faculty at the UW are Black; 68% are white.
Across the nation, we see student diversity increasing much more quickly than that of faculty. In fall 2017, according to the National Center for Education Statistics, 24% of post-secondary faculty nationwide were nonwhite, compared to 45% of students.
"Most people can go their whole four years, especially in STEM, without having any [Black professors]," Morgan said.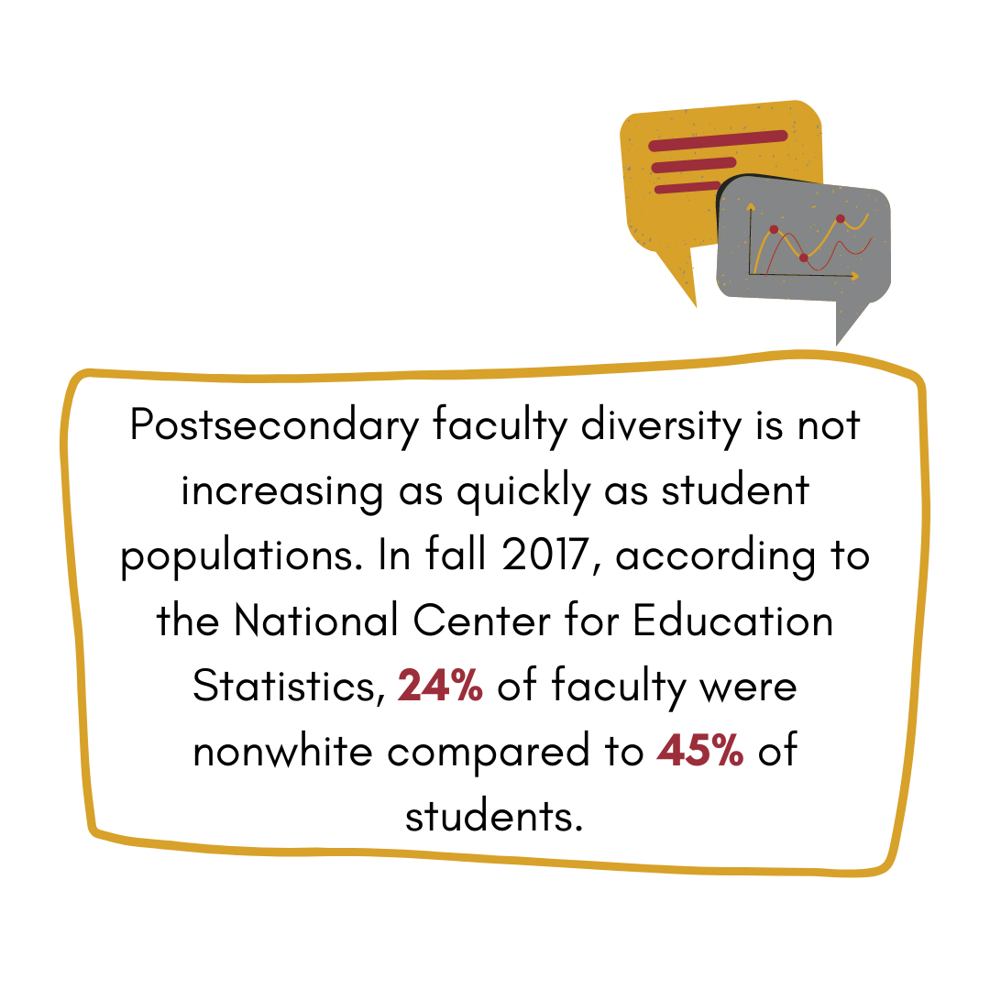 Research supports Morgan's statement, including a 2017 study from the University of Missouri which found that Black professors were especially underrepresented in science and math-intensive disciplines.
In UW President Ana Marie Cauce's response to the BSU's demands, she noted the establishment of two hiring initiatives: a program to recruit BIPoC Ph.D. students into faculty positions, and implicit bias training in faculty search committees.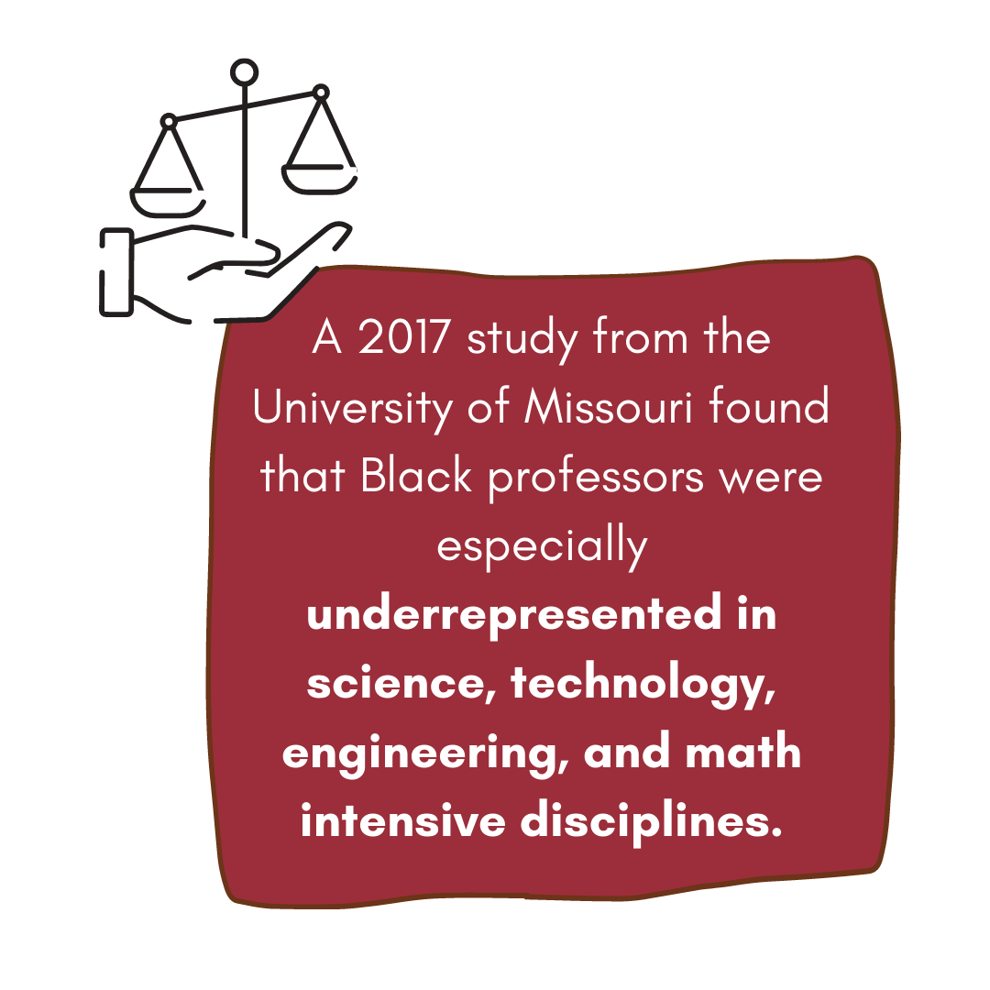 While BSU hopes to see results from this response, one of their remaining concerns includes the lack of a timeline to demonstrate commitment and accountability to follow through on these demands. Another concern is the lacking discussion around retention rates of Black professors at the UW, which is essential to sustaining long-term change in faculty diversity.
Nationwide, faculty positions without tenure are more diverse than fully tenured professors. For instance, according to the Pew Research Center, 27% of assistant professors were nonwhite in fall 2017, compared to 19% of professors.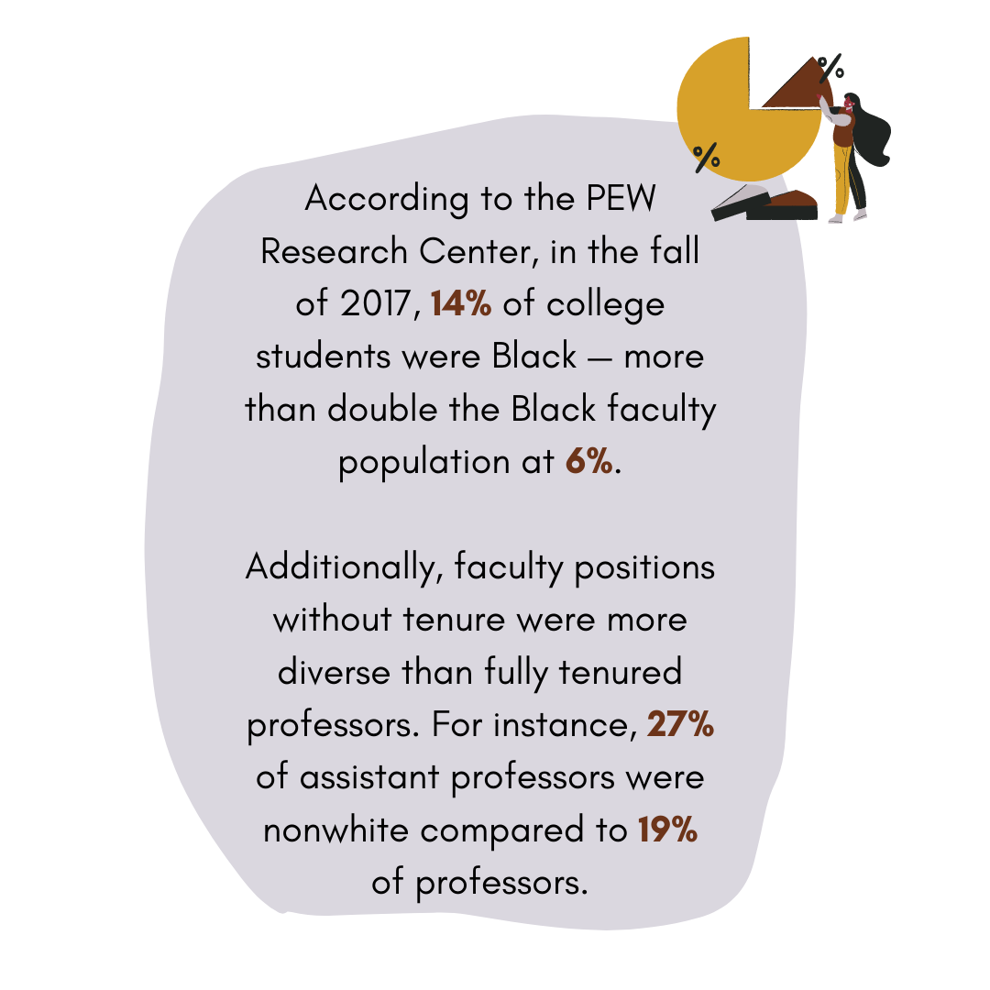 Retention rates don't magically increase because faculty diversity went up for a year. Retaining Black professors at the UW will require expanding the diversity of tenured positions, and deep environmental change.
"What does UW even have to offer a Black professor when a Black student can barely make it through?" Mahilet Mesfin, president of the BSU, said.
Going beyond diversity hiring initiatives is necessary to implement sustainable change in and outside of the classroom at the UW. Since 1968, at the inception of the BSU, students have called for increased hiring of Black faculty. We need to keep the pressure on the UW to demonstrate accountability and invest in the diversity of UW faculty on an environmental, demographic, and academic level.
Reach writer Tatum Lindquist at opinion@dailyuw.com. Twitter: @TatumLindquist
Like what you're reading? Support high-quality student journalism by donating here.