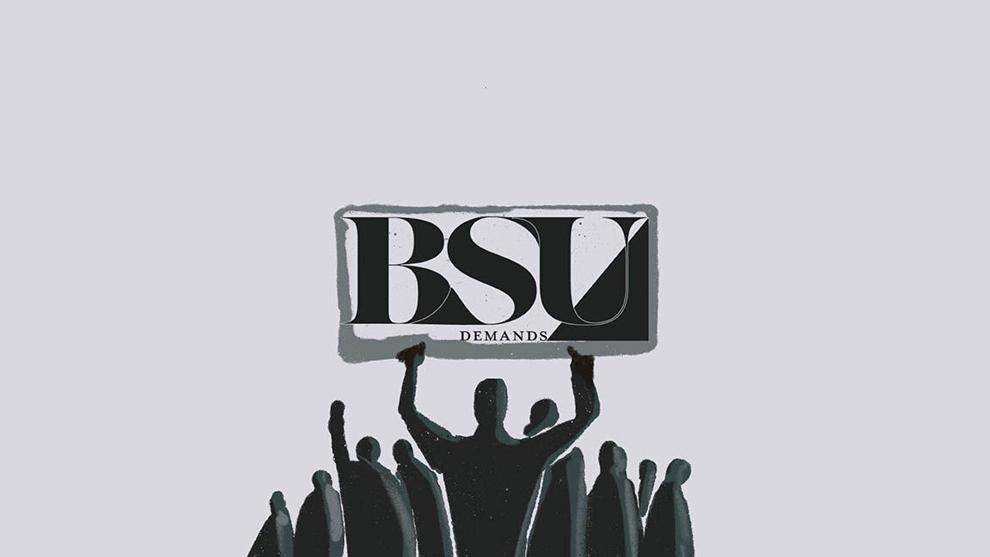 Editor's note: In an attempt to uplift and amplify the UW Black Student Union, the Opinion section is pursuing eight pieces that will address the UW BSU's demands for the University of Washington. This piece aims to outline the historical and current context of the demands, and the goals of the Opinion section in pursuing this project.
The UW was just ranked eighth in the annual U.S. News & World Report's Best Global Universities Ranking list. In light of this, the UW President Ana Mari Cauce addressed the ongoing racial equity work the university still needs to pursue.
"My hope is that the UW continues to be a leader in this regard, and I believe we will," Cauce said on solving challenges for diversity and equity in our society.
Cauce's statement positions the university as an institution that has previously been willing to work toward combating anti-Blackness, in every way it can — even positioning the administration as leaders in this respect. 
The UW has succeeded in presenting itself as a model of leadership, but not for anti-racist work. Instead, it has exemplified how to lead an institution safeguarded with white tears, performative activism, and hollow promises without tangible goals.
One way (or even seven ways) this is evidently clear is via the seven demands made by the UW's Black Student Union and the responses to it from Cauce and Provost Mark Richards. 
On July 2 this summer, the UW Black Student Union (BSU) released seven final demands to better the experiences of Black and brown students at the University of Washington.
From breaking ties with the Seattle Police Department to funding and expanding mental health resources for UW students, these demands were not just concerns that were cultivated in the last five months. They echo the BSU's long history of anti-racism work on campus, which has been pivotal in challenging generations of racism in our university. Even with the UW BSU's tireless work since its creation in 1968, remnants of our university's racist past still stand on campus to this day.  
The UW has shown throughout its history that the concerns felt by the Black community on campus hold no real meaning to the administration. It is only when these students mobilize the community and demand change that they actually listen — but even in these instances, Black students deserve more than they are given.
The 2020 BSU demands have striking similarities to the demands asked of the BSU in May of 1968, which were sent to the university's then-President Charles Odegaard. The 1968 demands addressed financial funding to support academic success of non-white students, a Black studies program, and faculty diversity.
Are we truly an institution leading the work, or even successfully pursuing the work, of anti-racism and equity if the demands made to support Black students more than 50 years ago are still being asked today?
Odegaard even promised collaborative efforts with the BSU, but initially fell short in taking any action steps to further their demands, even going as far as openly ignoring calls and letters the BSU sent to him.
In demand for change, the BSU rallied together in a sit-in in Odegaard's office suite. The student protest was threatened to be removed by force by the then-UW Police chief. With the help of various community leaders, the sit-in resulted in various negotiations on the demands. One product of these negotiations was our current Educational Opportunities Program (EOP), a program aimed to address recruitment, advising, and tutoring of non-white students. This program eventually led to a 310% increase in enrollment of Black students.
These programs, however, were not long-term solutions to the issues that the BSU brought forward; they were compromises to what they had asked for. And as a result, history repeated itself over 50 years later, as virtually the same demands were asked again and elicited the same response. 
Like Odegaard's initial hollow promises of collaborative efforts to support the Black community, Cauce and Richards sent a vague, save-face response to the UW BSU this summer that did anything but provide the BSU, and its allies, the solutions and action they asked for. 
"The next steps the BSU took in '68 was to sit in Odegaard's office, and with COVID I think that will be a difficult thing to do," Kiana Reynolds, vice president of community affairs of the BSU, said. "But I think for us, we are still inspired by their constant push on the administration, [and] we will continue to apply pressure as they did in '68 until we see actual action being taken to further meet our demands."
The letter further proved that the university will continue to fail to serve Black students, even when these students explicitly state what they need to feel safe. 
It happened in 1968, it happened in 2020, and it will continue to happen as more Black students face the consequences of being a Black body in this country and try to reach out to the university for support, only to have the university regurgitate the same oppressions they sought alleviation for right back at them.
"I think a lot of people think like, 'Oh it's 2020, things are different' but in reality, '68 was not as long ago as people think it was," Reynolds said. "The world is not as progressive as people think it is, and pretending that it is progressive diminishes the struggles that people are going through today."
It's a somber image to think of Cauce and Richards being recognized for the university's renowned status, while their students have been protesting both the university and its administration's incompetence for Black students' lives for months.
What the UW is renowned for is the picture Cauce and white folks in power at the UW have painted for the world to consume, but behind that painting are many students mourning the loss, violence, and systemic inequities plaguing our Black community members.
We need the UW to accept the UW BSU's demands now. The Daily opinion section stands with the BSU and their seven final demands, and hopes this effort to amplify their needs will remind the UW community of who those in power in our university truly are and what they're willing to use their power to advocate for behind closed doors.
Reach Opinion Editor Andre Lawes Menchavez at opinion@dailyuw.com. Twitter: @itsjustdrey
Like what you're reading? Support high-quality student journalism by donating here.