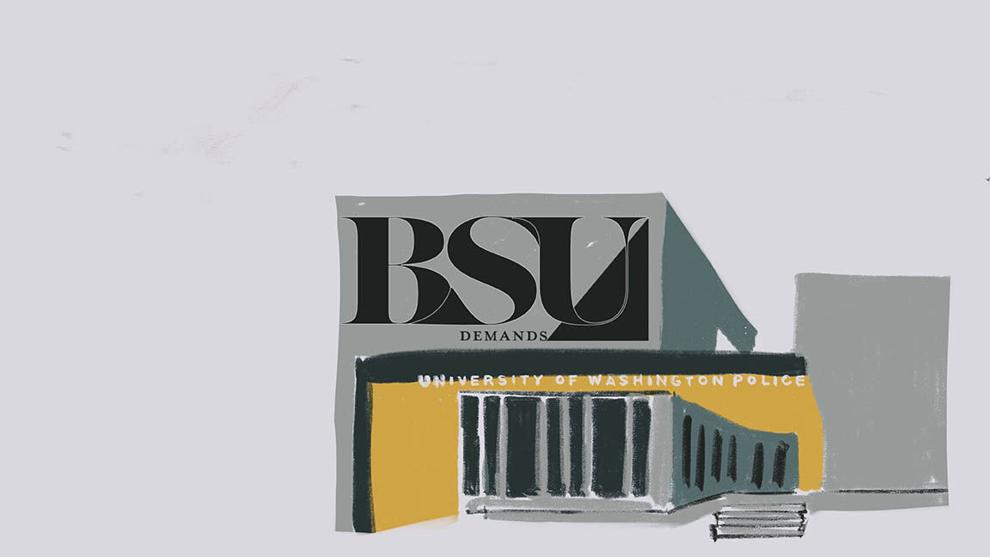 Editor's Note: In an attempt to uplift and amplify the UW Black Student Union, the Opinion section is pursuing eight pieces that will address the UW BSU's demands for the University of Washington. This piece seeks to discuss the disconnect between BSU's call for disarming and divesting from the UW Police Department and the UW administration's response to the demand. 
Police murdering Black people for no reason isn't anything new, but we saw a massive public response this past spring and summer after the police murders of George Floyd, Breonna Taylor, and many others. Amid national protests, our UW's Black Student Union (BSU) published a list of demands for our administration to meet in response to the Black Lives Matter movement. 
One of these demands is the call to disarm and divest from the UW Police Department (UWPD).
The demand posted July 2 is one of many issues identified by the BSU. Specifically, the student-led organization argues that the arming of UWPD officers is "excessive and unnecessary" and "only puts Black individuals in constant fear, worry, and frankly more at risk." 
The demand also includes a call to ban the use of police dogs, as the BSU identifies police dogs as a symbol of "the terror of state violence" that many communities of color have come to recognize.
Finally, the other half of the demand calls for the UW's divestment from the UWPD — pulling allocated funds and resources to gradually demobilize the department. The goal is to have the administration "reallocate those funds into our community." 
In response, UW President Ana Mari Cauce and Provost Mark Richards released a statement Sept. 8. Having to see "ongoing police violence against Black people" can function as "evoking and highlighting the painful history of systemic racism that has been with us since the founding of our country," the letter reads. 
But what do they have to say about the actual calls for action from the BSU? In regard to addressing the demand to disarm and divest from UWPD, Cauce and Richards established that their goal is to "limit UWPD response to those situations where there is the threat of, or realistic possibility of, imminent harm." 
This alludes to a point that Cauce made in the Campus Safety and Policing Town Hall this quarter. Referencing a study on police responses, Cauce points out that "in at least 20 to 25 percent of situations, we have sent police [to situations] that didn't require an armed response." 
In their letter, Cauce and Richards continue on to write that they hope to implement a program of online reporting and offer responses from unarmed public safety responders by the end of winter quarter to "significantly reduce armed police response and armed police interactions on campus." 
That is a significant start. Admittedly, offering unarmed responders isn't exactly a radical overhaul of the entire criminal justice system or a rectification of the racist roots of our country and its infrastructures. Still, the fact that the administration is even acting on demands for less police presence is pleasantly surprising.
However, I think the response ultimately fails to address a nuance of the BSU's points. 
The students of the BSU specifically note that the demand for change is not limited to simply disarming the police officers. One of the critical aspects is that the mere presence of police — armed or unarmed — on campus can serve as a barrier to life, learning, and success for BIPoC students, faculty, staff, and campus visitors.
Cauce even admitted to this fundamental issue and offered an example of a scenario relatable to most students.
"We cannot engage in the kinds of study, learning, and work — we can't be optimally productive — if we don't feel safe, and that feeling of safety can vary based on your experiences and background," Cauce said at the virtual town hall. "For some students, walking across the library at night and seeing a police officer can make them feel safe; for others, it can be the opposite." 
I want to root for the action that the administration is taking, because ultimately, any progress could possibly protect and uplift our students, specifically the Black community. But how can you openly acknowledge that Black students are being put at a considerable disadvantage by the mere presence of UWPD, yet still prioritize the safety of the campus with armed officers?
Most college police departments were created in response to the two biggest movements of the 1960s: the Civil Rights movement and the anti-war movement. Many universities pushed for their state legislatures to fund on-campus officers in order to manage student protests. 
The institutions created originally to suppress civic engagement and equity for Black Americans and against the murder of Vietnamese people have probably not evolved to legitimately protect students and faculty. 
In the past three years, UWPD has seen officers reporting a culture of hostility and intimidation in their department to the Board of Regents (BOR) the release of an independent review of the department that describes the retaliatory tactics used by former chief John Vinson. Vinson subsequently stepped down as chief, and one of the final two candidates for Vinson's replacement was exposed as violating the Americans with Disabilities Act through his lack of accommodation for one of his former employee's health issues. 
Also, two UWPD officers were ironically arrested in Las Vegas for domestic battery, which led to interim chief Randy West issuing a gag order on UWPD from speaking to the media about the incident. 
It would be unfair for me to not point out that Cauce did outline a plan to reduce the number of armed officers in the UWPD by 20% as compared to the numbers from 2019. But what justifies the remaining 80%?
In 2019, UWPD responded to 654 property crimes (thefts and burglaries), 23 crimes against people (of which 16 were aggravated assault), 170 total arrests, and 1,001 traffic stops. When we consider that the majority of crimes on/around our campus addressed by UWPD are property crimes, and that a huge portion of officer interactions are for traffic stops, why do officers from our campus police need tasers and firearms? 
"It's our job to our constituents to make sure that they don't ever have to interact with those folks while they're on a campus that they pay for," Navon Morgan, vice president of campus affairs for the UW's BSU, said. 
The responsibility shouldn't be on Black students to protect each other from the negative impacts of police interactions on a campus where they should feel equally safe and supported. 
Our administration oversees one of the greatest frontiers of innovation, research, and academics; the UW is consistently ranked in the top tiers of higher education, nationally and globally. 
I firmly believe that we have the resources, funds, and intellectual capacity to acknowledge the realities of the Black experience on our predominantly white campus and actually make progress toward removing the police presence on our campus.
Online reporting and non-armed responders are a start, but as always, we can do better. 
Reach writer Kiran Singh at opinion@dailyuw.com. Twitter: @singhkiran20
Like what you're reading? Support high-quality student journalism by donating here.