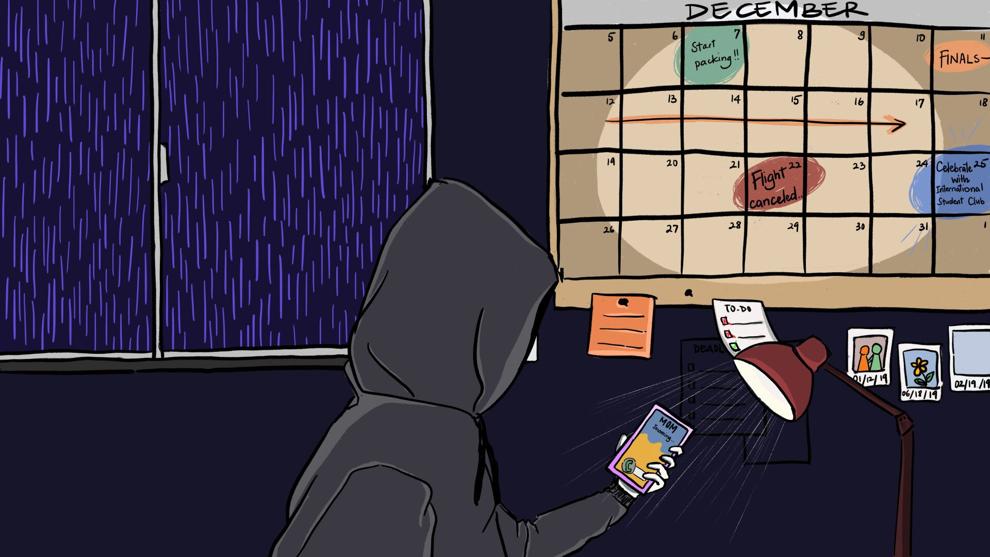 Going back home during college is a weird experience. Half my time is spent in my bedroom, which is now devoid of posters, books, and personality, and the other half is spent unsuccessfully explaining to family and friends (and honestly, probably myself) why choosing to major in writing is a good use of my time.  
It's important to note that traveling back home for the break was my choice, and whichever way students choose to spend their break, it should be a decision they get to make. Unfortunately, for a large group of students, that's not the case. 
Due to COVID-19, international students are being forced to weigh the costs of long quarantine mandates with the benefits of getting to see their friends and families back home, and the costs are winning. 
Regent Su, a fourth-year international student, explained the complications added to her typical trip back home.
"[Upon arrival], you have to be in quarantine for 14 days and you have to take multiple tests to prove you're negative," Su said. "It doesn't make sense for [international students] to fly all the way back and spend all that money on quarantine … and then just fly straight back [to campus]."
International students make up 12.3% of the class of 2025. As a significant portion of UW's student population, you'd assume that campus services such as dining halls and the District Market would be available, but neither of these amenities are open for all four days of Thanksgiving break. Likewise, information about winter break closures is still unknown. 
Shirley Yao, a second-year international student, had no choice but to look for other food options.  
"I live in the [dorms] and I usually eat at the dining hall," Yao said. "I don't know why they're not open for the Thanksgiving [break]."
On top of needing to spend more money on groceries or eating on the Ave, not being able to travel back home means feeling especially lonely and homesick. While these feelings aren't unfamiliar to out-of-state students, they're much easier to combat when breaks from school offer a reprieve — something that many international students won't see until summer quarter. 
Su, who was able to spend some of the breaks at home during her first two years at UW, is having a hard time adjusting to the new situation.    
"[Before COVID-19], whenever I [felt] homesick or I [felt] like I can't do this anymore, I'd be like, 'OK, I still got how many days to go [until I travel back home]? I can do this,'" Su said. "There's still a countdown, but now it's not in days anymore, it's in months."
Despite the limited food options, feelings of isolation, and other challenges that arise from being stuck on campus during the break, international students are powering through it all with a glass half-full mentality. 
One thing these students have is each other. Some are planning to travel within the United States together, while others are turning to the Center for International Relations & Cultural Leadership Exchange (CIRCLE), the International Student Mentorship Program (ISMP), or the many other international student organizations on campus to spend time with people who are in similar situations. 
Anh Pham, a fourth-year student and a member of ISMP, leans on the friends she's made in the program to get through the break. 
"It's nice to find yourself a community of people who are away from home," Pham said. "I think that's very helpful because we can understand how the other person is feeling and are more empathetic about it." 
Still, while new college friends can help fill the gaps left by loneliness and homesickness, it isn't the same as being home, surrounded by hometown friends, home-cooked comfort food, and your family. 
So, as we wrap up our Thanksgiving break and look ahead to the most wonderful time of the year, if you are choosing to travel back home, I would encourage you to take it all in and be present in the moment. 
Second-year student Ching Yee Fung seconded this sentiment. 
"[If] you get to have the chance to [be with family during the breaks] … value that opportunity, because not a lot of people have that," Fung said. 
Reach contributing writer Shira Zur at opinion@dailyuw.com. Twitter: @shirazdaily 
Like what you're reading? Support high-quality journalism by clicking here.