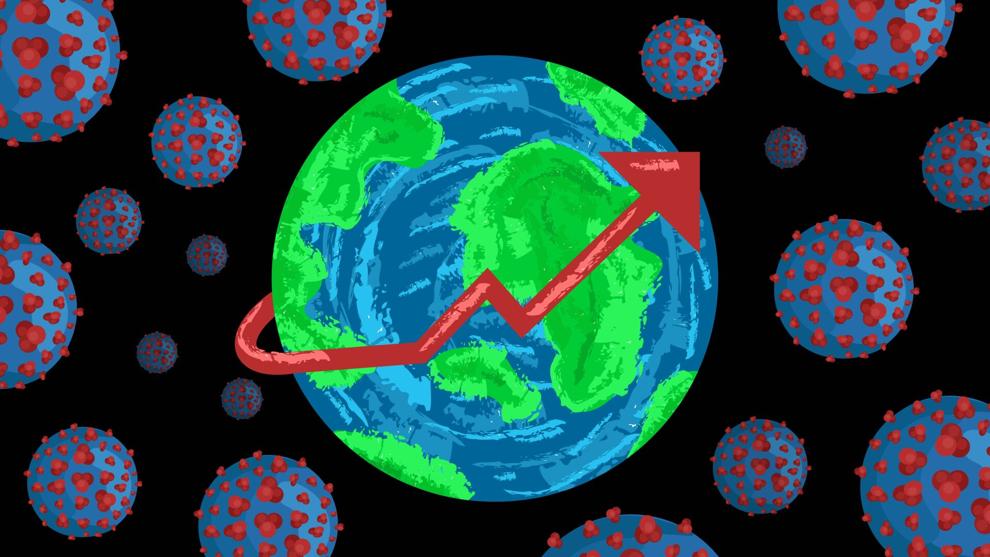 Some people have started to develop the mindset that we are in a "post-pandemic" state.
While it may have felt like this over the summer, especially when mask mandates were being lifted and the vaccine distribution was firing like nobody's business, we are now starting to realize this might not be the right mindset. 
I really hate to be the bearer of bad news, but I think it's about time we all take a step back and really try to think about how things are going right now, not just about how the pandemic is affecting our own lives, but everyone else's as well — especially people outside of the United States.
"Things really haven't gotten better [back home in Mexico], and by better, I mean how they are in the U.S.," Sára Mustre-del Río, director of the ASUW Latinx Student Commission said, "Health care, even if it's public, is still pretty limited." 
According to The New York Times' interactive COVID-19 world map, as of Oct.11, we are averaging about 362,000 new cases per day globally and averaging roughly 7,000 deaths per day — neither significantly low nor high numbers in comparison to the past.
Despite the United States being one of the more prominent countries that has adopted the idea of living in a post-pandemic era, we are still averaging the largest number of cases globally, at roughly 89,000 per day.
The United States, however, is currently on a 14-day trend of decreasing cases, and in comparison to other countries, we are doing pretty well.
As of the last seven days, the United States has had an average of 27 cases per 100,000 people, whereas the West Bank and Gaza have had about 108 — the region with the highest cases per 100,000 people. The United States has an average death rate of 0.56 people per 100,000, whereas Slovenia has about 2.67 deaths — the country with the highest deaths per 100,000 people. 
Yes, looking at the numbers, we seem to be in a place where enjoying post-pandemic activities and freedoms seems appropriate. People have gotten their vaccines, and for the most part, they have been wearing masks when asked to.
But the question I want to ask is: why are we not at least recognizing that although we have the privilege of envisioning a return to normalcy, the pandemic is not actually over, especially when looking at COVID-19 on a global scale?
Most of us haven't even processed the idea that we're going through a pandemic. Parts of it still kind of feels like a fever dream. 
Now, we finally get a taste of normalcy — while some people get more than just a taste.
In various areas of the United States, despite still having outbreaks in their own communities, people have completely rejected the idea of asking themselves whether or not they should be living this kind of post-pandemic lifestyle. 
People anticipated that when all of these post-pandemic privileges started again — such as in-person classes, restaurants, movies, football games, or sports, — cases would spike. And they did.
According to an article in The New York Times, by June of 2021, we had under 50,000 cases in the United States; but by the end of August, we jumped to roughly 150,000 cases. 
However, this spike has started to decrease within the past month, with all of these post-pandemic activities still occurring just the same. 
The way that COVID-19 surges is mostly mysterious, but one common trend can be agreed upon: cases will often rise for two months and then decline.
When we talk about post-pandemic privileges and whether or not they are good or bad,the conclusion seems to be unclear. 
We have this idea in our brains that if we follow the rules that professionals tell us — wear masks, social distance, and wash our hands — that cases will decline. They sometimes do, but they also seem to decline when we don't do some of these things.
I share these trends to demonstrate how much we don't know about the spread of COVID-19. Maybe these surges declining every so often is a result of the vaccine, or maybe it's herd immunity — nobody knows for sure. 
What we do know is that it can't hurt to wear a mask when asked, and that you should be considerate of other people's pandemic-related anxieties, even if you don't share those anxieties yourself.
We all need to think beyond our bubbles and consider how the rest of the world is still suffering. Humble yourself and be aware of the privilege you have to "not care" as much about the pandemic anymore. As much as we don't like to hear this, it's true. 
Maybe it's because we don't want to admit that we are thinking only of ourselves. Understandably so, humans are inherently selfish, but when the whole world is going through the same pandemic, it seems a little strange to only think about how this event is affecting you. 
"A lot of people just haven't been empathetic and it's sad to see, but this pandemic is terrible, and if there is something that people should take out of this, it's how to have a more collectivist mindset and act in ways that can benefit whole communities," Mustre-del Río said. 
A UW student who would love to go to a football game but is living with their 85-year-old grandparent doesn't have the option to "not care." A 17-year-old going through cancer treatment doesn't have the option to "not care."
We all need to recognize our privilege of having options right now. 
This conversation about how the pandemic isn't over needs to be had; as sick as I'm sure people are of hearing about this, if we don't have this conversation now, we're going to have it in two or three months when the pandemic is in the exact same state and everyone is asking why things haven't changed.
We could also benefit from actively trying to make ourselves less ignorant to what is still happening in our communities and around the world. 
"I have bad news for you: We're stuck with this novel coronavirus in our environment, perhaps indefinitely," Dr. Sanjay Gupta said in an interview with CNN. "And there might be another, more deadly and contagious pathogen right behind it."
Some people believe this pandemic will have some kind of definite "end" or a return to normal that's worth holding out for. But if we are being realistic, this is not how the virus works or the way its surges come and go.
There are also people who do not want to get the vaccine, and we all know by now that the vaccine doesn't make us indestructible to the virus, but it does prevent serious cases and hospitalizations.
We are still contracting COVID-19, we are still getting sick, and we can't deny the ongoing presence of this pandemic. It must be realized that we do not have a choice in whether or not to continue these conversations because the pandemic will undoubtedly affect our lives for many years to come.
Reach writer Mary Murphy at opinion@dailyuw.com. Twitter: @marymurphy301
Like what you're reading? Support high-quality student journalism by donating here.