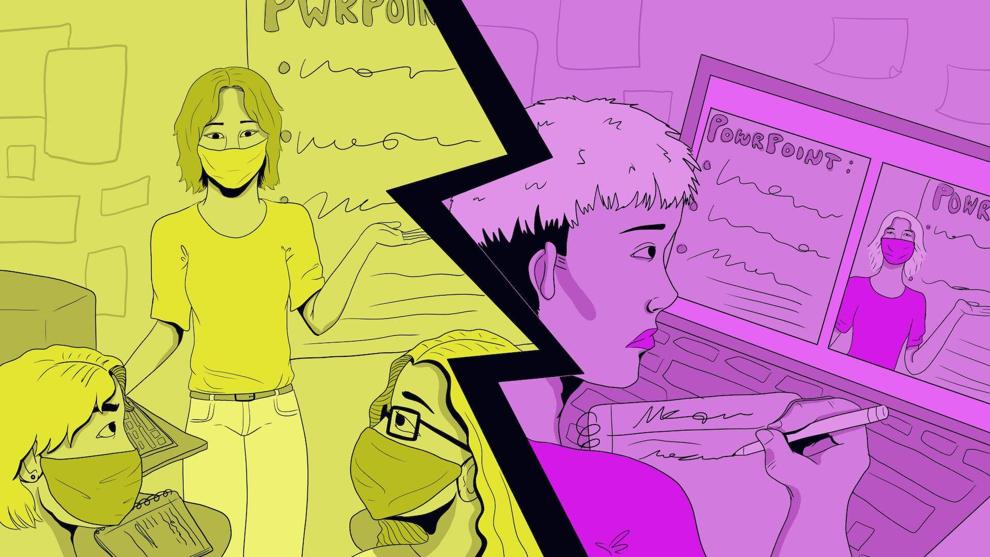 On the third day of in-person classes, I finally got the email: Someone in the building of one of my lectures tested positive. 
While I feel like this might be the cosmic punchline of "an English major walks into the Mechanical Engineering Building," the questions I have to answer now are not so funny. 
Do I stay home for the next few days until I can get tested and get results back? With some of my classes grading participation based on physical presence in the room, can my grades afford a hit this early? There is absolutely no reason that I should have to be weighing my grades and the health of myself and others against each other, and yet here I am, doing exactly that, on just day three of the quarter. 
Thanks to the UW's choice to not offer hybrid options for all courses, these are the choices students will have to make for the rest of the pandemic. Some students will put health first and thus sacrifice their grades to ensure they don't spread the virus to their fellow students. Others, however, will fall into the trap the university has set for them and bring the virus right into their non-socially distanced classrooms because of the pressure to attain a high GPA. 
To me, merely hoping 48,000 students will make the right choice for fellow high-risk students is too big of a risk. Making all classes hybrid and thus removing this choice altogether should have been the plan from the start; the university needs to step up to make this transition safer for everyone.
Whether it be mandatory online options for classes or removing graded attendance altogether, something needs to be done to keep students healthy and prevent the UW from becoming a hotspot for COVID-19. 
Honestly, graded attendance is an unfair and inaccessible policy under normal circumstances, but during a pandemic, it is incredibly problematic to ask of students. The policy brings back the toxic value this capitalist country places on productivity over wellbeing. 
A sniffle or sore throat was never enough to keep me from school in the past because I was so scared to suffer academically that I didn't mind suffering physically. This mindset is so startling to me now, yet our attendance policy forces it upon us. Circumstances have changed, and we no longer have the luxury of powering through a mild fever when it could turn out to be a deadly virus. 
If a professor believes attendance in their class is truly vital, they should be required to go about the process of making it accessible in case of illness and for high-risk students. 
We are still in the middle of the pandemic and things are not back to normal. 
Establishing a hybrid strategy removes the pressure to come to school sick and allows students to continue to participate in class regardless of health. From being able to join class on Zoom while waiting on COVID-19 test results to using discussion posts to make up participation points missed due to being in quarantine, there are a million ways professors can implement a safer and more accessible learning environment for all students. 
A hybrid model would allow immunocompromised individuals, parents to unvaccinated children, or anyone who just isn't ready to put their life on the line for a calculus class to attend school while still feeling safe. 
The administration needs to stop pretending that we didn't just spend a year learning how to make virtual learning work; we know how to implement it to keep people safe, so why aren't we continuing this today? 
For some students, virtual learning was a breath of fresh air, finally being able to view class with captions, access recordings of lecture material, and more. 
Orion Parker, a disabled student, is struggling with a lack of accessibility with the return to campus. For Parker, Zoom made things easier. Now, he's attending one of his classes outdoors in a feeble attempt to make class "safer," which has been nothing but incredibly inaccessible. 
Beyond the removal of accessible technologies, being an at-risk student on campus has to be utterly horrific. It's impossible for us to know what the person next to us has been doing to keep themselves safe. High-risk students can't afford not to know, yet they're forced to put their lives on the line in the name of education. 
Third-year Sasha Winter is losing hope in her fellow students. The idea that any number of classmates in a room packed with students could have been partying on Greek Row just the night before can be unbearable for some. 
"Honestly, it's messing with my psyche in ways I never expected could happen," Winter said. "I never thought I would be this terrified of seeing another person face-to-face."
At the end of the day, students are inevitably demanding better from the university. We deserve safe and comfortable options and we should all be able to pursue an education without sacrificing physical health. We deserve better than being forced to attend non-socially distanced classes with just the thin protections of air purifiers and open windows. 
Reach writer Katelyn Grganto at opinion@dailyuw.com. Twitter: @KGrganto
Like what you're reading? Support high-quality student journalism by donating here.