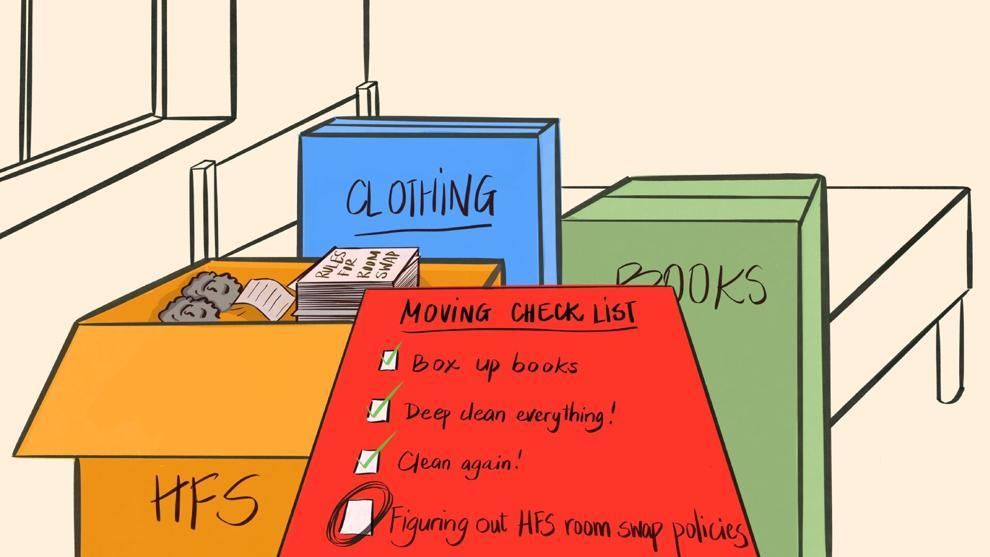 When I decided I wanted to move out of my dorm, I thought that my biggest problems would be taking down and then rehanging my magnificent photo wall or going through the weighty, life-changing transition of having a new hallway theme — mine is currently Spongebob-themed, in case you were wondering. Little did I know these were miniscule hitches in the process compared to the much larger challenge awaiting me: dealing with Housing & Food Services (HFS). 
If you want to move out of your room, HFS provides two time-consuming, headache-inducing options for you. 
The first is to try to find someone to mutually swap with you through the Room Swap Messaging Board on Yammer. After spending less than a couple of minutes scrolling through its disorganized display and non-chronological timeline, I felt as lost as I did when my professors, for some unknown reason, refused to use the calendar function on Canvas. 
Sadly, I wasn't alone in feeling frustrated with the messaging board. Megan Walenta, a first-year student who has been trying to switch out of her room since the start of the quarter, expressed similar frustrations.
"It's difficult to know [whether] people are still open to switch on Yammer," Walenta said. "I wish there was a way to indicate that you already found somebody [to switch with]."
Despite Yammer being the only communication tool dedicated to roommate swapping, it lacks basic communication features, such as being able to filter out irrelevant posts by successful users who have already found someone to swap rooms with. 
The second option HFS provides is to fill out the general room change request. 
Pro-tip: Don't be fooled by HFS's Residence Hall Room Changes page telling you that the general request form won't be available until winter quarter. It recently became available, and you can find it by going to MyHFS. 
Even if you successfully find the camouflaged request form, you need to hope that someone either goes Greek or gets fed up with long wait lines in the dining halls, so they terminate their housing plan and leave a vacant room for you.
Charity Yu, a second-year student who took her chances with the general change request, is still stuck in the waiting period. 
"I'm the 172nd person on that list," Yu said. "I just think that it would be really helpful if [the general change requests] were open [from the] first day."
Staffing issues at the HFS Student Services Office seem to be the culprit of the drawn-out room change process. 
"With two upcoming retirements and three main support staff members moving to different jobs outside of UW, the office is currently understaffed while the hiring process for those positions finalizes," David Rey, the HFS Communications and Marketing Manager, wrote in an email. "The office should be fully staffed again by the end of the quarter."
With a fresh staff incoming, the promise that HFS will eventually get through all the room change requests seems realistic, but for now, it looks as though the only option is to just wait it out. 
Of course, this is much easier said than done. If you've filled out one of the two forms, this most likely means that you've realized your lifestyle or personality doesn't quite match your roommate's, and you're probably counting down the days until you've moved out. With every passing day HFS leaves you on read, the atmosphere in your room only becomes increasingly awkward and tense and you feel evermore abandoned in the process. 
"I just wish it would be easier [to move out]," Walenta said. "I was getting so frustrated because it really felt like nobody cared." 
Reach contributing writer Shira Zur at opinion@dailyuw.com. Twitter: @shirazdaily
Like what you're reading? Support high-quality journalism by clicking here.