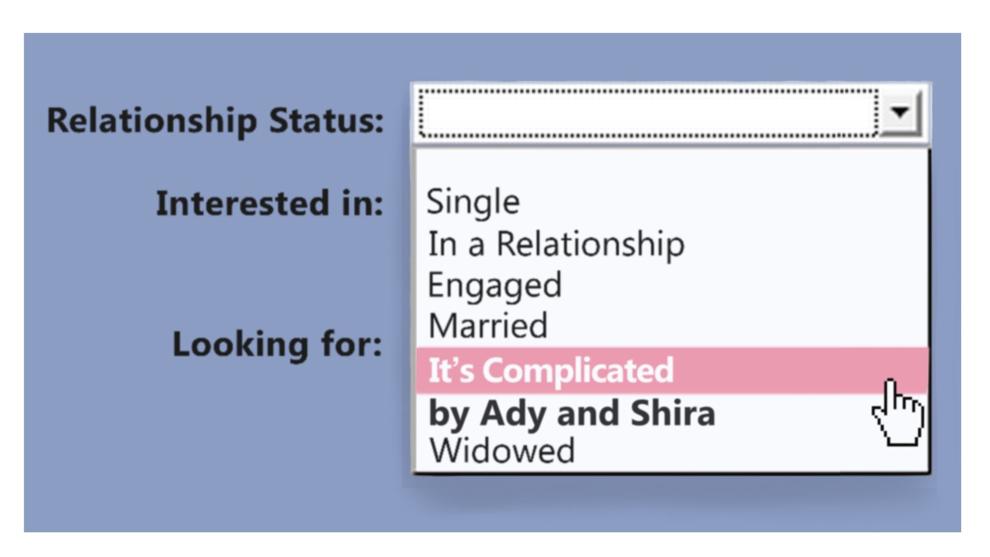 Editor's note: It's Complicated is a dating and relationship column featuring campus love stories and sex/love-related topics with help from experts in the field, science, and advice from fellow Huskies.
It had been a repeat of the same day, logging into virtual classes on Zoom from Indonesia, barely able to withstand the 15-hour time difference, when he saw her. 
It was an immediate Zoom crush, and fourth-year student Aktsa Efendy was hit with the second-greatest sickness to hit this town since COVID-19: being lovesick. He lived in Indonesia, she lived in Bellevue, all they had together was a Zoom class, and after all, who can make a move over Zoom? 
Unfortunately though, for the time being, it looks like we're back online, folks.  
I, for one, am having a bad case of déjà-Zoom, where classes are once again being hosted from my bedside pillow, with the comfort of the same sweatpants I've been wearing for a week, accompanied by the silent breakout rooms that never fail to make my palms sweat. But, I'm a silver linings gal and sometimes, instead of looking at the big picture, you have to focus on the tiny Zoom pictures — particularly the ones that have crush potential. 
Thanks to the ongoing pandemic, we've all got some experience in this realm, and a lot of us have done this dance before. I hop on Zoom, scour the sea of blank screens, and then boom, there they are: the designated Zoom crush of the quarter. Don't get me wrong, class content is important, but sometimes it takes a little more motivation to, you know, actually attend. But I digress. 
Other than upping my attendance rate, the illusive Zoom crush serves no great purpose. But, what if it could? Is it possible that you could use Zoom to find love?
While taking a virtual drama class on a whim, Efendy was immediately drawn to his Zoom crush.
"I came to class one day and was like, 'Whatever, screw it, I'll shoot my shot,'" Efendy said. "I'll either have seven weeks of awkward quiz sections or I could just not come, but I just decided 'What the hell.'"
Thankfully for Efendy — and for all you hopeless romantics out there — he succeeded in his efforts, and after some long-distance virtual dating, the two are finally able to be together in person. 
"Obviously, not having an in-person class strips you of the ability to be in the same room with other people, but with online class, it really does open up a broad range of modalities for you to communicate with others in the class," Efendy said. "Even a simplistic chat function, for those of us who are more timid … did give me that avenue to reach out to her, which maybe in person I wouldn't have that big of a gut to walk up to her." 
So, for those of us who get heart palpitations trying to make a move in person or are fed up with dating apps, Zoom might just be the ideal place to reach out to a potential date. 
"At the end of the day, what makes this story really meaningful to me, and perhaps what makes it so heartfelt for other people, is that we just so happened to make it at the end," Efendy said. 
Fourth-year undergraduate Stella LeClair had a similar experience when she met her Zoom crush last quarter. After eying each other on their respective screens, a few in-person exams, and chats on Discord, her Zoom crush developed into something more and the two are now dating. 
"I would have expected something like that to happen more in an in-person class, but it's possible over Zoom, too," LeClair said. 
Both LeClair and Efendy offer simple advice that sounds almost too good to be true: Just go for it. Zoom crushes have held their trivial purpose for over a year now, but maybe it's time we make our move and add a little thrill to the mundane Zoom lifestyle. 
In the meantime, professors will appreciate our increased participation and will hopefully turn on those chat functions. So, keep your chins up and those cameras on. Zoom class may get a little more interesting for you this month (and possibly more). 
Reach columnist Adysen Barkhurst at opinion@dailyuw.com. Twitter: @adybarks
Like what you're reading? Support high-quality student journalism by donating here.