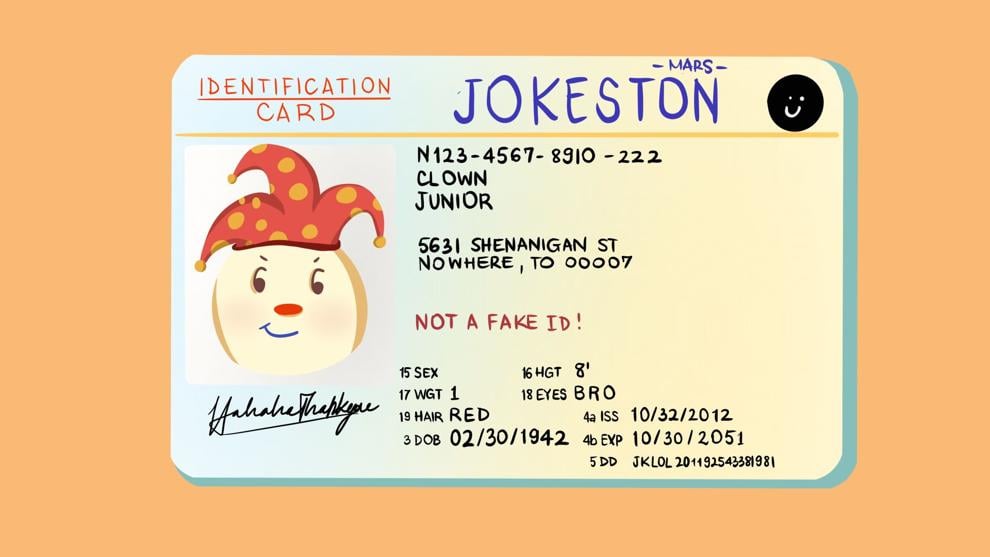 Editor's note: All sources have asked to remain anonymous.
For legal reasons, this is a joke.
Fake IDs are an integral part of our college lives. Without them, we would be lost.
While the illegality of fake IDs is made abundantly clear to us students, that does not stop a third of us from owning them. Go team!
When the time comes for each of us to turn 21, as glorious as that day may be, I think we too often neglect our beloved fake IDs, forgetting to reminisce on our time spent together and all the service they did for us.
The return of in-person learning this past fall led to the inevitable: Drinking activities resumed in full swing, and fakes were put back to work. 
So, let's take a moment to appreciate our fake IDs and the stories they've given us –– they deserve all the love. What follows are anonymous testimonials from our many fake ID-loving undergraduates.
"They asked me when I graduated high school and I said 1987 … I was 20 at the time, so that would have made me 53 years old."
"One time I pulled out my fake ID for a cop that just pulled me over for speeding."
Double whammy!
"My friend had a[n] Illinois fake ID and the bouncer asked her what the capital of Illinois was, and she said Des Moines."
Des Moines is, in fact, the capital of Iowa. 
"Flowers took my fake ID."
Such disrespect, I thought Flowers was a homie.
"I got immediately rejected from a bar and my ex-boyfriend, who I hadn't talked to in a year and a half, had to buy [the fake] back for me for $100."
"When I showed my vaccine card and my fake … the bouncer just stared at me."
A booming profession nowadays is the editing of vaccine birthdates, aka God's work.
"My friend has her fake at the bar to keep her tab open, and when she asked for it back, she said, 'Can I have my fake back?'... and the bartender just laughed and gave it back to her."
"Went to a bar on my fake's birthday, bartender wished me a happy birthday, I was confused AF."
"I gave my sister my old fake ID with a birthday in 1997, and when we went to the bartender, he asked to see our IDs. He looked at both IDs at the same time, with the same name and same birthday three years apart. After looking back and forth for a minute, he asked us what we wanted to drink."
"My ID got peeled apart because it was so fake, so I had to wait for the bouncer to turn and then I crawled on my hands and knees under tables into the front door."
This might be a new low. Kids, don't try this at home.
"Some guy pocketed mine and may or may not have used it as an excuse to see me later."
I hope you're all taking notes. Word on the street is stealing someone's fake is the new way of asking for their number.
"They denied my ID but still gave me my tequila shot to go!"
"First time I ever tried using it, I went to the counter and the guy laughed at me and broke it."
Forty dollars down the drain, a modern-day tragedy.
"Handed the bouncer my ID, and when he asked for my Snap, I was like, 'Oh yeah, sure, you're cute,' handed him my phone and he immediately went to my Snap settings and saw my real birthday."
And that's why you just pull up your Snap code.
"Lost my wallet in the mall and the mall cop found [my fake ID] and took me into a janitor's closet to question me. I was really scared at first but he ended up giving it back to me and I realized it was just a mall cop getting off on his power."
Paul Blart would never.
"[The] bouncer asked me how old I was, I guessed 24; he told me my fake was s--- and let me in. The correct answer was not 24."
All hail the fake IDs that have carried the weight of our college careers, the best $80-200 investment any of us will make in these four very short and very foul years of our lives — excluding the fakes that don't scan. 
May we also never forget the bartenders and bouncers who knowingly turned a blind eye to that sh---y fake you handed them. Not all heroes wear capes.
Lastly, a shout-out to all the fake dealers out there, you make the world go round.  
Reach writer Mary Murphy at opinion@dailyuw.com. Twitter: @marymurphy301
Like what you're reading? Support high-quality student journalism by donating here.