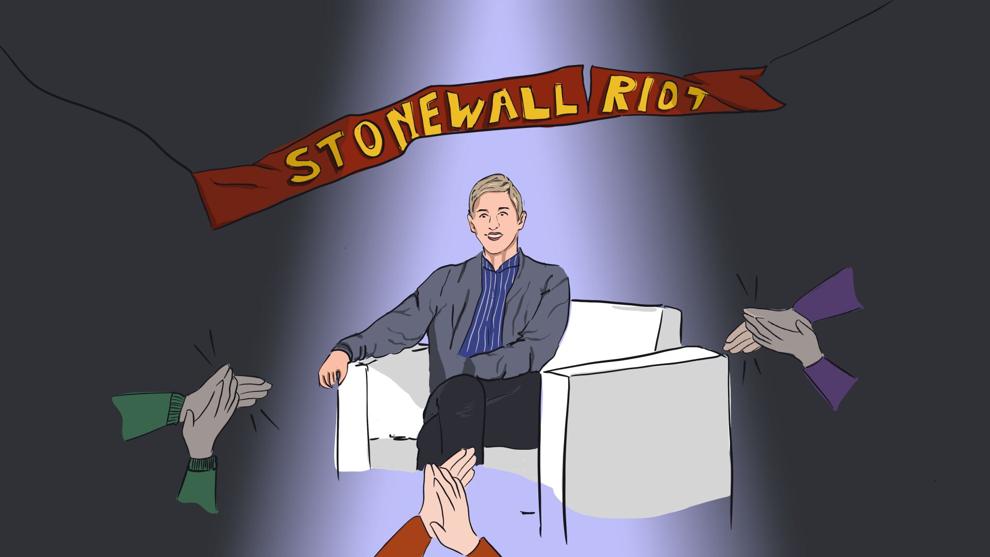 As of late, "intersectionality" has joined "gaslight," "woke," and "cancel" in words that have fallen victim to white misinterpretation and co-optation. But intersectionality is important in how we approach all aspects of life and critique. This is relevant in looking at issues and injustices in LGBTQIA+ communities as well.
Especially in light of the problematic former "Bachelor" star Colton Underwood coming out as gay, it is important to look at queer people dimensionally.
These days, there are many more prominent figures in the UW, politics, and entertainment who publicly identify as LGBTQIA+. Caitlyn Jenner, Ellen DeGeneres, UW President Ana Mari Cauce, and Seattle Mayor Jenny Durkan are only a few that come to mind. However, they all share a commonality: They are regarded as pretty problematic figures, despite being queer.
This brings up the necessity of looking at a person's positionality and the intersections of their queerness and other identities. It is first necessary to take a look at how queerness has been long presented in the United States.
Growing up, I had associated LGBTQIA+ communities with white gay men, because that was the only representation I had ever really seen –– they were postioned as the center of the community to me. Third-year Sára Mustre-del Río brought up a similar observation, referencing the 2015 "Stonewall" film, which obscured the contributions of Black and Brown queer people to the Stonewall riots.
"This movie basically portrays a white gay man starting everything and leading all the Black and Brown people," Mustre-del Río said. "I definitely think that it's very intentional to leave out the intersections and just focus on queerness, because when you focus queerness and you don't focus on the intersections — like our society is already structured to talk about white people first — obviously the white gays are gonna come first."
As we've learned from the past months and years, whiteness is frequently centered in social justice conversations, and the discussion of queerness is no outlier.
Frequently, we talk about famous queer people doing problematic things, like Ellen's treatment of employees on set, or Jenny Durkan's "Tear Gas Jenny" last summer. And some people wonder, "Well they're queer, they're minorities, how can they be like this?" Well, we also forget that they are generally white and class privileged –– including our own white-passing UW president.
"Man, I just think of Ana Mari Cauce and how she's profoundly anti-Black and has been awful to Black students' demands and everything," Mustre-del Río said.
Whether intentionally or not, queerness — or other marginalized identities — is used as a cover and defense for not-so-great things. Oftentimes, it's used by others to showcase the American Dream, of minorities being able to truly grasp the rags-to-riches life.
"I guess like, 'Yeah they're problematic and everything, but they're queer, so let's give them a pass' and it's like, how does this make this s--- okay?" Mustre-del Río said. "It's really not because a lot of these people are maintaining the oppression created by cishet white people, and they just happen to have that marginalized identity of being queer, and a lot of times they're tokenized and used as a way to reinforce respectability politics."
A lot of the queer people who get the benefit of making it into the mainstream tend to be very privileged in other ways, and it is proven evidently clear by the problematic behaviors of our queer representation. Many times, we idolize people just on the merits of being queer, because we historically don't get a lot of people to look up to, but sometimes the queer folks in the spotlight are not actually working for the liberation of queer people as a whole.
Mustre-del Río specifically referenced Demi Lovato, as they recently came out as nonbinary, though not so long after showing support for Israel.
"Also, like, how people made a big deal when Demi Lovato came out as nonbinary and, you know, no one paid attention to Janelle Monáe when they did it," Mustre-del Río said. 
Many people of marginalized identities will do things that seem antithetical to these identities, but it starts to make sense when you look at the intersections of their other identities and lived experiences. Having a queer person as a prominent person in media, entertainment, leadership, or otherwise does not always signify progress. 
As some have said, the Pete Buttigieg standard of "be gay, do war crime" is not necessarily one to aspire to. When we look to famous and relevant people in LGBTQIA+ communities, we should continue to be cognizant of who we uplift. Being queer doesn't wash away problematic behavior.
Reach writer Deborah Kwon at opinion@dailyuw.com. Twitter: @scoobydeeby
Like what you're reading? Support high-quality student journalism by clicking here.