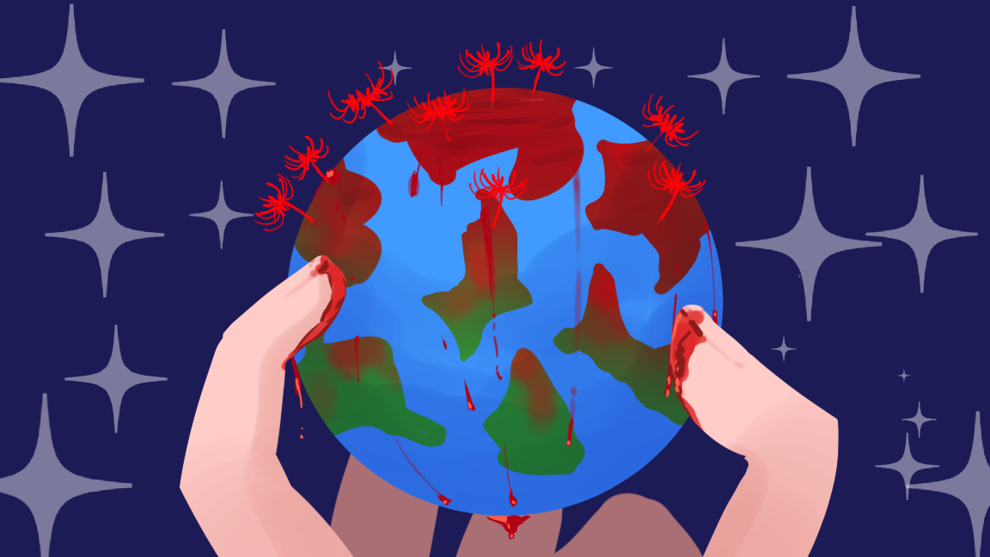 Editor's note: As a Brazilian studying in the United States, understanding that the rain irrigating the Global North to its prosperity is the same that drowns my home country and the whole of the Global South into eternal sub-development was almost inevitable. Inspired by Joaquín Torres-García's drawing, "América Invertida," "Our North Is The South" is a column that sheds light on these colonial processes and the illusions of recycled colonialism.
With colonialism proposed in history books as a closed chapter of human history and the way in which we have all been socialized by the idea that the 20th century's anti-colonial liberation struggles ended colonialism, it is almost heresy to think that colonialism is no longer present. However, in reality, colonial powers only changed in shape and form and continue to subjugate and exploit the Global South.  
The anti-colonial movements of the last century may have ended most of the foreign territorial occupations,  but the control and massacres practiced by the colonial powers still persist in indirect ways, which may have as violent and strong consequences as they did in the past. 
Assuming colonialism is based on the domination and degradation of populations for ethnoracial reasons: Racialized populations and bodies are not recognized with the same human dignity afforded to those who dominate them. They are populations and bodies that, despite universal declarations of human rights, are existentially considered sub-human, beings inferior in the scale of being, and their lives are of little value to those who oppress them — making them easily disposable. 
These racialized people were initially conceived as part of the lands "discovered" by the conquerors. Lands that, despite being inhabited by Indigenous populations since time immemorial, were considered as no man's land –– terra nullius. They were also considered as objects of individual property, of which slavery is historical proof. 
"When we are thinking about colonialism we are thinking of different technologies of subordination, and many … technologies are going to coexist," Ileana Rodriguez-Silva, associate professor of Latin American and Caribbean history at the UW, said. "For example, the [relationship] the United States has with Vietnam, with Puerto Rico, and Guantanamo in Cuba. All of those are different forms of organizations, but they are all about colonialism, subjugation, and people not actually having any meaningful participation in decision making about their lives."
Today, the racialized populations and bodies of the Global South are still victims of racism, xenophobia, and expulsion from their lands, as well as police violence, paramilitary militias, and life-threatening work conditions. All of this exists to satisfy a bourgeoisie with a superiority complex and the hypocritical world of financial capital and international trading. 
"When we are thinking about what is different between earlier forms of colonial relationships and the much more current ... century is the mechanism in which we are incorporating certain forms of liberal democratic participation that gives the illusion that there is some kind of consensus when in reality there isn't," Rodriguez-Silva said. "Another way we may be thinking [about the issue is] how capitalism changes, so of course, the mechanism of extraction and exploitation is actually going to shift to make these changes in capitalism work better." 
Racism is still a core factor of our so-called "post-colonial" society. When critically analyzing history, it is interesting to observe how centuries-old practices of genocide and culture-erasing exist in a structural form today. Evidently, these practices adapt from time to time with a new guise, inhibiting the economic development of countries in the Global South that still have the reputation of being "third world." The Global South is thus condemned to an eternal state of development closely supervised by imperialism and neo-colonialism. 
"Can we talk about what happened in the 19th century versus what happened in the 20th?" Rodriguez-Silva said. "I will say that [there] are changes but we need to be careful about how much we state the differences between those changes, precisely because the different forms of colonialism are always coexisting."
Reach columnist Victor Simoes at opinion@dailyuw.com. Twitter: @victorhaysser 
Like what you're reading? Support high-quality student journalism by donating here.