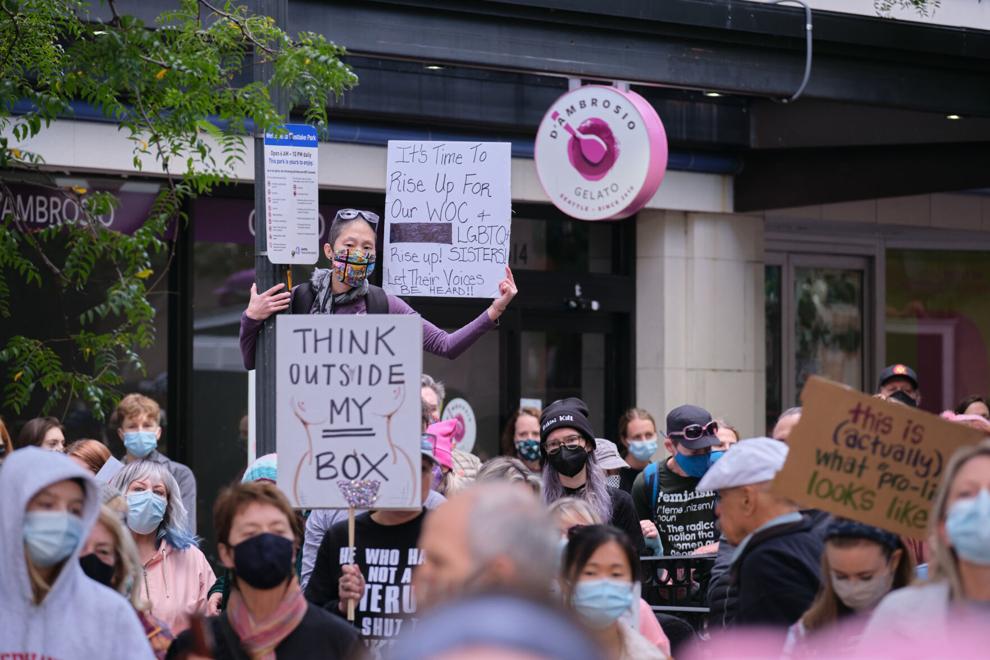 On Saturday's Women's March Day of Action, people from all over the United States rallied for abortion rights. Here in Seattle, a crowd of people gathered at Westlake Park for the Rally for Reproductive Justice in support of reproductive rights and to fight against the current bans on abortion in states like Texas.
A lot of us are fed up with abortion still being considered taboo rather than being seen as just another part of healthcare — especially in the pro-life eyes of the Republican Party and Sen. Joe Manchin. 
All over the country, people with uteruses are affected by bans and attacks on abortion rights, and despite the autonomy-seizing mission to end abortions, the practice will persist even as bans become widespread.
"Everyone should be allowed the right to decide when ... they don't want to have a child, and this ban is definitely taking us back in time, and puts women in the position to have to go the sketchy route," senior Mila Guity said. "They could have a potentially fatal abortion, or they could continue to have a child, not knowing whether or not they could take care of it."
The pro-life — pro-birth, really — crowd is also interesting because the crusade against abortion and the "killing" of fetuses and embryos is very clearly a front. Otherwise, conservatives would do a whole lot more for children in the foster system and people who unwillingly give birth to children.
"I know my mom wasn't necessarily the most prepared when she had me, and I don't think that necessarily giving birth to children means setting them up for a good life," fourth-year Eliza Patenio said. "There's too many kids in the foster system, and that doesn't mean that they're going to have a good quality life, so we shouldn't necessarily force women to give birth to those kids."
It is very relevant to consider that when abortion bans happen, Black people and other people of color are disproportionately affected, as systemic racism permeates all aspects of life.
To top it off, the Women's March, at least at the national level, is not known for its inclusivity. Even by just looking at Saturday's crowd, "liberal" Seattle isn't too much better.
Many signs referenced a woman's right to choose — despite abortion affecting anyone who could become pregnant, like transgender men and nonbinary people. There were also swarms of white women wearing pink pussy hats. You bet your a-- there were also a handful of white folks playing out their dystopian fantasy through "Handmaid's Tale" attire. Not to mention, a sign comparing the GOP to the Taliban, giving me some lowkey Islamophobic vibes.
Shelby Sanders, an attendee of the rally, referenced these issues regarding inclusivity through their sign which read, "Listen to Black & Indigenous Women + Trans & Non-Binary people. Defend ICWA. We wouldn't be in this position if we listened to women of color."
"It's the final fight that's been going on for so long that white women are just jumping on and I feel that not enough white people here are going to respect the fight where it's been coming from for so long," Sanders said. "People are taking pictures of signs and ignoring mine, but that's fine, because some people look at it and it makes them think about why they're here, maybe."
In many movements, we like to slap a white person's face on the cover of the story. We like to put Greta Thunberg as a face of the climate movement. We frequently elevate the voices of white women in the feminist movement. There's the privilege of white gay representation during Pride and in how queer people are generally represented.
This was very much reflected in the crowd at Seattle's rally this past weekend. I mostly enjoyed the rally and its speakers, but there is still something to be desired. 
We have issues with white feminism when it comes to reproductive justice, even just considering that the Seattle chapter is called the "Womxn's March," using terminology that can be transphobic. This is truly a perfect example of white feminism trying to fight the patriarchy while instead being hard to pronounce and not doing anything good for trans people.
The pro-choice, pro-abortion fight is an important one. The GOP is creating future and present irreperable harm through abortion bans in attempting to overturn Roe v. Wade and trying to take control over the bodies of pregnant people. But let's stop with the whitewashing of it all.
Reach Opinion Editor Deborah Kwon at opinion@dailyuw.com. Twitter: @scoobydeeby
Like what you're reading? Support high-quality student journalism by clicking here.