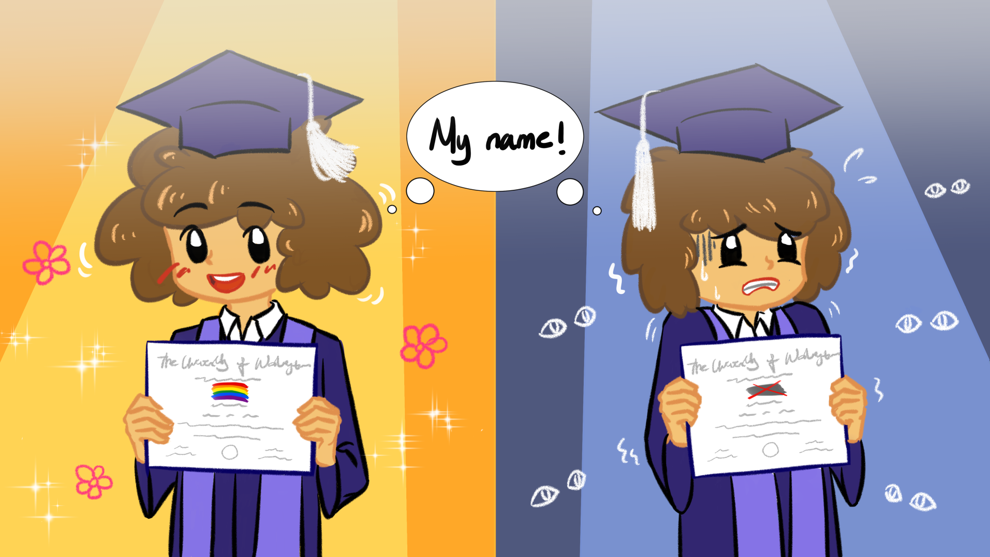 Earlier this month, the California state legislature and Gov. Gavin Newsom enacted a policy requiring public universities to update the diplomas of students who have changed their names, including for gender-affirming reasons. Washington state and Gov. Jay Inslee have yet to do the same — however, UW's name change policy for diplomas has similarities.
In spaces outside of California, such as UW, students may be subject to misgendering — when language is used toward a transgender person that doesn't align with their affirmed gender. This can take the form of deadnaming, which occurs when someone is called by their birth name or given name despite no longer using it. Having to experience this in any context can have a harmful impact on trans students.
At UW, if a student changes their name and would like that change to be reflected on their diploma, they first have to prove to the Office of the University Registrar that their name has been legally changed with at least two verifying legal documents; this means the challenges surrounding changing your name present themselves off-campus, including obtaining new legal documents like a social security card, birth certificate, and a driver's license. 
Akshara Balakrishnan, the cohort operations and programs coordinator at the Q Center, said that the name change process is something that many people in the trans community have come to her with questions about. 
"It's pretty easy after you get the legal change done, like with your government ID and updating it after, but it's always hard without a government-issued ID," Balakrishnan said. "Also, it's very costly, and that's a barrier, I would say, because you have to pay and show [up] in court to petition for the change."
Cori Davidson, a student and HFS staff member, also explained that "currently, if you have already legally changed your name, you're able to change it at the university too with a court order or multiple verifying legal documents".
ASUW Queer Student Commission (QSC) Director Lillian Williamson is interested in seeing an easier process for the name change. 
"To an extent, I understand why legal documentation or proof of usage is required of students, but many students just don't have the kind of documentation that UW requires, which can make the process inaccessible," Williamson said.
Remedying these issues may look like "providing more resources to these students, especially students who are particularly poor as well ... [and] helping with financial aid or setting up an office that provides legal services to help trans folks with access," according to Balakrishnan.
After speaking with many queer community members, there is an understanding that there are policies at UW to accommodate name changes with a verification of a name change. However, this does not mean that trans, nonbinary, and genderqueer students are not facing additional barriers.
"It's important to accommodate this change because it can also cause problems for education and job opportunities," Balakrishnan said. "If they see [that] your names don't match, it can contribute to you being denied entry into those kinds of spaces and it gets more complicated when it comes to gender markers."
Currently, on-campus organizations like the ASUW QSC and the Q Center work to support queer students, along with the Q Center's Trans Femme of Color Cohort.
"Very often, trans folks are not asked what they want," Balakrishnan said. "We need to really ask everyone in the room what they want before we enact policies and make it easier for folks to actually access the rights they were promised."
UW needs to do better in supporting their trans students. This means following California's lead when it comes to names on diplomas and putting an end to something as simple as not deadnaming students.  
"The fact that your mental and physical well-being, being able to access something as important as medical care, transitioning, is reliant on you being able to perform enough for a cis person … is terrifying," Davidson said.
Reach writer Alena Alvarez-Saldivar at opinion@dailyuw.com Twitter: @alenaasaladbar
Like what you're reading? Support high-quality student journalism by donating here.