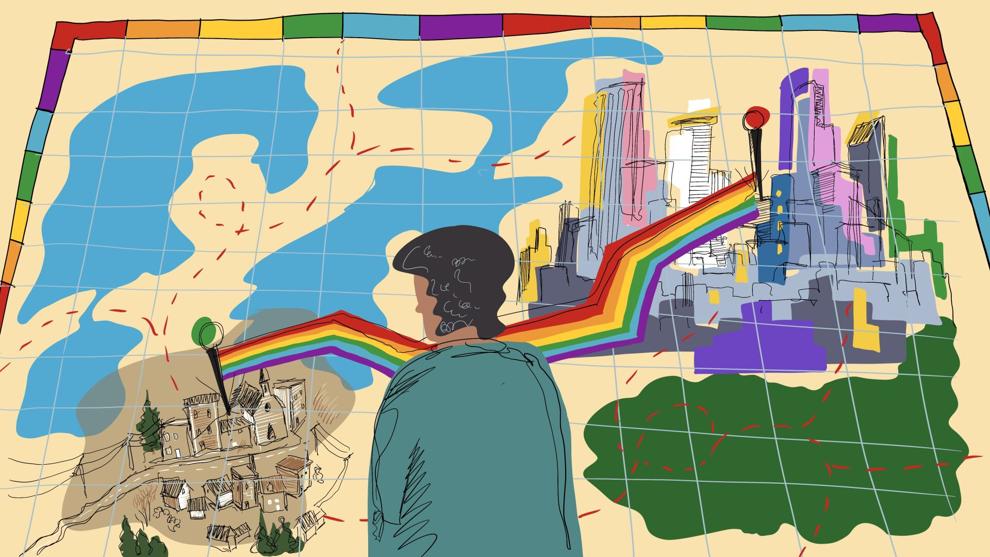 I grew up in a town that has thrown more Trump rallies than pride events. 
The coolest thing to do when I was young was to go to the massive church near my house, a place that threw huge events to draw in and convert students. The youth pastors sat front-row at all the local graduation ceremonies and knew a lot of kids by name. I cried several times at this church growing up after listening to the pastor condemn homosexuality in front of the congregation.
In elementary school, I had a knack for memorization, probably because the Christian school I attended had us memorize scripture often. The only verse I still remember today was assigned to me in middle school, 1 Corinthians 6:9 –– "Do not be deceived. Neither the sexually immoral, nor idolaters, nor adulterers, nor male prostitutes, nor homosexuals … will inherit the kingdom of God."
At the time, I was angry for my best friend, the only girl at our little school who was openly queer. It felt like a direct attack for me to be forced to memorize and recite this verse in front of the class and in front of her –– and this was one of the more subtle forms of attacks she experienced. 
She was threatened with suspension if she continued to speak openly about her sexuality. She sat through classes where teachers openly told us that homosexuals would go to hell, and this would occur while teachers were fully aware she was present in the class. 
This treatment was not surprising given where I came from. For example, when I hung the bisexual flag in our yard last summer next to my parents' American flags, they took it down because of what the neighborhood would think. 
I was raised to be a gun-toting Republican, and when I was young and brainwashed, this was fine by me. It was easy to exist in a small town that was so right-leaning then. But then I discovered Tumblr, and in the eighth grade, my best friend came out to me as pansexual. I had never met a queer person until then. 
I transferred to a public school for high school, and I realized around the same time that the intense friend crushes I had on girls definitely weren't friend crushes. My freshman year, I met other bi girls who helped me put a name to what I was feeling. I remember one of the cheerleaders came out when we were underclassmen. She was the talk of the school; everyone knew about anything that happened between her and her girlfriend. 
That was one of the weirdest things about being openly queer in a small-town high school: Suddenly, being gay is one of the biggest, most-talked-about aspects of your personality. Yet somehow, I never got a girlfriend –– which is a cruel joke, if you ask me. 
It was hard trying to experience romantic relationships with girls when I was already friends with the only other gay girls at my school (and there was an unspoken boundary that none of us would ever date each other). 
So I graduated high school with no experience dating girls, and I moved to Seattle utterly terrified of the possibility of having to confront that lack of experience. Arriving in a city like Seattle was a shock, to say the least. Not only did my dating pool expand exponentially, but the acceptance of queer identity was a given here.
It took me months until I saw my first Trump flag in Seattle, while rainbow flags hang in windows and businesses everywhere. I got to attend pride five minutes away from where I would be living, whereas back home, the nearest pride events were 30 minutes away in the city. When I met new friends, it was so common for them to identify as queer, but it wasn't the only aspect of their personalities that mattered. They could be infamous for their cooking skills in the dorm halls, for their expertise in their topic of study, or for their hobbies. 
I think a lot now about how my friend from high school was labeled as a lesbian before anything else. She was a dancer, a cheerleader, the life of the party, and had big hopes and dreams, but in the halls she was just "the lesbian girl." 
Sometimes when I walk through Seattle, hands stacked with rings, jeans cuffed, and thrifted grandma-esque T-shirts screaming "QUEER OVER HERE," I think about the new generations of gay kids walking through my hometown. They are left out of the pieces of LGBTQIA+ culture that I cherish so much, lacking the community to truly get to know this side of themselves, and forced to fly any flag other than their own. 
They're brainwashed by the local church that finds their way into every high school in the area, and they're stuck in this place that never wants them to realize they're different. 
I am so unbelievably grateful to have found a place where my flag flies proudly, and where so much love can be found. I've started to take for granted this absolutely beautiful place of queer expression that is Seattle.
I'm writing this now from my childhood bedroom, watching the American flag wave in my front yard. Thinking of Seattle fills me with pride: pride that made me so uncomfortable in my small town. 
Reach writer Katelyn Grganto at opinion@dailyuw.com. Twitter: @KGrganto
Like what you're reading? Support high-quality student journalism by donating here.