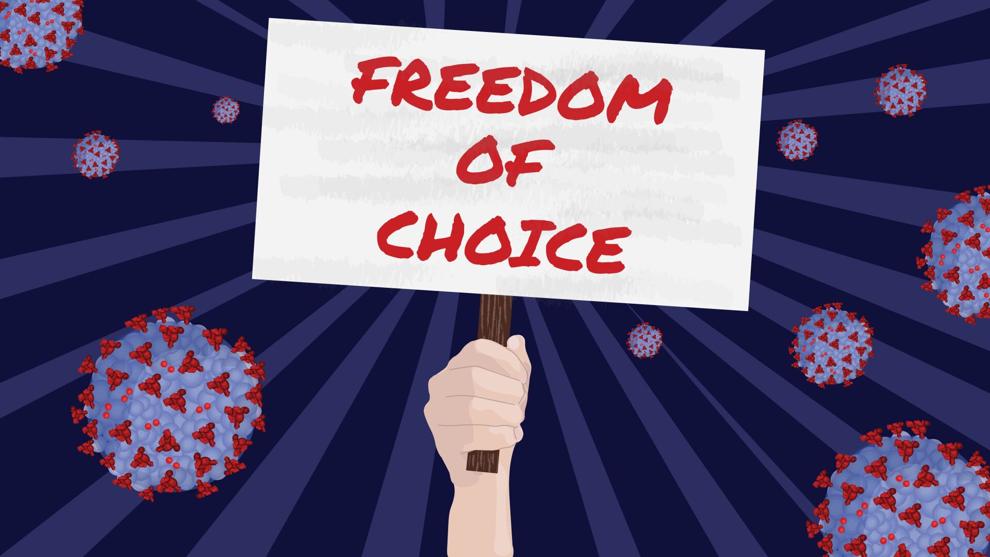 We live in unprecedented times. God, don't you just love to hear that phrase?
Since the start of the pandemic, we've had a bit of a spike in terrible, weird, and unjust things that have been happening — both in real life and on our social media timelines.
This summer, a relatively recent development was seeing and reading about anti-vaccine and anti-mask individuals talking a whole lot about the "freedom of choice." In an irritating turn of events, typically anti-choice and anti-abortion white women were seen holding signs saying "my body, my choice."
Funnily enough, abortion rights were simultaneously being stripped in states like Texas and Mississippi. 
It is interesting, at the very least, to see anti-vaccine conservatives preach about choice when it comes to getting vaccinated against a deadly virus with numerous variants, while at the same time calling themselves "pro-life" and fighting against choice when it comes to abortion access. 
This terrible parallel definitely has not gone unnoticed.
"They were instead protesting a simple and painless public-health measure," Molly Jong-Fast wrote for Vogue. "They were mad at the idea of having to wear a piece of fabric on their faces. For this particular group, government regulation was fine unless it was regulating them — at which point it became a horrible infringement on their constitutional rights."
Organizers of freedom rallies that have happened all across the United States are part of the camp who want the "freedom" to choose not to get vaccinated and mask up. Many of these actions have actually resulted in organizers contracting COVID-19 — sometimes causing their deaths.
The hypocrisy is strong with the pro-life, anti-vaccine, anti-mask folks; regardless of how tragic any death is, it's hard to have sympathy for people risking their lives on an anti-vaccine crusade while there have been more than half a million recorded coronavirus-related deaths in this country alone.
The anti-vaccine and anti-mask conservatives seem to somehow stand for "life" in the case of abortions. However, choosing not to get vaccinated for reasons unrelated to vaccine access or medical conditions is debilitating not just for yourself but the people around you.
Exercising the freedom to not get vaccinated or wear a mask is ultimately a dangerous, uninformed, individualistic notion that actually does more harm than good in the name of rights and freedom.
Meanwhile, the original pro-choice verbiage that advocates for reproductive justice and rights does much more good than harm for people with uteruses. Also, the choice to get an abortion doesn't affect anyone other than the person receiving the abortion.
Abortion doesn't cause death, and sometimes, it actually saves the life of the pregnant person.
But alas, co-optation strikes again in anti-vaccine individuals' manipulation of the way reproductive justice organizers talk about "choice," fulfilling a dangerous agenda.
Words mean things. It is laughable to see typically anti-choice individuals eager to talk about choice all of a sudden when it comes to something as instrumental as vaccinations during an ongoing global public health crisis.
The terrible irony continues when you consider that abortion access in the United States is being stripped away in real-time — which harms many with the ability to get pregnant, especially Black and brown people, contrary to the "Handmaid's Tale" parallel beloved by many white women.
People are fighting for their right to choose to not get vaccinated, thus, endangering everyone around them, while people are harmed or die due to low, non-existent, or unsafe abortion access. 
How interesting that this is the struggle that the anti-vaccine folks have chosen.
Reach Opinion Editor Deborah Kwon at opinion@dailyuw.com. Twitter: @scoobydeeby
Like what you're reading? Support high-quality student journalism by clicking here.