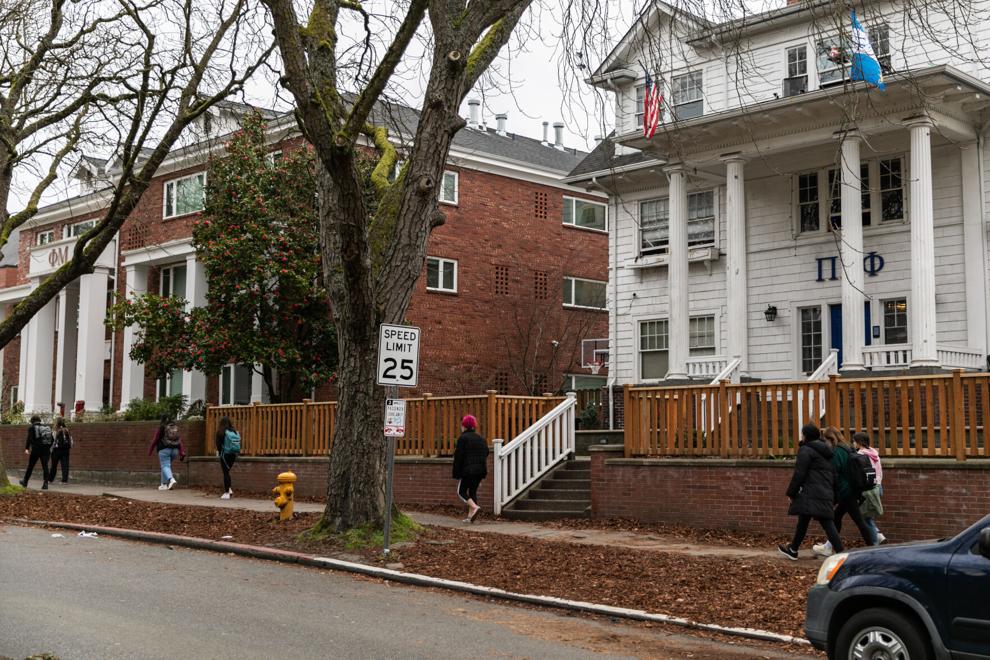 In January, a TikTok surfaced of multiple members of Omega Zeta Pi from Southern Connecticut State University laughing and mocking rituals of Zeta Phi Beta, a historically Black sorority. Their actions infuriated me, but it also turned my attention to the Greek system as a whole, especially here at UW. 
With horror stories of hazing, bullying, and elitism circulating the internet, Greek life has always been something I've given a side eye to. However, nothing has deterred me from the streets of Greek row more than worries of racism. Race is a salient part of every BIPoC student's lens, but during my time at UW, I have yet to hear the perspective of diverse students in chapters on campus. 
For incoming students, struggling to find acceptance within a school as big as UW is something that everyone can relate to. As with most students first attending college, second-year Isabelle Paul, a member of the sorority Chi Omega, said the reason she joined Greek life was because she wanted to find a community within UW. 
"I am an out-of-state student and coming to school last year I didn't know a ton of people going to UW, and I thought that joining another community would just, like, help me find more people that I could talk to and be friends with and relate to," Paul said. 
As a BIPoC student, finding that kind of solace isn't always easy. Paul went on to explain how during her search for a sorority, she was adamant about finding a chapter that prioritized diversity. 
Since race is such a fundamental part of our identity, it's essential to analyze the spaces we enter to ensure that the communities we inhabit offer us racial and ethnic acceptance. This was a prevalent talking point for the various BIPoC students I spoke with. 
Ian Kirk, a graduate student and former member of the fraternity Phi Beta Sigma, said race was an important factor as he explored Greek life options during his undergraduate years, and even shared these sentiments with a member of one of the predominantly white fraternities he considered joining, during which his worries were invalidated.
"It wasn't the fact that he wasn't aware of the things that I experienced in my life, it was more just the unwillingness to see me in my experience," Kirk said.
Kirk said he wanted to find a community that could connect with his experiences. This was ultimately one of the reasons he joined a historically Black fraternity, which turned out to be a great and fulfilling experience.
"A lot of [the Phi Beta Sigma] missions are based in, like, changing the norm and supporting their community," Kirk said.
In fact, most BIPoC students who are part of Greek life are members of historically Black, Asian, and Latinx chapters. The National Pan-Hellenic Council and the Multicultural Greek Council consist of nine and 11 chapters, respectively, and have focused on creating safe and inclusive spaces for students of color on campus. 
While the chapters are significantly smaller, they have created tight-knit spaces for BIPoC students to feel seen. 
Fourth-year student Jimmy Guo, a member of Lambda Phi Epsilon, a historically Asian fraternity, said his ability to connect with his brothers culturally was a rewarding experience that brought them closer together.
"Connecting with people with very similar cultures is important to me and also just more comfortable, so I found it really easy to connect with the bros," Guo said.
Being the only person of color in a group, class, or any community can be draining and alienating. The fact that many BIPoC students gravitate towards chapters that specifically cater to these needs makes sense. 
While predominantly white chapters have made some progress in creating safe spaces, such as implementing diversity, equity, and inclusion committees, it can, at times, seem more like an afterthought.
Third-year student Tatum Dalgleish, a former member of the sorority Tri Delta, said, as a white student, she didn't really see a huge effort to create change within her house.
"In my house, specifically, I don't know if there was, like, really a huge effort, or at least … it wasn't big enough for me to remember," Dalgleish said.
Am I saying that the Greek system's only focus should be on diversity and inclusion? No, I'm not. I understand the focus on building community outside race, taking part in philanthropy, and promoting other values. However, there should be more of an effort to create safer spaces for people of color, which seems to be lacking at the moment. 
So, if you're a BIPoC student thinking of rushing a sorority or fraternity, but aren't sure which route to take, joining one of historically BIPoC chapters on campus is probably your best bet. 
Reach contributing writer Elizabeth Mugho at opinion@dailyuw.com. Twitter: @ElizabethMugho 
Like what you're reading? Support high quality student journalism by donating here.