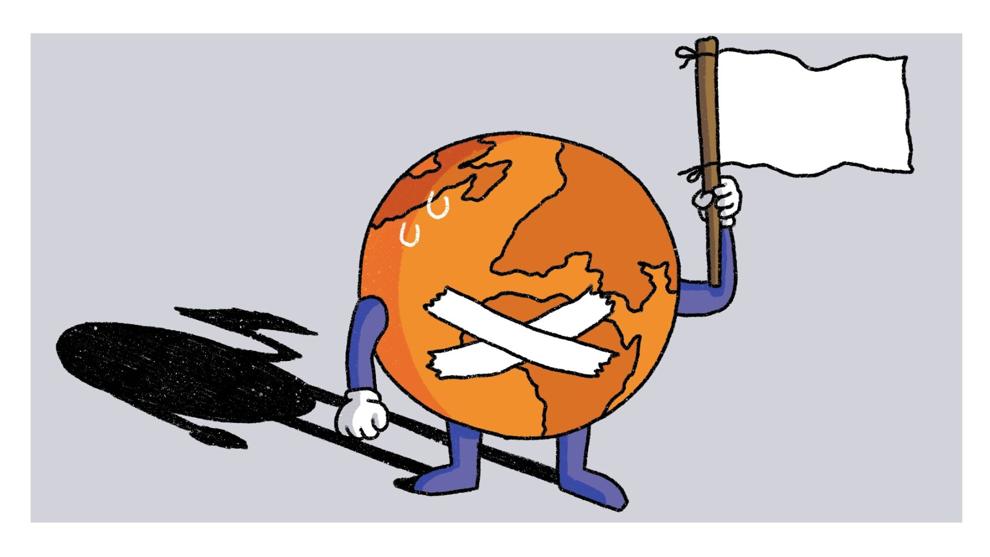 If you've been watching the news, you've probably seen headlines on climate scientists around the world protesting the fossil fuel industry. 
Numerous articles are circulating about scientists chaining themselves to the doors of banks, demanding they divest from fossil fuels. Scientists have also repeatedly tried to explain the severity of the climate crisis on TV in frustrated outbursts that are eerily "Don't Look Up"-esque. There was even a recent incident where climate activist Wynn Bruce set himself on fire in front of the Supreme Court building as an act of protest against climate inaction.
The rise in climate protests isn't a coincidence. The sixth Intergovernmental Panel on Climate Change (IPCC) assessment report came out earlier this year, and it wasn't good. According to the latest report, not only are the current plans to address climate change not enough to prevent further warming, but if we don't make drastic, deep cuts to our planet's greenhouse gas emissions by 2025, the effects may be irreversible. 
Despite this alarming report, this information isn't necessarily new. Indigenous peoples, environmentalists, and climate scientists have been stressing the severity of the changing climate for decades and, likewise, have been urging for institutional changes to combat rising temperatures. 
Unfortunately, they have largely been ignored, and we're already starting to see increased heat waves, droughts, and floods all over the world.
Learning about the future of our planet can be frustrating and anxiety-inducing, especially when global leaders continue to promote oil drilling and fossil fuel usage. Dargan Frierson, an associate professor in the department of atmospheric sciences, has been attending climate protests around Seattle. He believes the way to reduce these fears and anxieties is to listen to Indigenous peoples and other leaders in the movements. 
"They understand the issues," Frierson said. "They understand the intersectionality of things, and how it's not just a scientific problem. It's embedded in all these much deeper things." 
Rising temperatures aren't just a scientific problem. Climate change is also a capitalist, colonial, and racist problem. Centering Indigenous voices is a key and central part of advancing the climate movement and efforts to reduce rising emissions, as well as investing in grassroots organizations in our local communities. Getting involved with local organizations is key to implementing preventative measures and preparing for times of crisis.
"Get involved with community organizations," Frierson said. "When we come together, then there's really an opportunity for big change."
The UW community has numerous student leaders and organizations who are taking action, such as the Institutional Climate Action (ICA) group, which is a climate justice coalition on campus working towards divestment from the fossil industry. 
Mantak Singh, a first-year student, is an enthusiastic member of ICA and leader of the organization's Fossil Free U (FFU) campaign.
"ICA is working towards divestment," Singh said. "[This means] getting $124 million not invested towards fossil fuels, which leads straight into our Fossil Free U campaign."
UW is heavily tied to fossil fuels, and currently has about $124 million invested in the industry. The FFU campaign aims to eliminate all ties UW has with the fossil fuel industry, and instead transition to more eco-friendly options. 
FFU has five demands: UW must stop taking fossil fuel money, stop investing in fossil fuels, cease building infrastructure that depends on fossil fuels, transition away from the industry to more sustainable options, and cease conspiring with the industry. 
"It's a lot of work, but at the same time, it's really helpful to have a group of people who care about what's going on on a deeper level, and also want to do something about it," Frances Yih, a second-year student and member of the ICA, said.
In addition to ICA, there are numerous other groups on campus that are working to create change. Washington Public Interest Research Group is currently leading a Break Free From Plastics campaign that aims to reduce single-use plastics in the state. There are also groups like the Society for Ecological Restoration, where students work to restore biodiversity on campus.
Beyond campus, there are numerous organizations such as the Duwamish River Community Coalition, Got Green, and Front and Centered, which put Indigenous voices at the forefront of their movements. These groups highlight the inequities many BIPoC communities face as the climate crisis worsens and aim to provide equitable access to their communities. 
While the news about the state of our climate can feel scary, we must not let fear win. We can still mitigate this crisis, but it requires action and resilience from everyone. Getting involved within our communities on all levels is the key to creating a better future for ourselves and for others.
Reach contributing writer Elizabeth Mugho at opinion@dailyuw.com. Twitter: @ElizabethMugho 
Like what you're reading? Support high-quality student journalism by donating here.