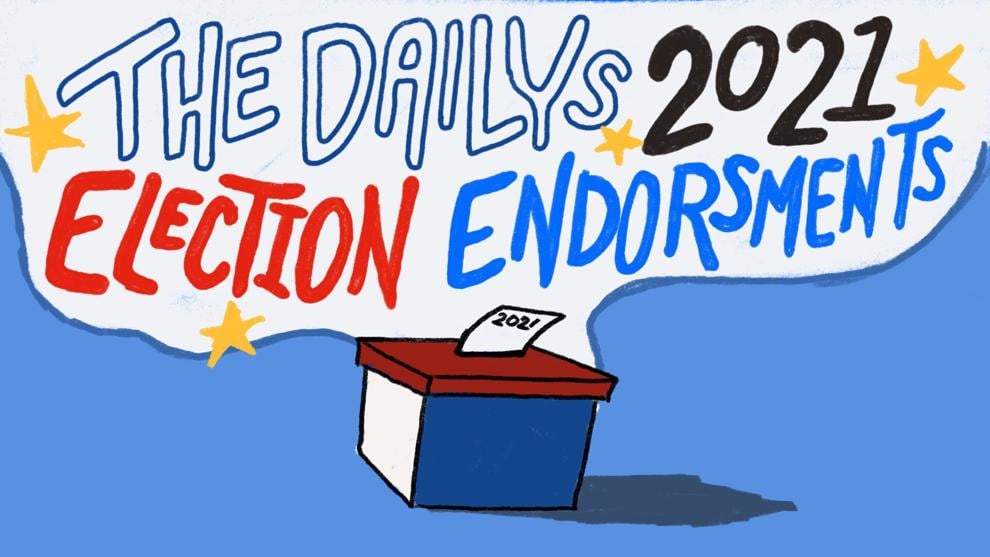 During an ongoing global pandemic and an important period for reckoning with homelessness, police violence, and more, the upcoming general election is a crucial glimpse into the future of Seattle.
The opinion section today is devoted to a fair assessment of the ballot for the 2021 King County general election. The Daily Editorial Board came together to vote on this election's ballot, considering each candidate based on the promises and statements they made on the campaign trail and incorporating each individual editor's own research. The Board determined endorsements by discussing and weighing candidates based on policy vision, experience, and history to most effectively serve King County, Seattle, and the UW community.
As a core principle, The Daily Editorial Board is committed to holding each endorsed candidate accountable to promises made on the campaign trail.
The following endorsements are a reflection of the opinion of The Daily Editorial Board and are signed by Deborah Kwon, Opinion Editor; Trevor Hunt, Managing Editor; Joshua Lee, Arts + Culture Editor; Dylan McKone, Web and Special Sections Design Editor; and Zoe Schenk, Development Editor.
---
Seattle Mayor: M. Lorena González & Bruce Harrell
All eyes are on the Seattle mayoral race, with Seattle gaining a new mayor regardless of the outcome, due to Mayor Jenny Durkan not seeking reelection.
Running on a progressive platform of supporting workers, the climate, affordable housing, and more, M. Lorena González has been representing Seattle District 9 since 2015 and was unanimously elected Seattle City Council President in 2020. Moderate candidate Bruce Harrell is a former Seattle City Council member and president.
González and Harrell offer different approaches and rhetoric in tackling the homelessness crisis. Harrell plans to use charities and private funding to create affordable housing and has supported the punitive policy goals of Compassion Seattle, a reformist coalition affirming encampment sweeps. Additionally, Harrell himself has stated that he promises to be tough on the homeless.
The Daily Editorial Board condemns the sweeps of homeless encampments, as these only create more violence and dehumanize unhoused people. Sweeps do nothing to address the systemic, root causes of homelessness and only exacerbate this long-running crisis.
González is interested in leveraging shelters, tiny homes, and hotels to create affordable housing options. Unlike Harrell, González has affirmed that she will not condone the sweeps of encampments. In addition, González plans to implement better mental health and addiction services and put non-punitive measures in place to support mental illness, another important step in mitigating and ending homelessness.
As a result of the past year, police reform and abolition has been a hot topic all throughout the country,  especially here in Seattle. During the summer of 2020, González supported the proposal to cut SPD by 50% and currently hopes to be tougher on police reform and accountability efforts. Harrell, on the other hand, is firmly against the concept of defunding the police and hopes to enact personality-driven reform like changing the culture of the police department. Both candidates offer relatively reformist positions on this issue, but it is clear that we can expect more sweeping changes from González.
In the context of the increasingly progressive and leftist makeup of the Seattle City Council, we believe that González's ideology and tone will meld well with the Council, especially in consideration of the clash between the City Council and Mayor Durkan in 2020. For these reasons, The Daily Editorial Board recommends González for mayor.
Vote González.
---
Seattle City Attorney: Ann Davison & Nicole Thomas-Kennedy
Nicole Thomas-Kennedy has a robust plan to combat excess criminalization in Seattle, with ideas on how to end qualified immunity and hold the police force accountable. 
Thomas-Kennedy is a self-proclaimed abolitionist who decided to run at the last minute after realizing she could be the one to bring about the changes she wished to see in the Seattle City Attorney's office. As a public defender, Thomas-Kennedy has the necessary experience to fill the role of Seattle city attorney, and she understands how everyday people are violently affected by tough-on-crime policies.
In order to decrease the negative effects of continuing "broken window" policies, Thomas-Kennedy plans to prosecute fewer misdemeanors resulting from poverty. She plans to turn her role as Seattle city attorney into a position that can protect poor and marginalized communities, who are prosecuted at rates five to six times higher than white community members.
Thomas-Kennedy has multiple ideas ready to implement once she enters the city attorney office, including a victim's compensation fund to "repair people and small businesses who have experienced monetary loss from unpaid restitution," decriminalizing sex work, increasing funding for mental health and addiciton treatment, and focusing on survivor-centered justice.
Thomas-Kennedy also has concrete ideas on humanely working to end the homelessness crisis in Seattle, focusing on eliminating sweeps of homeless camps, ending cash bail policies, and collaborating with the city's human services department "by reallocating a percentage of funding currently dedicated to prosecution into community-based behavioral and mental health services, and evidence-based harm reduction."
On the other hand, Ann Davison is running on a tough-on-crime platform that would increase the isolation and marginalization of the homeless population in Seattle, as well as make it harder for vulnerable communities to protect themselves. Davison also has fewer concrete plans, and the policies she does have go in the opposite direction of the positive change that The Daily Editorial Board wants to see for Seattle.
Overall, Thomas-Kennedy's community-forward policies and clear goals make her the best candidate for the position of Seattle city attorney.
Vote Thomas-Kennedy.
---
King County Executive: Dow Constantine & Joe Nguyen
Incumbent Dow Constantine and state Sen. Joe Nguyen are both qualified, progressive candidates for the office of King County Executive.
Constantine has held this office for 12 years and has much work under his belt such as expanding the Metro — including the recent light rail expansion here in U-District — and supporting the homeless, especially during the ongoing COVID-19 pandemic. Given another term, Constantine plans to continue his current work, especially continuing to expand the light rail system further south.
The Daily Editorial Board acknowledges and criticizes Constantine's role in building the $250 million King County Youth Detention Center, which he only backed away from after immense pressure from protestors — and Constantine now promises to transition the jail from holding youth by 2025, which is admittedly a longer timeline than desired. However, this also demonstrates Constantine's willingness to listen to his constituents and that he can be amenable to calls to support the needs of vulnerable King County communities.
Nguyen is a supporter of free transit for all, an ambitious and important step towards equitable public transportation. He also understands that crime prevention, as well as support for the homeless, starts with addressing the root causes and providing basic needs to everyone. Being a local of White Center and son of Vietnamese immigrants, combined with his history during his current term as a state senator, it is clear that Nguyen understands the needs of marginalized communities. 
We believe that Nguyen is a highly qualified candidate, but we also recognize that this is Nguyen's first term in the Washington state Senate, and The Daily Editorial Board has hesitations about voting for him for King County Executive. We feel comfortable with the work that Constantine has done thus far during his tenure and recommend him for another term. 
Vote Constantine.
---
Seattle City Council, Position 8: Teresa Mosqueda & Kenneth Wilson
First elected to the Council in 2017 with 61.2% of the vote, Teresa Mosqueda has prioritized housing, small businesses, workers, and community safety, accomplishing a great deal over the past four years. As chair of the finance & housing committee, Mosqueda has implemented a moratorium on rent bidding, invested over $100 million in affordable housing, and increased funding to emergency shelters, Health One, and other human services.
Mosqueda was foundational in the passage of JumpStart Seattle, the city's progressive revenue plan, which is estimated to raise more than $214 million each year by taxing large businesses and high-earners. We believe such a plan is critical to addressing immediate COVID-19 impacts and the city's long-term housing, health, and safety needs. As the visionary and architect of the progressive plan, Mosqueda deserves the opportunity to put the money to good use and see it through.
While critics argue Mosqueda is too far left and her policies too bold, we believe her progressive agenda is the right one for Seattle. Of particular interest to us is increased investments in public transportation and affordable housing, rental and utility assistance, housing-first models for addressing homelessness, and prioritizing communities of color.
Kenneth Wilson, Mosqueda's challenger and civil engineer, is a newcomer to Seattle politics. While we commend and welcome new faces into the field, Wilson's history of community involvement is severely lacking and his plan to address homelessness is underdeveloped in comparison to Mosqueda's. Wilson may build physical bridges, but we seriously doubt his ability to build the future we want.
Vote Mosqueda.
---
Seattle City Council, Position 9: Sara Nelson & Nikkita Oliver
Nikkita Oliver's approach to community, centering the idea of human-focused policies, sets them far above their opponent.
Oliver's plans for improving the living conditions in Seattle include everyone. They plan to invest in building sustainable, affordable housing throughout Seattle, change restrictive and damaging zoning laws, and end sweeps of homeless camps.
Oliver is a community organizer, and their policies and actions appeal to younger voters who are tired of the status quo, having seen little to no changes in Seattle legislation. Oliver organizes with No New Youth Jail, Decriminalize Seattle, COVID-19 Mutual Aid Seattle, and the Seattle Peoples Party, and their connections to the community run deep, having a long history of actively working to create positive change in Seattle. 
Environmental justice, open democracy, universal healthcare, racial and economic justice, decriminalizing sex work, creating a more holistic justice system, and fostering a more vibrant arts scene in Seattle are just a few of Oliver's platform's pillars. 
On the other hand, Sara Nelson has a much more moderate approach to handling issues of homelessness and economic reform. Rather than abolish or defund the police, she has a plan to reform them. Nelson would be a very status quo choice for the City Council. 
It is clear that there needs to be real change in Seattle, and The Daily Editorial Board feels that Nikkita Oliver is the necessary choice to implement those changes as Seattle City Council Position 9. 
Vote Oliver.
---
Port of Seattle, Commissioner Position No. 1: Ryan Calkins & Norman Sigler
The candidates, incumbent Ryan Calkins and Norman Sigler, are similarly dedicated to environmental and economic justice. Sigler calls for moving to carbon neutrality by 2030, speeding up the port's current plan to reduce emissions by half at that time. How this will be accomplished is less clear. Calkins, on the other hand, has concrete plans for reducing the environmental impact of the port by supporting electric aviation and high-speed ground transportation.
Both candidates are working to decrease the wage gap and diversify the port. In Calkins' time, a $15 minimum wage was established for airline-catering workers, as well as an accelerated mentorship program aimed at increasing access to contracting jobs for women and minority-owned businesses.
Many critics, including The Daily Editorial Board, are concerned about Sigler's lack of a structured policy agenda. We continue to ask ourselves, "How will it actually get done?" Another example of this lack of concrete detail is Sigler's stance on ending systemic racism. It cannot be ignored that all three white incumbents running for Port Commissioner are facing off against people of color. While The Daily Editorial Board advocates for increased diversity in politics, we are concerned with the lack of planning, as Sigler does''t say much past "I will help the Port with this process."
On the merits of the candidates' platforms, Calkins is much closer aligned with our ideals. However, The Daily Editorial Board does not feel comfortable making an endorsement for this position at the time. 
In October 2019, Calkins and his wife were both arrested in the span of a week on suspicion of domestic violence. Charges have not been filed and Calkins was released 24 hours later. A statement by Calkins and his wife asked for privacy for their children, and that "police followed appropriate mandatory arrest protocol, but in each case following through with charges was not warranted."
We must acknowledge that this happened two years ago and that there has been little to no coverage on the incident since. The Daily Editorial Board hopes that this means that these allegations were false and the case was handled appropriately and closed — as we truly do not have all the facts of the case. However, as domestic violence is so often swept under the rug, we cannot in good conscience recommend either candidate for election. 
No endorsement.
---
Port of Seattle, Commissioner Position No. 3: Stephanie Bowman & Hamdi Mohamed
Incumbent Stephanie Bowman is facing off against Hamdi Mohamed, a policy advisor for the King County Office of Equity and Social Justice. Mohamed comes into this race strong, with a focus on centering the Port on community and environmental justice. Many of Mohamed's goals are a result of living under the Sea-Tac International Airport's flight path, an area most affected by airport pollution.
Mohamed's background is also appealing to The Daily Editorial Board. Mohamed and her parents are Somali refugees, and much of her work centers on empowering immigrants and underrepresented populations, working with Refugee Women's Alliance and CARE International. Should Mohamed be elected — or Toshiko Grace Hasegawa for position No. 4 — she would be the first woman of color on the Port commission.
In line with the rest of our endorsements, we believe this representation is vital to diversifying the commission and ensuring that it will work to support everyone impacted by their choices, not just their direct constituents. This is especially important considering those living under the flight path are often silenced to make way for the larger, richer voices of Sea-Tac Airport.
Bowman has a number of positives under her belt — expanding youth training opportunities and the creation of the first tiny-house village on port property. Unfortunately, many of the positives are ostensibly soured by Bowman's support in 2015 of the Shell Oil base arctic drilling operations in Seattle and the opposition to the $15 minimum wage.
The Daily Editorial Board believes that Hamdi Mohamed will bring a fresh, vital perspective that will serve the commission and the community.
Vote Mohamed.
---
Port of Seattle, Commissioner Position No. 4: Toshiko Hasegawa & Peter Steinbrueck
For Port of Seattle commissioner position No. 4, Toshiko Hasegawa is challenging incumbent Peter Steinbrueck. Hasegawa, former executive director of the commission on Asian Pacific American affairs (CAPAA), is basing her campaign on "strengthening connections" around the Port, stemming from her upbringing as a child of the labor movement.
In the CAPAA, Hasagawa supported small businesses and provided pandemic relief, working to expand affordable health care and paid leave for residents. Outside of her work at the CAPAA, Hasegawa worked with the King County Office of Law Enforcement Oversight and the national office of the Japanese American Citizens League, which The Daily Editorial Board believes will give her a diverse perspective on the Port commission. 
Her opponent is incumbent Steinbrueck, who has made his own positive advances in the Port: making Juneteenth a port holiday, drafting a comprehensive carbon reduction plan for Sea-Tac Airport, and creating a $10 million South King County Community Equity Fund, among others. Both candidates aim to increase the number of living wage jobs in the Port and to combat climate change as well. 
Given the strengths of both candidates, however, The Daily Editorial Board believes that Hasegawa will provide a unique, innovative perspective, one that will help deliver the Port into the future.
Vote Hasegawa.
---
King County Charter Amendment No. 1
King County Charter Amendment No. 1 seeks to correct a grammatical error as well as introduce new charter purposes — including "equitable government, protection and enhancement of the urban and rural environment and community, and promotion of a superior quality of life" — in the preamble of the King County Charter. The Daily Editorial Board believes that it not only serves as a grammatical improvement, but illustrates a move towards inclusivity and a positive broadening of the county's goals, now aiming for a "more equitable government for all." 
Vote Yes.
---
King County Charter Amendment No. 2
In the half-century since the King County Charter began providing members of the public with the opportunity to submit county initiatives for the consideration of the King County Council, state laws have changed. King County Charter Amendment No. 2 aims to realign the charter with state and county law, serving as a technical update to the charter for the present and years to come, making a more consistent and fair county charter. 
Vote Yes.
---
Advisory Votes No. 36-38
Advisory votes were created in 2007 after the passage of Initiative 960. I-960, in addition to other provisions, requires the Office of Financial Management to calculate the long-term cost of approved tax or fee increases and disseminate that information to legislators, the media, and the public. Most provisions of I-960 have since been overturned by the courts, including a requirement that all tax increases require a two-thirds supermajority, but the public notification of tax and fee costs remains in effect. 
Currently, the initiative requires the state to put all tax and fee increases approved by the Legislature up for an advisory vote of the people at the next general election. The results of the vote have no material effect on the tax or fee increases and serve only to poll public opinion.
Initial sponsor of I-960, Tim Eyman, argued that advisory votes "serve as a kind of tax increase report card" while King County Elections Director Julie Wise called them "silly, misleading and dangerous" in their testimonies to a state Senate committee in 2019.
The Daily Editorial Board will not provide endorsements related to Advisory Votes 36, 37, and 38 as, according to the Secretary of State's Office, they are "non-bi[n]ding and the results will not change the law."
No endorsement.
---
Reach The Daily Editorial Board at opinion@dailyuw.com. Twitter: @thedaily
Like what you're reading? Support high-quality student journalism by donating here.