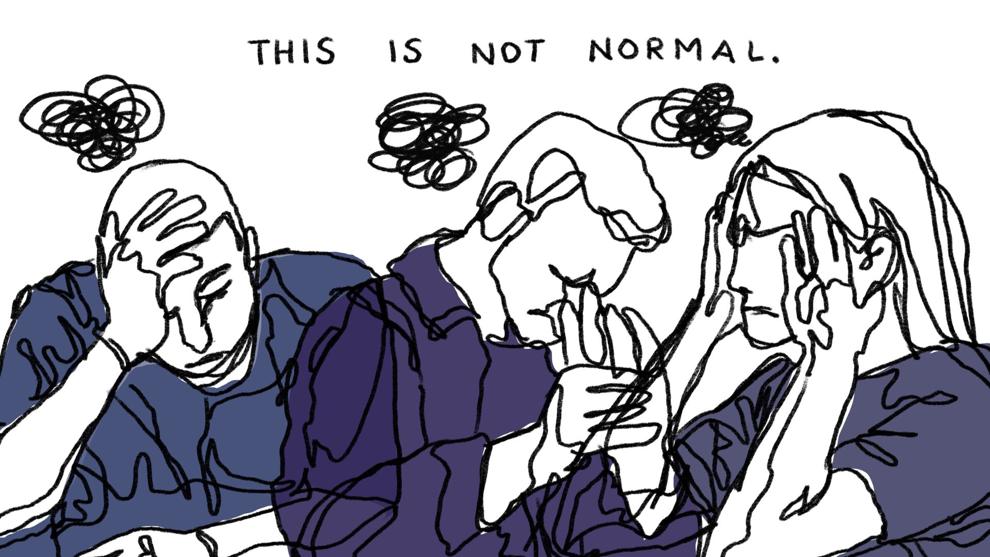 Yes, it's already week four of winter quarter (time is weird), but it's never too late to question why fall quarter was not deemed an extraordinary circumstances quarter (ECQ). 
Don't get me wrong, returning to in-person classes last quarter had its highlights — for me at least. I took a translation course focusing on the Middle East and the dynamics of that class would not have been the same online as they were in person. My humanities brain went on an alternate route last quarter and I learned how to code in Python. Being able to stay behind and ask questions in person was invaluable to my success in the course. 
That's pretty much where the good stuff ends.
As a commuter who lived in Kent (South King County, woot woot!), my daily schedule –– taking classes and socializing (a concept, I know)  –– was tied to the Sounder's timetable. I woke up at 5:45 a.m. Tuesdays and Thursdays to take the 6:35 a.m. Sounder and connect with the Link light rail and would make my way back sometime in the late afternoon. With every ride on public transit, I worried about whether I would be put in contact with someone who had COVID-19 and contract the virus (again). 
UW didn't make it particularly easy for commuter students looking to stay on campus while not being in class; finding a place to eat on campus while bringing a packed lunch was incredibly difficult. With big signs in buildings like the HUB showing designated areas to eat and department lounge areas that no longer allowed eating, I resorted to the only place I could reliably find and use a microwave: The Daily's newsroom. 
I'm not sure how UW expected about 50,000 students to immediately adjust to a "return to normalcy" in September. How were we, after a year and a half of remote learning, supposed to make a smooth transition back to campus? Even now, with a whiplash of a winter quarter and constantly changing school policies, it's been even harder to make a full adjustment.
I won't lie — I dreaded coming back to campus for the fall. Most of my friends had already graduated in June 2021, the tango club I was a part of pre-COVID-19 fell apart due to the pandemic, and I was not particularly looking forward to making a whole new social network again during my last two quarters here. I'm a socially anxious and awkward introvert who doesn't really like interactions with more than two people at a time. How am I supposed to feel comfortable socializing with people in an enclosed space like a classroom or a newsroom when there's still a raging pandemic?
This is where I want to make my point. The definition of an ECQ, according to the University Registrar, is a quarter "that has had extenuating circumstances that globally or by individual campus have had an impact on grading and student success." It's not like the pandemic just magically disappeared between the months of September and December 2021. There were still cases, hospitalizations, and deaths in King County and all over the country before the omicron surge –– and the pandemic is still ongoing.
UW's desire to go back in-person emits the same kind of vibe that the Centers for Disease Control and Prevention's modified recommendations for isolation after getting COVID-19 does –– toxic productivity. It took an omicron surge for UW to move winter quarter online and, after two weeks of winter quarter, determine winter quarter as an ECQ.
The pandemic has undoubtedly taken a mental, emotional, and physical toll on UW students and the community at large. It really felt like the administration thought that in-person classes would suddenly snap everything into place.
"As we manage through, remember to pace yourself, and please respect the choices and boundaries that others set to keep themselves safe; you can never know what health or life issues others may be dealing with or what losses and disappointments they have experienced," UW President Ana Mari Cauce said in a Sept. 27, 2021 campus-wide email.
Perhaps that would look like keeping classes online, making sure classes are accessible to everyone, and prioritizing community care. Some students last quarter mentioned how the shift to in-person was a step backward in terms of accessibility. The policies on what happens for classes when a student gets COVID-19 were notoriously unclear, not to mention, feeling like producing is the only way to live and succeed (oh, hello, academia) is really not great. Capitalism sucks. 
The only other email Cauce sent regarding COVID-19 and in-person schooling amid a pandemic last quarter was Dec. 13, 2021. 
"Re-acclimating to in-person work and learning amid COVID precautions posed some difficulties," Cauce said in the email. 
Doesn't reacclimation to in-person learning qualify as "extenuating circumstances that globally or by individual campus have had an impact on grading and student success?"  
Fall quarter was hard, and this quarter will be, too. Just because classes were largely in-person in the fall doesn't mean that once we all stepped outside the classroom every student's world wasn't still upside down and more. 
If in-person classes really make a (semi)permanent comeback at the end of the month, hybrid options should be properly accommodated for every department. Students' safety and learning accommodations have to be made a priority over the farce of our administration pretending that everything is just fine. 
Reach Copy Chief Diana Davidson at opinion@dailyuw.com. Twitter: @dianavdavidson
Like what you're reading? Support high-quality student journalism by donating here.