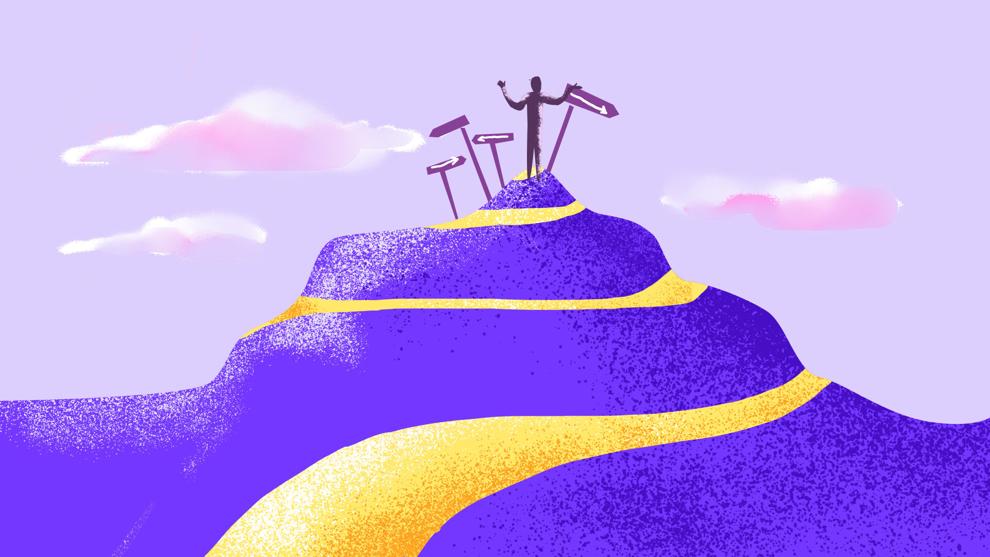 According to the 2019 Open Doors Report on International Educational Exchange, over 1 million international students studied in America's higher education institutions in 2018, contributing $44.7 billion to the U.S. economy. Around 7,800 of those international students attended the University of Washington — a number that increased to 8,100 by 2019.
However, with the current global pandemic, many of those international students feel more estranged — both literally and figuratively — from their lifelong dreams of studying in the United States than ever before. 
After all, the unmatched global prestige of an American education lies not only in textbooks and lectures but in immersion in U.S. culture and person-to-person relationships.
In a typical year, September marks a reset in the internal mental clock of UW students. Any other time, lounging on lush grass under the swaying cherry blossoms, or strolling across Red Square surrounded by anonymous faces hurrying to their next classes, instills a sense of anonymity and smallness.
But for that brief window on the precipice of fall, new students flitting from one orientation event to the next warm the air with their palpable excitement, drawing the campus of 48,000 closer together. 
As part of the festivities, the Foundation for International Understanding Through Students (FIUTS) and the office of International Student Services (ISS) would usually partner to host International Student Welcome Week, a 10-day series of events introducing students to Seattle, each other, and the peculiarities of American life (think Health Insurance 101). 
Campus administrators, faculty, and U-District business leaders began FIUTS in 1948 with the goal of cultivating cross-cultural, personal relationships that encouraged, as stated on their website, "global peace and understanding."
That looks a lot different this year, testing FIUTS's commitment to person-to-person diplomacy. Instead of hosting in-person events with attendance numbering in the hundreds, FIUTS is now leaning into social media, deepening its engagement with storytelling to elevate the work of students around the world. Other programs, like its language exchange, are more popular than before. 
Still, Era Schrepfer, executive director of FIUTS, reflected that while she and her staff feel anxious to meet in person, students she spoke with feel a stronger sense of loss.
"There's so much sadness about what they're missing out," Schrepfer said. 
The challenges international students face this year extend beyond lost opportunities. 
According to Schrepfer, some international students — Chinese students in particular — returning from winter break last January experienced incidents of bias while speaking their native languages or wearing masks on and around campus. 
"We're seeing so much American fear of what's different and fear of people from different backgrounds," Schrepfer said. "Our country is really built by immigrants, and to push against that is really unfortunate. Sounding to international students that they're not welcome is hurtful economically, culturally, and, in terms of the [United States'] role on the wider world stage, is incredibly frustrating."
One such student, Summer Ai, a 2020 graduate now pursuing a master's in data science, recalled the sense of unease amongst her friends in late February as cases emerged in Seattle while the habit of mask-wearing, the norm in many parts of the world, was not yet widespread. Part of the pattern of rising hate crimes against Asian-Americans, the hostility prompted by early adoption of protective wear came as a surprise to many international students. 
"Some Asian people I knew were really panicking about wearing masks because they might encounter racism on the street," Ai said. Soon, Ai's parents in China were the ones to call her daily to ensure her safety. 
To make matters worse, unpredictable immigration policies out of the Trump administration sent international students and ISS, the office responsible for assisting students navigate the bureaucratic maze of U.S. immigration policy, reeling. 
"There was a lot of confusion among students but not a lot of answers," Kim Lovaas, ISS' director, said of the chaotic end to winter quarter. "It was really hard for us because we too didn't know. We were waiting for the U.S. government to provide some kind of guidance."
Students breathed a sigh of relief when that guidance arrived in late March, allowing remote international students to maintain their immigration status, but policy changed yet again in July as the U.S. government revoked the policy for any new international students. 
Given this whiplash, some international students' perceptions of the United States are changing in ways that may leave lasting effects on the country and its global reputation. Though the mishandling of the pandemic alone did not change their minds, the cumulative effects of rising xenophobia and hostile policies reveal a side of the United States that was previously easier for international students to ignore. 
"Before I came to the [United States], I thought it was a perfect country," Khanh Dinh, a 2020 UW graduate from Vietnam, said. "This pandemic really revealed how capitalistic, individualistic, and selfish it is and how much more important money is [in the United States] compared to people's lives."
Though Dinh initially hoped she would find a job in the United States that would sponsor her to stay, she currently feels less committed to her original plan and is looking at graduate programs elsewhere.  
She's not alone. Ai still hopes to gain several years of work experience in the United States but feels uncertain about her long-term prospects. 
"I definitely shifted my mindset that I have to for sure stay in America," Ai said. "Not necessarily because of COVID but because of what Trump did to the international student community. Among my friends, I see a decrease in the number of students staying in America." 
Ai speculates that the costly, arduous process of applying to American universities for international students will prevent a drop in enrollment in the short term, but, if present policies persist, Ai speculates that the U.S. economy and higher education will feel the effects down the line. 
Much rests on the outcome of the 2020 presidential election, but for now, all ISS and FIUTS can do is double down on serving the UW's existing international student community. 
Thanks to individual departments working to accommodate their graduate students and small in-person sections for courses like Vice Provost Ed Taylor's one-credit "2020: The Course," new and continuing student enrollment at the UW for fall quarter seems consistent with previous years. 
After hearing about schools across the country seeing a significant decrease in international student enrollment, international students' apparent commitment to the UW fills Lovaas with hope, a sentiment Schrepfer echoes.
"It's a really important time to advocate for cross-cultural experiences for students across the board," Schrepfer said. "There's not a more important message right now than how key that is to the development of the competitiveness and health of our country."
Reach Pacific Wave Assistant Editor Estey Chen at pacificwave@dailyuw.com. Twitter: @esteychen
Like what you're reading? Support high-quality student journalism by donating here.