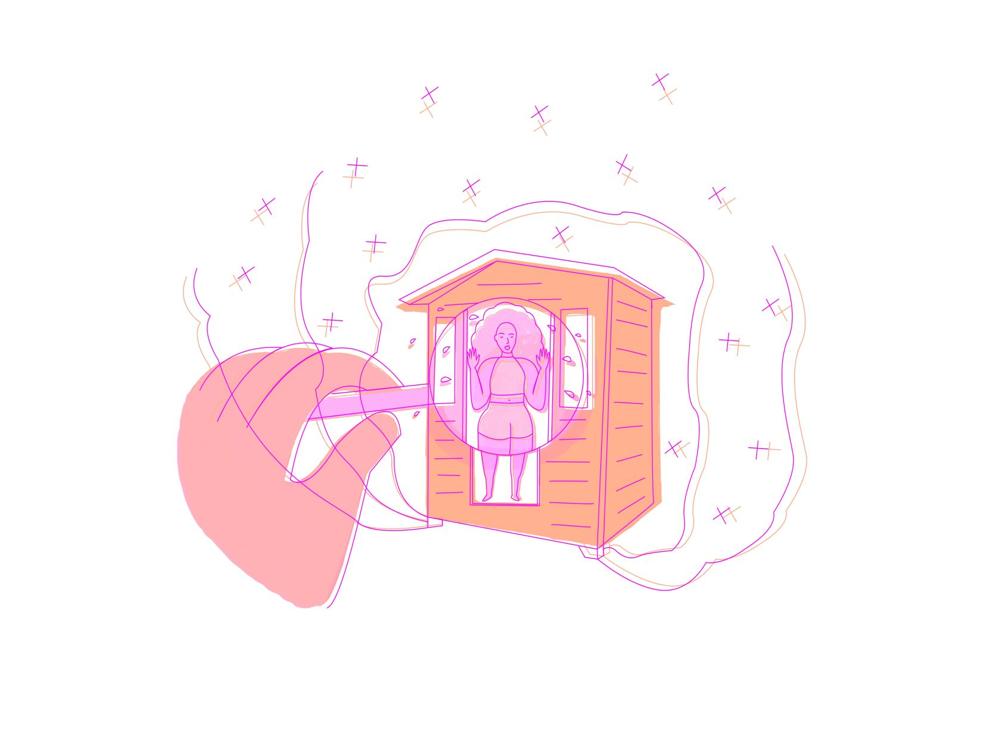 The academic year is beginning, and this means over the coming months the weather will get grayer and the temperature will begin to drop. Stress levels will start to rise. One inevitable byproduct of the changing seasons combining with the typical school-year sleep deficiency is getting sick: the flu, the common cold, or at least general exhaustion.
If you're anything like me, as your health gets a little shaky, you'll start investigating any new wellness trends you can find in an effort to be your best self during the school year. The traditional practice of saunaing, while by no means a new trend, is gaining traction as a way to improve general health. As urban saunas, spas, and sweat lodges begin popping up in most cities, there's no doubt that more and more people will incorporate sweating into their self-care routines.
My mom's DIY cure for congestion, whether it was from allergies or something contagious, was always steam. Whenever I started to sniff, she insisted I take longer, hotter showers, every day while sick, and sit in the bathroom after until the steam had cleared. This (admittedly lo-fi) method never fails, as steam thins and clears mucus. An additional benefit is that the heat relaxes your muscles, and the entire experience is calming. However, you can take the benefits of steam and heat further.
Nowadays, my go-to antidote for congestion is a visit to a real steam room and sauna. This combination has become a favorite remedy for many other ailments, as well. In many cultures, household saunas or regular trips to sweat lodges are commonplace, and recent studies have found an impressive number and range of health benefits that support the longevity of this practice.
Many of the more impressive benefits of saunaing are connected to its effect on blood flow. It has been shown to decrease blood pressure and positively affect artery and blood vessel health. It also can lower inflammation in blood, leading to a number of positive health impacts.
The feeling of relaxation you experience after a sauna may be more than a passing feeling, too.
Regular usage of sauna heat therapy can have positive impacts on your overall mental health, raising your relaxation level and lowering your stress.
Seattle has a number of available saunas. If you go to a gym or fitness studio, chance are that it has at least a dry sauna, if not a steam room and hot tub. These are always great for recovery after exercising, but if in a pinch you can always head to the IMA to use the sauna alone.
If you have the time to make your sauna experience into more of a venture, though, a great place to start is Capitol Hill's Hothouse Sauna & Spa. This spa is women only, though other saunas in Seattle are co-ed. This location is tiny, but this adds to its coziness. It's tucked away under a building, so look for a stairway down from the street. For the day rate of $18, you can access the sauna, steam room, hot tub, cold plunge, and small meditation area. Hothouse is open from noon to midnight Wednesday through Monday, with last entry allowed at 11 p.m. Inside, it's dim and quiet, with only a limited amount of bathers allowed at one time. This minimalist, hidden sauna is perfect if you've never gone to a sauna or spa before.
If you are looking for more of a full-on spa day, try Ladywell's Vitality Spa & Sauna in Greenwood. To use the saunas, it's more expensive at $39 for a day pass. Ladywell's definitely has more options, though; with a dry sauna (at 180 degrees), steam room, infrared sauna, and hot, cool, and cold soak pools, you could spend all day here. This is another women-only spa, and like Hothouse, they also offer traditional day spa services like massages. The interior is cute and colorful, and they have a silent meditation room for in between sweat sessions.
If you're looking for a co-ed spa and sauna space, check out Banya 5. This is a bathhouse, with similar amenities to Ladywell's.
If you're specifically interested in using infrared saunas, which are being explored as a possible treatment for chronic pain, City Sweats has locations in Madison Park and Wallingford.
Reach Special Sections Editor Alyson Podesta at specials@dailyuw.com. Twitter: @alyson_podesta