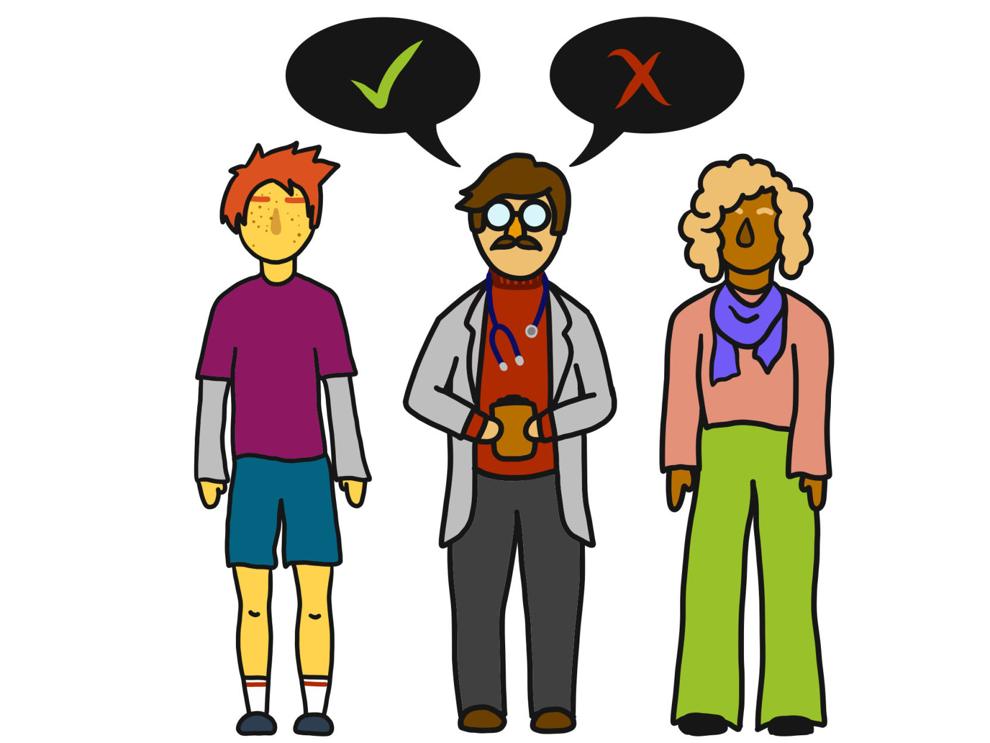 There is only one viral STI that can be prevented with a vaccine. It is also one of the most prevalent and potentially harmful STIs, as it is the leading cause of several different types of cancer. Vaccinating oneself against this STI seems like a no-brainer: it's prevention against cancer. And yet, the most recent data (collected in 2015) shows only about 50 percent of UW students are vaccinated against it.
The infection I'm talking about is HPV, and most people who are sexually active will contract it at some point in their life, whether they know it or not.
Until recently, the vast majority of research on HPV has focused on its connection to cervical cancer, which has led to a feminization of the virus as well as a feminization of its vaccine. This has had lasting effects on how HPV is perceived in society and has led to men being less encouraged to get vaccinated (and is thus protected) against it. This harms men by not protecting them from HPV and puts the burden on women to get the HPV vaccine.
When the FDA approved the first HPV vaccine in 2006, it was approved only for females, aged 9-26. It wasn't until three years later, in 2009, when the vaccine was approved for males aged 10-25. Though only a short amount of time, this three-year gap affected how HPV was portrayed at the peak of its publicity.
The first HPV vaccine in the United States, Gardasil, was advertised in commercials featuring girls and young women claiming they would be "one less" woman who battled cervical cancer because they received the new vaccine.
"Gardasil commercials … were focused on young girls, and sort of associating the HPV vaccination with female empowerment, so I think that campaign has had pretty long legs, and people still make that association," Patricia Atwater, director of health promotion at Hall Health, said.
Professor of psychology and gender, women & sexuality studies, Nancy Kenney, described how no similar campaign was created when the approval for the vaccine was extended to males, resulting in considerably less public knowledge of the vaccine's benefits for anyone other than cis women.
In addition to publicity campaigns promoting the HPV vaccine as something for women, the gap between the CDC's recommendation of the vaccine for females and males allowed for three years where the vaccine was covered by insurance only for females aged 9-26. This added to the perception that the HPV vaccine was for girls and young women, cementing it in the minds of the public that the HPV vaccine was just for preventing cervical cancer.
The ties between HPV and cervical cancer are not unfounded: Two strains of HPV have been found to cause 70 percent of cervical cancers. While cervical cancer was the second most common cancer among women in 2000, it had fallen to the fourth most common by 2018. While it will take more time and research to know definitively, this data suggests that the HPV vaccination is becoming an effective way of reducing the prevalence of cervical cancer.
The problem, however, is that most people are only aware of the link between HPV and cervical cancer, and are more inclined to believe the infection and the vaccine are exclusive to women.
"Some people think [the HPV vaccine] is not necessary for boys because people are far more aware of the link with cervical cancer," Dr. Rachel Winer, associate professor of epidemiology, said. "And cervical cancer is more common, but actually the number of oropharyngeal cancers related to HPV has been growing, and that's a lot more common in men than in women."
In addition to its link to cervical cancer, some strains of HPV can also cause oropharyngeal and other anogenital cancers (anal, penile, vaginal, vulvar, etc.). While anogenital cancers are relatively rare, oropharyngeal cancer is becoming more common in the United States, particularly among men infected with HPV.
While rates of males getting the HPV vaccine in the United States is increasing, there is still a significant gap in the percentage of females (53 percent) and percentage of males (44 percent) who have been vaccinated against HPV.
It is clear that females are not the only ones who contract and suffer from complications related to HPV, which is one reason why it is important that the infection and the vaccine not be feminized. It is also important that men be vaccinated against HPV in order to protect potential partners from contracting the disease, rather than only women carrying the burden of getting vaccinated.
In addition to gender disparities in HPV vaccinations, rates are low in general as a result of the association of the vaccination with an STI, which people see as taboo. Some parents fear that getting their child the HPV vaccine will encourage risky sexual behaviors, despite research proving no correlation between HPV legislation and adolescent sexual behaviors.
"The reason why our vaccination rates for the HPV vaccine are below what they should be is because there's a lot of hesitancy, both just because of general vaccine hesitancy and the link with sexual behavior is a negative," Winer said.
Parents considering getting their children vaccinated, as well as young adults considering the same, should know that the vaccine is approved and recommended for anyone aged 9-26, regardless of gender. It does not matter, more or less, how many sexual partners one has had, and there is no indication that getting the vaccine leads to more risky sexual behaviors.
Cancers associated with HPV are listed as some of the most preventable cancers because of the existence of the HPV vaccine. While most people will never know they have HPV, anyone who is sexually active runs the risk of being exposed to a harmful strain which could lead to cancer. Rather than taking chances, medical professionals advise that everyone take preventative measures against HPV by getting vaccinated both for the protection of themselves and their partners.
Reach writer Emily Young at pacificwave@dailyuw.com. Twitter: @emilymyoung7
Like what you're reading? Support high-quality student journalism by donating here.