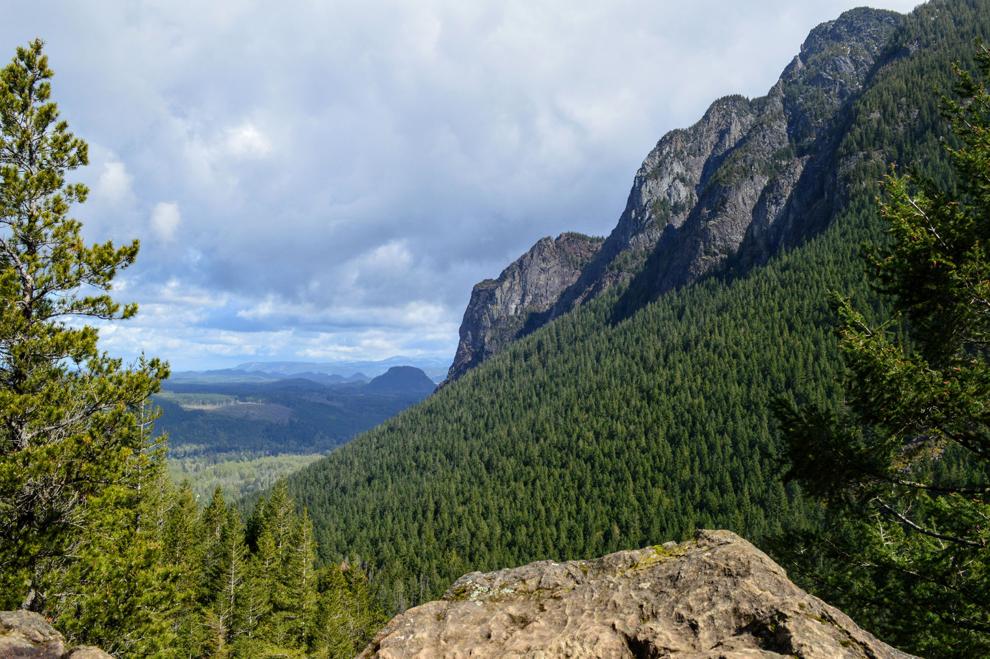 Maybe you don't have a car because it's too expensive to keep up. Maybe you decided it isn't worth it because we're already paying for U-PASS and you figure it's a valuable skill to be able to navigate the public transportation system. Or maybe you don't like the ecological impacts of cars and you've decided not to drive if you don't absolutely have to. Your relationship to your car is personal and individual, but there are growing anti-car movements that may be impacting the way you think about cars and your relationship with them.
In the Pacific Northwest, especially, it's common for many people who consider themselves falling into the anti-car camp to hold onto cars for one reason: outdoor recreation. Cars are essentially necessary to power your camping trip, transport you to your hike, and kick off your backpacking excursion. For many, car ownership is a necessary evil. But the dissonance between appreciating nature and contributing to car pollution is undeniable.
My feelings toward car ownership are largely ambivalent. I chose to leave my car at home, but as my family lives in the suburbs of Seattle, I know I can use my car if I feel it's necessary. It's not a car I would take off-road and I prefer to avoid using it whenever possible in general. I enjoy riding public transit and I do not enjoy paying for gas and parking. I will admit, I also like to pat myself on the back for opting out of contributing to air pollution more than I already do by reducing my driving time. However, I also understand that in many ways, I'm privileged to be able to opt out of this. I live near a network of convenient bus lines, I have a great deal on transit through U-PASS. And living in an urban, condensed area, I generally always have a fallback for when the bus fails, even if that just means walking. Transportation should be more accessible, an opinion which I feel could extend to outdoor recreation. Fortunately, accessibility to hikes is already on the rise.
In Seattle, we have the Trailhead Direct program, an urban blessing that, so far, has only been bestowed on our city (a similar shuttle exists in Los Angeles). This bus has three lines which run from local areas to nearby trailheads. Unfortunately, it only runs on weekends and holidays during the summer, but it's a valuable resource for those looking to hike without a car. In an attempt to curb my carbon footprint, I enlisted a few friends and tried it out: a day-hike without a car.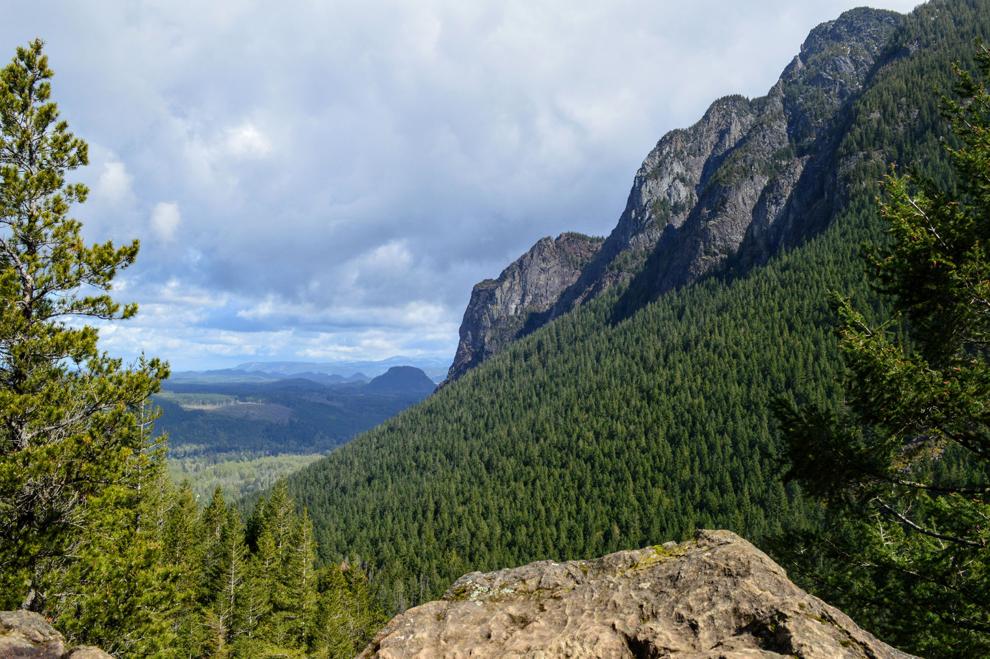 However, seeing as Trailhead Direct was beginning its seasonal operation, we decided to see which hikes they had to offer. My expectations were fairly low; I had never used Trailhead Direct before, but it sounded like a cool concept. We chose Little Si, as it seemed to be a manageable distance (a little under five miles), but Trailhead Direct also stops at many other trailheads.
Altogether, our trip was comprised of four bus rides. We took the 49 to Capitol Hill, though the Link Light Rail would have been just as easy. We boarded the Trailhead Direct at its first stop (Broadway and Denny), and it was about fifteen minutes late. The minibus was about half full going both directions, likely because it was only the second weekend it was open for the season. Some of our fellow passengers seemed to be familiar with the ride while others expressed excitement at their first time on the trail bus. On the bumpier, faster parts of the ride, the bus bounced heavily, making us laugh by propelling us just an inch or so out of our seats. Our driver was friendly and our stop was outside the parking lot for the trailhead.
As we approached the first trailhead, the sun began to clear out the morning fog. The hike itself was gorgeous, and we lucked out with great weather. We spent a little over three hours on the trail, taking a long lunch break at the top to appreciate the view. We only waited a few minutes at the bus stop after hiking before the bus came to collect us again. As a side note, being able to close my eyes and rest on the way home was a great benefit of not having to drive.
We had time for a snack in Capitol Hill before catching the 49 back to the U-District. The whole excursion ran about seven hours from leaving my front door to arriving back home — not a terrible total. If you're a quicker hiker or choose not to take longer breaks, an hour or two could be shaved off relatively easily.
Trailhead Direct saved us gas money and the parking pass fees we would've paid for if we had driven. Plus, with the U-PASS, we didn't even have to pay the bus fare. I now count myself as a proponent of hiking via bus.
••••••
If you want to do some weekday public transit hiking, especially in the coming summer, don't rule out regular, daily bus lines for getting you to the trail, either. I spoke to Jackson Hall, a freshman at the UW who has used bike and bus to hike, rather than a car.
"So I was planning on taking the Trailhead Direct from Seattle to Mailbox Peak, and around 10 p.m. the night before, I discovered that –– I think this was last November –– I discovered that it was no longer running. It was just finished for the year," he said. "And so I looked up a bunch of bus schedules and ended up figuring out that I could bike from campus to Bellevue, take a bus from Bellevue to Issaquah. And another bus from Issaquah to North Bend, and then bike from North Bend to the trailhead."
Hall's experience was a more difficult one, since a near-miss on boarding a bus elongated his trip greatly and resulted in him biking more than originally intended. "It's worth it to get outdoors, but also I enjoy biking anyway, so that was part of the adventure," he said. He's also used bikes alone to get to trailheads, an option that may be more viable once you're out of the city area. On our public transit hiking experience, we first considered finding a way to hike using only regular, daily public transportation. Using the website Turn Off The App Go Outside (TOTAGO), an online tool that helps hikers find transit routes to local trailheads, I was able to find a few hikes that were fairly accessible, with bus stops only a mile or two from the trailhead.
For those looking to take on similar transit hiking adventures, Hall recommends getting an early start and bringing a bike to get you to the trailhead quicker. Planning things to do during bus "layovers," like creating a playlist or queuing up some podcasts you've been meaning to listen to, can help make transportation go more quickly. He also encourages those who may feel hesitant about the unpredictable nature of using public transportation to view it as a part of the adventure. Even if you end up getting stuck because of a missed or late bus, don't throw out the whole day.
"You can't say that the hike itself went poorly because you tripped over a rock and got mud on your pants or something like that," Hall said. "That's just part of the adventure. It's part of the fun."
If you're still not sold, consider the environmental impacts of a gesture like going carless for a hike. "From an atmospheric science perspective, going carless is a real win-win," Michael Diamond, a Ph.D. candidate in the department of atmospheric sciences, said in an email. "Fewer cars means less air pollution, which harms public health, and fewer greenhouse gas emissions."
Gasoline-powered cars release carbon dioxide emissions that contribute to global consequences, as well as local ones. These create issues like the well-known global greenhouse effect as well as localized public health problems. "Cars basically are responsible for affecting these two pollutants that are damaging to human health, usually through respiratory illnesses or things like that," Claire Buysse, also a Ph.D. candidate in the department of atmospheric science who studies the effect of smoke events on urban air quality, said. Combustion of different kinds can create these particulates.
Though it seems like a common sense decision, reducing car use is hard. Whether you only use your car for the occasional outdoor excursion or because you commute every day, it can be difficult to feel that reducing your car use even makes an impact. On the local level, however, individual choices do make a difference.
"These two pollutants: particulates and ozone, they can have a small and more localized climate effect," Buysse said. "Ozone is a greenhouse gas as well, but if we're producing it in the city and it sort of stays around here, it can contribute to more localized warming here. And same with particulates."
Likewise, car pollution can have noticeable effects on air quality. "Which I think is a really important point: that it's very localized. If you reduce cars, you're going to breathe better where you live," Buysse said.
 Though the idea of reducing car use can be daunting, especially when it comes to outdoor activities, there are a number of groups and resources to turn to in order to make the challenge more manageable. TOTAGO is a great starting point, as is Trailhead Direct for easy transport to popular trails. There's an online meetup group comprised of transit hikers called Seattle Transit Hikers. At the UW, the Hiking Club and Northwest Women often provide opportunities for ride-sharing and carpooling.
Sometimes, however, everything falls through and you can't find a carpool or a bus line. Environmental guilt is real, and it's important to remember that using a car to get to the trail doesn't make you a bad environmentalist. Making the effort to leave the car at home as much as possible is a great start, even if it just means trying out Trailhead Direct on a weekend where you may have driven otherwise.
"I think there's a real struggle to want to make these choices for the sake of the environment and have an impact, while at the same time feeling like the impact you're making is pretty small," Buysse said. "In a localized sense, those decisions are totally relevant ... I think maybe sometimes we have too narrow of a view of what individual impacts are because [they are] an expression of your values."
Using the bus for a hike makes a small impact, but maybe your choice will influence your social networks to consider this option too. In other words, even small choices can have larger, reverberating impacts.
Reach Pacific Wave Co-Editor Alyson Podesta at pacificwave@dailyuw.com. Twitter: @alyson_podesta