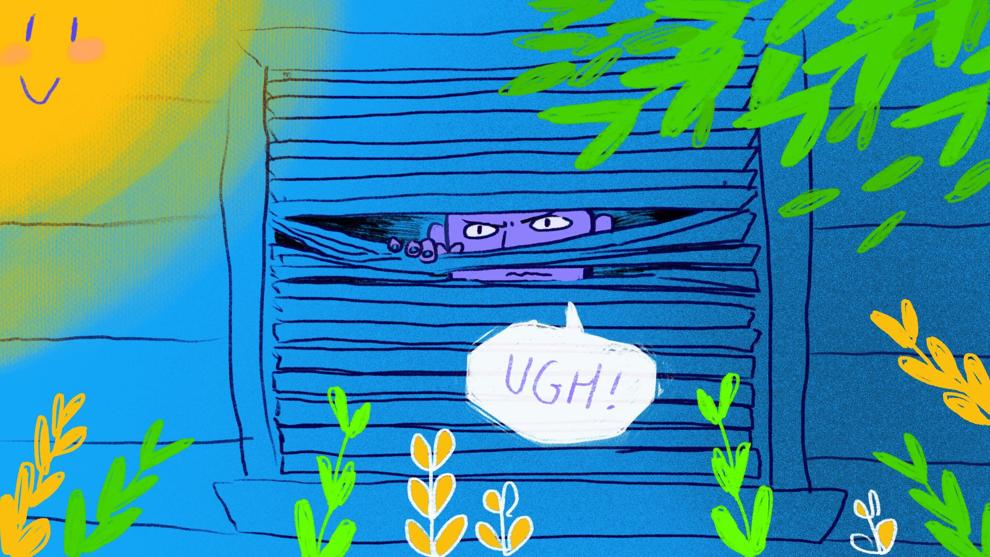 I tend to spend my summers indoors. And my weekends, and afternoons, and really any time I'm not walking to class or the grocery store. The outdoors, and the activities that come with them, have very little appeal for me when I could be inside on my laptop instead.
A lot of things can keep you inside your apartment or dorm room — chronic depression, that assignment you have to finish, the fact that the sun makes your skin sparkle and reveals you're a vampire; the list goes on. But getting outdoors and into nature can be really healing. It can snap you out of a funk that you just can't end when you spend the day in bed.
For me, personally, it's a combination of factors. I've never really liked going outside and it's hard to start a habit when I could stay in bed. The prospect of going on hikes or doing other outdoor activities I see my friends doing on Instagram is daunting. But you don't have to go on a hike to enjoy the great outdoors (though you may have a few less sweet pics to share). There's access to nature close to home, and it's not that hard if you have somewhere to begin.
The hardest part of getting outside is just that — getting outside. When you're used to spending weekends indoors, it can be hard to find the motivation to even get out of bed.
Start by setting a concrete goal for what you'll do or where you'll go when you're outside. If you have a plan, it's much easier to actually do something. Here are some easy ways to take in nature without much effort.
Do your homework outside
I have a lot of readings this quarter, and as much as I love sitting inside with a book, it can get a little exhausting. Usually, I'll head to one of the benches in the tall grass in front of the HUB, which are great secluded spaces to get some reading done in. There are benches all over campus, and if you can find an open one in the Quad or Grieg Garden, those are both awesome places to get a little work done.
This works for an assignment you need your electronics for too, and sometimes having the time limit set by your laptop battery helps. It reminds me to close my computer and look at something other than a screen for a while, and maybe grab some food, another thing I often forget when I'm studying.
Go down the hill
I know the fisheries building is really far, but if you head down that way and past Agua Verde, you can walk along the Montlake Cut (you can also walk to Montlake and down the stairs by the bridge). It's a place absolutely worth visiting outside of the Windermere Cup. The water is absolutely gorgeous, and it's really peaceful when not packed with people.
Down the hill in the other direction are the athletics facilities. I'm not going to suggest you go to the gym, but there is a great view of Lake Washington from Husky Softball Stadium, and our softball team is one of the best in the country.
Go for a walk
You can just walk through campus if you're not feeling up to going too far, but if you head north, you'll hit Ravenna Park, and just south is the Arboretum. We may be in the City of Seattle, but in either of these parks, it doesn't really feel like it.
It's only about a 20-minute walk to each. Find a podcast you like, put it on, and walk along a trail until it's over. Try forest bathing. The UW Botanic Gardens offers guided tours, or you can go on your own.
Once you have a plan, it's pretty much easier to just get out and do it. Spending all day inside can feel like a waste when we only have about three months to enjoy the sun, and the outdoors in general, in Seattle.
Have you ever wanted to be one of those people lying on a blanket in the Quad? Do it. Have you have wanted to be the person on the swing on the HUB Lawn? DO IT. We have a short supply of nice weather, and you should take advantage of it. But don't forget to bring sunscreen and a water bottle; too much sun can have side effects if you aren't used to it.
Reach Engagement Editor Hailey Robinson at pacificwave@dailyuw.com. Twitter: @haileyarobin
Like what you're reading? Support high-quality student journalism by donating here.