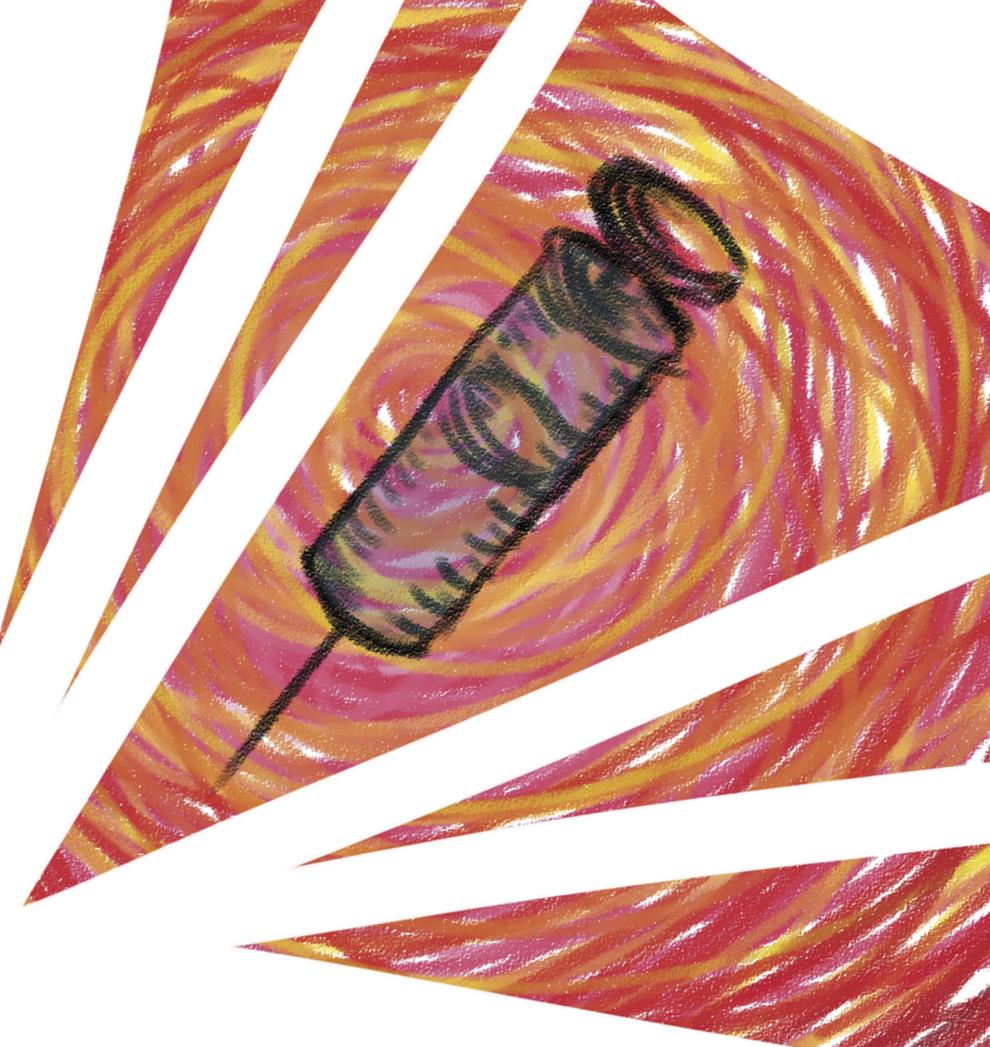 In a college setting, the need for vaccinations is vital. With large groups of students living in tight quarters — such as dorms, sororities, fraternities, or community houses — sickness can spread like wildfire. However, getting vaccinated is a responsibility that students often neglect.  
Incoming UW students are required to show immunity to measles or rubeola. Thus, the main vaccination most students at the UW receive is the measles, mumps, and rubella (MMR) vaccine.
"The gold standard in the U.S. is that people will get two MMR vaccines," Patricia Atwater, director of health promotion at Hall Health, said.
However, sometimes students will get only a measles vaccine, or only measles and rubella vaccine, but students within health sciences are generally required to show immunity to additional diseases, and this is done on an annual basis.
According to a 2015 National College Health Assessment study that sampled an estimated 600 subjects at the UW, 41 percent of responders had not received a flu vaccination in the past 12 months.
While many young people are very active in seeking out and learning about health care, many aren't aware of the need for vaccinations until further into adulthood.
It can be difficult to know where to begin with vaccinations. According to Atwater, a good first step is making sure you get the flu vaccine every year. This will improve the odds that you don't get the flu, or at least get a lesser flu.
"Often what I hear is, 'I never get sick,'" Atwater said. "If you get the flu, your average duration of symptoms is one to two weeks, think about how that is a significant portion of the quarter that you're looking at."
Even if you believe you are not sick, you can catch the flu and be infectious to others without displaying symptoms. Students can get flu shots at Hall Health on a drop-in basis, and they'll be available at pharmacies by the end of the September or early October.
Another very important step is completing the HPV vaccination series, which consists of three vaccines and protects against nine strains of HPV. Vaccination rates for this series are unfortunately fairly low nationwide.
"I think HPV can feel really overwhelming to people as they learn more about it, that it's so prevalent," Atwater said. " The fact is that HPV can be passed just from skin-to-skin contact, and can cause cancer."
Hepatitis B and meningitis are also important to consider.
"Hepatitis is unfortunately pretty common with people with Asian heritage," Atwater said. "Getting vaccinated is really important with people in those communities."
Meningitis outbreaks have occurred on college campuses, and the disease can lead to permanent disability or death.
There are two meningitis vaccinations, and one is recommended for college-aged students while the other, for meningitis B, is recommended that you talk with your health care provider about whether or not to get it.
Symptoms of illness and disease often overlap with the experiences of students who may have temporarily lowered standards of health due to factors such as less sleep or academic stress. If you're unsure whether or not something is a sign of a health problem, reach out to the consulting nurse at Hall Health via phone or in person. Make sure you have a thermometer on hand — if you have an ongoing fever, it will help the nurses to know about the nature of the fever.
With the mumps outbreaks on campus of recent years, avoiding this illness may be at the forefront of many students' minds. Aside from receiving the MMR vaccine, there are simple prevention techniques that can help protect you.
Make sure to wash your hands frequently and not to share things that have touched other people's mouths, especially during winter and spring. Prioritize sleep, so your body is healthy enough to fight disease.
There are many things you can do to protect yourself from disease, but the threat of sickness can be scary. If you are taking care of yourself and are proactive about protecting yourself, you are in good shape. If you're looking to get vaccinated, start planning now. If you have insurance, any necessary preventative care should be covered in full with any contracted provider. If you don't have insurance or are unsure about insurance, reach out to Atwater in Hall Health. Insurance is by no means a requirement for vaccination, and there are many other options.
The beginning of the year is the ideal time to find a medical provider too, especially if your primary care physician is located out of state or far from campus. If you establish care practices before getting sick, it will be easier to deal with health problems as they arise. Check the Husky Guide for the Health Insurance Checklist to ensure that you're prepared for the coming year.
Reach Special Sections Editor Alyson Podesta at specials@dailyuw.com. Twitter: @alyson_podesta