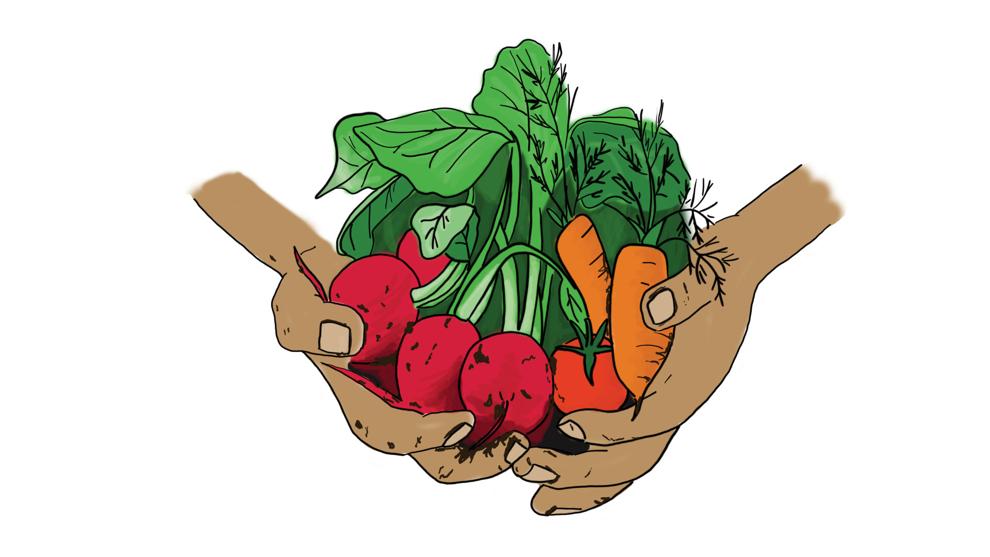 As the morning dew lifts in the Picardo Farm P-Patch, the pumpkin vines creep far: tangling about beanstalks, their fruit, a brilliant contrast of a bright orange against fresh green. The fall sun caresses radishes ready for plucking, their heads peering gingerly from the ground. 
Removed from this scene's idyllicism, one cannot help but feel a sense of panic: surface ocean waters are now 30% more acidic than before the Industrial Revolution, greenhouse gasses have caused five of the warmest years on record since 2010, and the ecosystem outside will likely be changed forever within the next half-century.
Climate change has made an indelible impact on Earth. Research suggests that a combination of environmental mismanagement, industrialization, and other human activities have caused climate change to progress at an increased rate and much farther than it would have naturally. The concept of climate change has even changed the social psyche, creating the phenomenon "climate grief," an unprecedented, citizen concern for the mistreatment of the earth.
While government institutions have been slower to respond, the American public has become increasingly invested in addressing environmental issues and thus their own climate grief in their daily lives through composting, reducing water consumption, and even through gardening. 
According to Dr. Peter Dunwiddie, affiliate professor of biology at the UW, these small scale attempts at outdoor engagement can have meaningful effects.
"I would say that local action is the start of something greater, and the smallest step can take the form of something as simple as working in the outdoors," Dunwiddie said. "Supporting gardening is a way to begin working toward greater environmentally friendly efforts. Even experiencing the outdoors can provide people with a greater appreciation for the world around them."
Outdoor engagement also benefits the humans involved. Scientists have long referred to "ecosystem services" when describing the ways outdoor exposure promotes human well-being. Though ecosystem services may not seem immediately apparent in urban environments, some green design projects have been cited for reducing crime and aggression in urban areas.
The City of Seattle has taken the correlation between human wellness and outdoor exposure into account with projects such as P-Patch Community Gardens, 89 of which have been established throughout the city. While other green spaces have been created and maintained within Seattle, P-Patches are unique in their goal of supporting a vibrant community of gardeners.
"P-Patches are great for the community because they help people realize that nature is all around us," Dunwiddie said. "When I was a child, I had the chance to wander through my parents' garden patch and identify vegetables. I think that community gardens are a great opportunity for people, especially children, to get back into nature."
The benefits of such spaces help to increase the overall well-being of those within the community through interaction and ecosystem services. 
"Being a citizen gardener can open a person's eyes to how plants and soils work which gives them a better understanding of how [biological] systems work," Dunwiddie said. 
Dr. Linda Chalker-Scott, associate professor of horticulture at WSU, believes that practicing gardening within the urban environment is beneficial for human well-being, though this is not to say that there are not limitations to the practice as a means of environmental restoration.
"Citizen gardening is not ecological restoration," Chalker-Scott said. "Restoration requires the use of native plants to restore an area to as close to former conditions as possible." 
While citizen gardening is not considered ecological restoration, the types of plants suitable for crafting a healthy urban environment are not as limited as people might think (though, gardeners should be aware of prevalent invasive species such as Himalayan blackberries or English ivy).
"I recommend using plants that are well adapted to their outdoor conditions," Chalker-Scott said. "Native plants are not often suited to urban environments. Our urban heat island is nothing like the coniferous forests that used to be here." 
Chalker-Scott also believes that gardening can become a valuable scientific tool, educating people on the nuances of plant biology. While the field of botany is complex, there is benefit in understanding the flora around us and there are many resources available and ready to help people learn.
"I recommend people go online to resources that are science based," Chalker-Scott said. "Our Garden Professors blog and Facebook group by the same name are exactly that. It's a good place to find current, relevant and peer reviewed information on all aspects of garden and landscape sciences." 
Despite the often debilitating effects of climate grief, a stroll through your local p-patch can remind you not only of the importance of conservation, but the availability of conservation-focused opportunities right outside your front door. Perhaps the opportunity to garden even gives people a glimpse of a connection to the natural environment.
"The outdoors can be life changing," Dunwiddie said. "It can fundamentally change the way we think and who we ultimately become." 
Reach writer Andy Chia at pacificwave@uw.edu. Twitter: @GreatBaconBaron
Like what you're reading? Support high-quality student journalism by donating here.