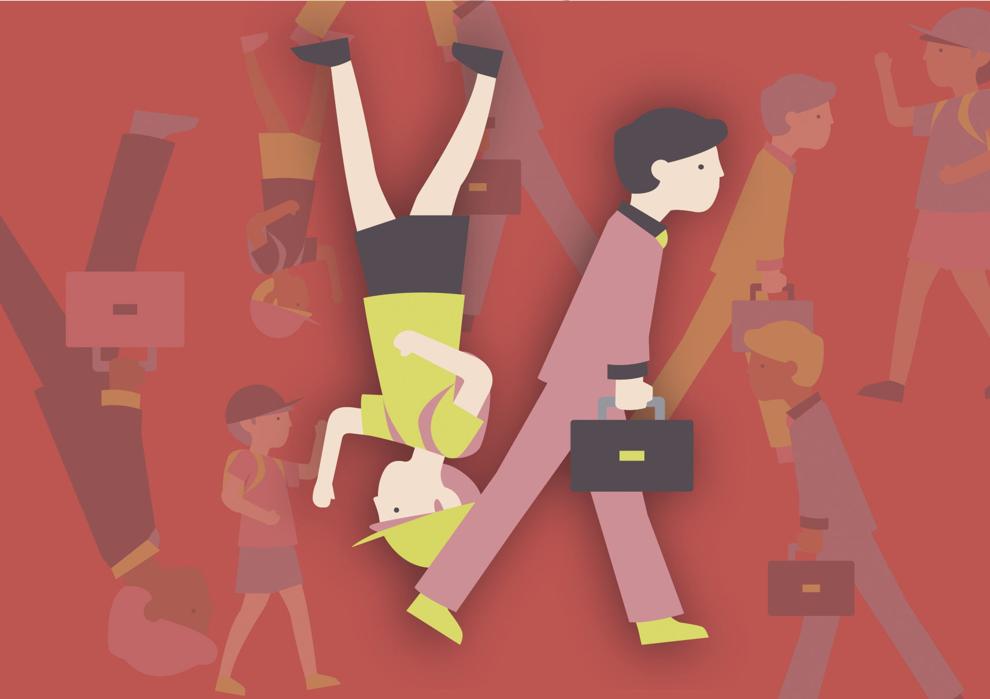 Work is fun. I get to make money, develop life skills that I can use in any variety of situations, develop relationships with colleagues that often extend outside of the workplace, and get a better of a sense of what I want to do in my career post-graduation.
That's the silver lining to what can be a tricky life to navigate, especially once classes are in full swing and I am juggling deadlines, shifts at work, and a lagging social life into a very limited calendar.
Yikes, right?
That being said, I don't want to leave my fellow students with the impression that working outside of school can't be done or done well. I know many students who are doing amazing jobs accomplishing both.
As a student entering my final quarters of college, I've had a bit of time to look both over the past four years of my life and reflect on what skills are really critical to successfully balancing school and work responsibilities, as well as identifying the benefits of being a working student.
If you're a freshman, sophomore, junior, or even a senior who is curious about how to navigate the professional world after you walk in your cap and gown next June, you're in the right place. And don't just take it from me; other students and a UW career coach have some insights to add.
In a nutshell, the coaching team at the UW Career Center helps students connect their skills with the next job, career coach Daniel Poux said in a phone interview.
It's normal not to have a sharp idea of what your career path is going to be, and if you end up changing this path like your major, you're not alone.
"You always have to start early when you're looking for internships," Poux said.
Poux admitted that it can be hard to juggle jobs with school. But what may be hard is certainly not impossible, so let's hear what wisdom people in the UW community can share.
Develop skills
Skills that both universities (this applies to graduate school) and future employers will look for don't only include stellar grades (especially for the latter). What's important is that you demonstrate you have skills that are directly applicable to that specific position.
Showing that you were able to work while attending school proves that you possess valuable time management skills.
"I think one difficulty is finding the motivation to do both," UW senior Isabel Knox said. "On days I have tests or need to study, it is difficult to have a drive to go to work or even hard to give up my time to work as opposed to preparing for a test."
Focus on developing organization skills and time management, Poux said. These are both skills that have saved me a lot of heartache over the last few years. During those weeks when you're juggling three finals, a couple essays to write out of thin air, and some shifts to cover at work, you may feel like you're being pulled in a million directions.
"Organization: you need to be able to know where to be and when, as well as how to prioritize your time in order to be at work when needed, but accomplish school tasks as well," Knox said.
But it isn't an impossible situation. What it requires is that you use every minute wisely and learn to prioritize what is most important to you.
Stamina was the word that Anna Sitta, who graduated from the UW in June, used to describe a skill that you'll need to develop in order to best navigate a school-work-life balance.
"When things get hectic and you're more stressed out than usual (finals, anyone?), all while having deadlines and expectations to meet both at school and work, it's easy to want to give up," Sitta said in an email. 
Think late nights when you're coming home from work and still have several hours of studying to do under the increasingly harsh glare of your desk lamp.  
"To avoid quitting and/or compromising your long-term success, you've got to constantly remind yourself why all that you're doing is (or will be) worth it," Sitta said. "Motivation, perspective, and self-care will get you there."
What if your part-time job is just a money machine and not a career engine?
Maybe your job is just that: a job, a way to get some cash flowing your way. Maybe it doesn't relate to your major or future career. You can still get value out of that experience.
Poux suggests that students in this case translate their work experience to apply to a new position. What skills did you get out of that part-time job at Starbucks or Safeway that makes you a good candidate for an internship or your first job after you graduate?
I worked in retail sales for about four and a half years, and while it wasn't a position that I anticipated keeping in the long run or was even related to my career interest, I found that the customer service skills that I developed, as well as leadership abilities, time management, and relationship building have been valuable both personally and professionally.
Tell me this job has benefits (literally)
So, what's the value that we can glean and that will make the stress and loss of sleep worth it?
"For me personally, it helps me mature as I learn a work-life-school balance. It also allows me to have money to buy groceries, … splurge on a trip or treat every so often, treat my friends to a birthday gift, and much more. 
According to Sitta, having that prior work experience before graduating distinguished her as she went out to navigate the professional world and apply for jobs.
"Going into interviews for post-grad jobs with a healthy resume made me feel like I had an advantage and one less thing to worry about," Sitta said. "And ultimately, beyond what recruiters and interviewers think, I was able to count on what I learned during my internships and the act of balancing, managing, and prioritizing tasks."
What can you jumpstart today?
The benefit of having access to the Career Center and working part time is that you have the opportunity develop the skills you will need when you graduate (and that day will come) and start looking for your first "official" full-time job. Whatever that kind of job will look like, there are skills that you can develop now that will benefit your future career.
If you are a UW student and looking for career coaching or on the hunt for a job, you can check out the UW Career Center's service hours at careers.uw.edu, or visit Handshake, the UW's online job and internship database, to browse open positions and schedule appointments with career coaches
Reach writer Hannah Pickering at specials@dailyuw.com. Twitter: @Hannah_Pick95