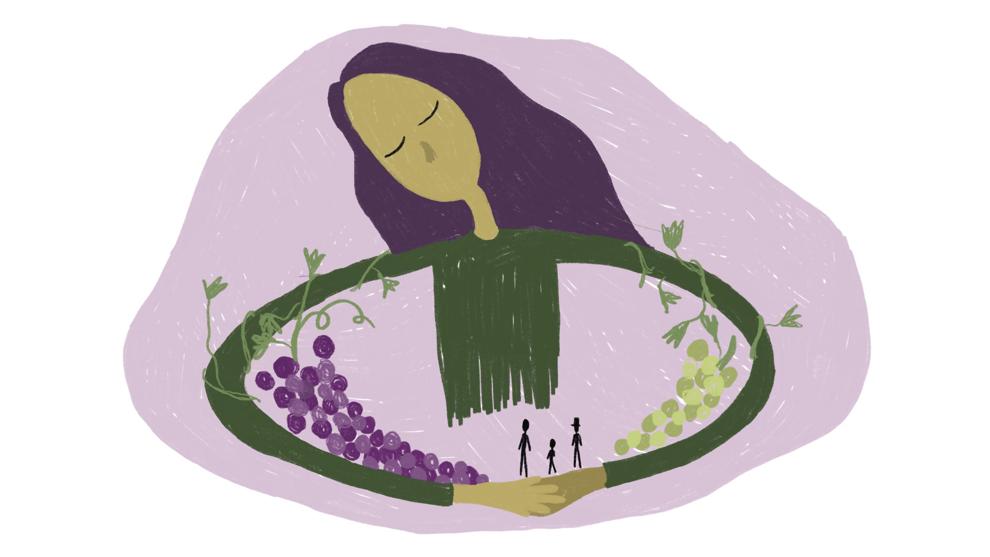 You're probably living under a big, sober rock if you haven't heard about natural wine yet. Maybe you swear by mango White Claw. Or worse, you go to house parties far too often and the only wine you drink is poured into your mouth by someone else from a bag. Yes, I might be judging you, but you know, who's not? Natural wine.
That's because natural wine is made by the people, for the people. It doesn't require any expertise or income requirements to consume, and is better suited to those who seek out adventure and new experiences that can't be reproduced. 
It's lawless and unruly as demonstrated by its wildness on the palette, but also by its lack of classification. In an industry that's been plagued by hundreds of years of rules and tradition, natural wine has none — except that it is natural. So what does that mean in the context of pressed and fermented grape juice?
For answers, I turned to Molly Ringe, owner of the eponymous Molly's Bottle Shop in the quaint and quiet Sunset Hill neighborhood near Ballard. Molly's 218-square foot shop is part tasting room, part wine boutique and is one of the many new, natural wine-focused specialty shops to emerge ever since the craze took hold in Seattle. This craze can be attributed to a number of factors, from the famously colorful, hand-drawn labels on their bottles to the distinctive hipster street cred it invariably offers. But for Ringe, making the case for natural wine was non-negotiable.
At 30 years old, Molly was diagnosed with breast cancer. At the time, she was working as a sommelier at night and in IT during the day, a job that enabled her to "gain access to one of the best oncologists in the United States." Under treatment, Ringe's doctor insisted that she eliminate conventional wine from her diet, but not for reasons you might think.
"He was convinced that the additives and chemicals in conventionally made wines were part of the reason why people were getting cancer much younger and more aggressively," Ringe said.
After successfully battling cancer and committing to her own research, Ringe was determined to make her own natural wine, and even enrolled at Washington State University's viticulture and enology program to learn the winemaking process. She knew something was wrong when they taught her how to put on a hazmat suit in preparation of spraying pesticides and herbicides on the vineyards. 
Ringe left the program and traveled to Paris where she discovered natural wine in all of its earthy and natural glory. Before natural wine had unleashed its grip on all of the posh, faux fringe culture neighborhoods of San Francisco and New York, natural wine was being made, consumed, and normalized in France since the 1980s. 
As mentioned, there are no actual rules that winemakers must adhere to when producing natural wine, but there are several basic principles that a winery must follow to be considered natural among their peers. Of course, organic farming is an essential component to this and many farmers commit to what are called "biodynamic" practices. 
Regardless, many natural wine zealots will claim that the biggest difference in natural wines versus conventional wines are the lack of additives. Among other technical reasons, conventional winemakers use additives to reduce flaws and achieve consistent flavors within their wines, as well as make it age-worthy for consumers.
For wine naturalists, these so-called faults and inconsistencies are what make opening a fresh bottle so exciting. Since natural wines are unfiltered, they contain microbes and proteins and cloudy molecules that are constantly altering the course of the wine, sometimes producing sour, kombucha-like flavors while others are fruity and delicate. Not even a winemaker could tell you what their bottle will taste like once opened, since anything goes when you let nature take the wheel. 
"Natural wine is an opportunity to taste a place," Ringe said. "When you start manipulating it with additives and chemicals, you take away that opportunity." 
In addition to Molly's Bottle Shop, places nearby that serve natural wine include Poindexter Coffee, a coffee shop by day and wine bar by night right off the Ave, and Vif, a coffee shop and natural wine bar hybrid in Fremont. 
 Reaching writer Jackie Light at pacificwave@dailyuw.com. Twitter: @jackie_e_light
Like what you're reading? Support high-quality student journalism by donating here.