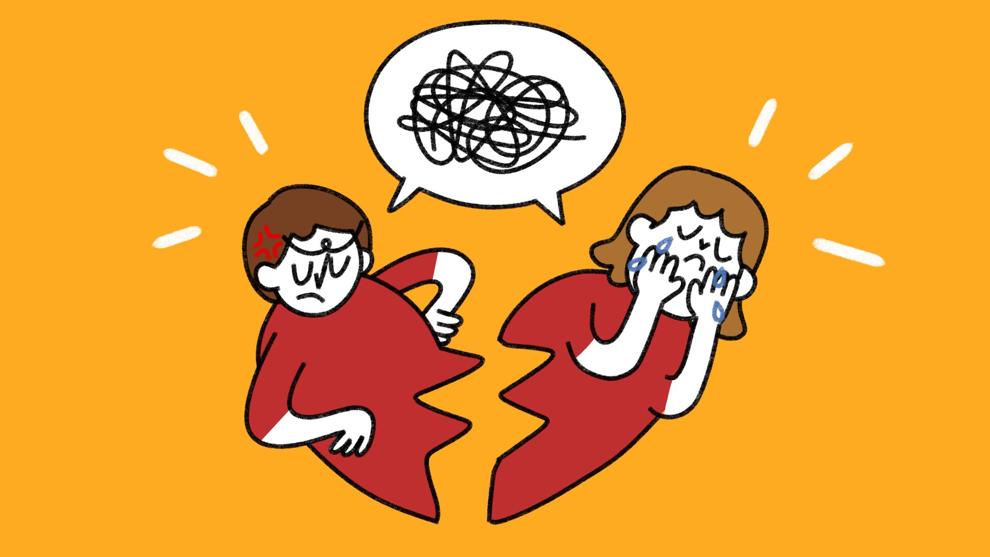 Two years ago, I was sitting in Kane Hall learning about the four horsemen of a doomed relationship — a theory devised by the Gottman Institute, a relationship research institute based in Seattle.
As I sat there listening to a lecture about criticism, contempt, defensiveness, and stonewalling being the downfall of dating, I was thinking about my own relationship. 
"The trick is to maintain a 5:1 ratio," Kristina Scharp, associate professor for interpersonal communication, said. "This means that a couple needs five positive interactions to every one instance of criticism, contempt, defensiveness, and stonewalling."
Even though countless examples of my boyfriend and I both exhibiting these behaviors during arguments were running through my head — and not many positive interactions were coming to mind — I brushed it off as us being the exception to this theory. 'Communication failures are inevitable,' I thought to myself. 'It doesn't mean my boyfriend and I will break up — it won't happen to me!'

It wasn't until a year and a half later that we broke up (because I discovered he was cheating on me) that I realized maybe the theory isn't too far off on predicting the demise of a relationship.
The universal truth to breakups is that they hurt, no matter how they happen. The hardest part of a breakup is unique to every person and relationship, but knowing that everyone goes through similar difficulties can make you feel less alone.
Reflecting on a previous relationship, fourth-year student Brin Hardman remarked that the most difficult part of the breakup was seeing its emotional impact on their partner. 
"I was the one that ended it, so not feeling really responsible for his emotions was the hardest part for me … I have never seen another person so upset," Hardman said. "It was very difficult to see him go through that and know that I can't be responsible [and help]."
The process is similar to going through grief. You have to mourn the loss of the relationship, the loss of a person who was intimately embedded in your life, and the loss of the version of yourself that you were while in the relationship.
My most recent breakup hurt in a way I had never felt before. Aside from sadness, I felt extremely angry and vengeful. These emotions were not just foreign, but overwhelming. 
As I made my way through the stages of grief, I realized I had something important to learn: accepting that I was now on my own. After two years of being with someone else and depending on them for certain aspects of my life, nothing felt natural or easy anymore.
According to Devon Geary, a doctoral candidate in interpersonal communication, overcoming these painful and angry feelings not only requires time and patience, but new practices that will help garner healing and growth. This idea is reflected in the communication theory of resilience. 
"After you go through a difficulty, you can engage in different communication practices that help you garner resilience," Geary said. "It can be things like creating a new normal [or] creating or using social networks, reaching out to people and saying like … 'I just went through a breakup.' Meet people, cultivate a network."
Reaching out to support systems can be incredibly valuable as you heal from your breakup, but there's no denying that you will find yourself alone in situations in which you usually had a partner with you. Although this change is difficult, being alone can produce a new sense of happiness and relief that was inaccessible beforehand, Geary explained.
"I started going places by myself, like I'd just go out for night drives, stop at the beach, just kind of getting comfortable with being alone, and I think that really helped," Hardman said.
Finding what helps you feel liberated, confident, and happy when you're on your own can be extremely healing. Activities that keep you engaged while you're by yourself, whether that means watching movies, spending time with a pet, finding new hobbies, going on walks, or listening to music are imperative in learning how to be alone.
First-year student Emujin Enkhbayar recently went through a breakup and expressed how, amongst other activities, listening to music had been helpful.
"A song I've been listening to is 'We Are Never Ever Getting Back Together' by Taylor Swift," Enkhbayar said.
Feelings of loneliness could also set you on the path to a potential rebound. While rebounds can be helpful in gaining temporary affection, getting into another relationship shortly after getting out of one can lead to carrying baggage from your previous relationship into the new relationship. Confronting those difficult emotions before engaging in a new romantic relationship and learning to spend time by yourself is crucial.
Another difficulty that may come up is the urge to backslide. Backsliding is when you go back to the person you were dating, whether that be just hooking up or getting back into a relationship. This can not only prolong the breakup and healing process, but potentially make it even more difficult for both people involved. To prevent backsliding, reframe the breakup beyond the positive memories of the relationship, something Geary described as the "highlight reel."
"You gotta remember why you walked away [from the relationship]," Geary said. "You can use different ways of thinking to argue back a little bit … because you're probably going to kind of have some regrets."
Although there is no universal solution to overcoming a breakup, cultivating your social networks, picking up new hobbies, and using alternative logic to prevent backsliding and reframing your breakup as a positive will make the undoubtedly difficult process that much easier.
But Geary acknowledges that it's easier said than done. 
"Love is a motivational state and not an emotion … it's something that you have to work at, and that can be so hard," Geary said. "You add dimensions of kids or a pandemic … and it is something that you have to continue to put the effort into."
However, getting over a breakup can mean new beginnings too.
"You can go back and say, 'No, this was good, this is great for my growth, [and that] this is hard now but I'm going to get over this. I'm going to find somebody better for me,'" Geary said.
Reach writer Kalina Mladenova at pacificwave@dailyuw.com. Twitter: @kalinamm_
Like what you're reading? Support high-quality student journalism by donating here.