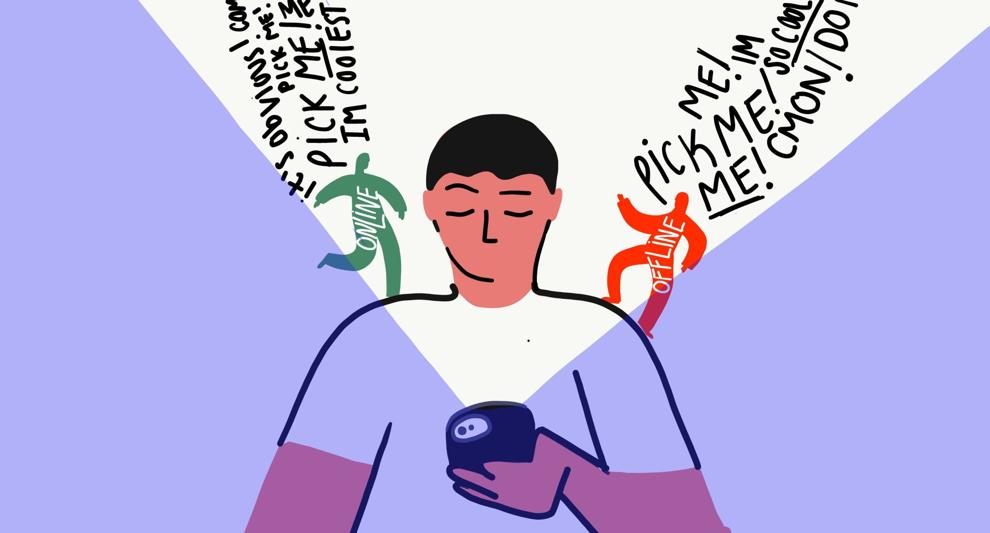 A recent study done by a team of UW researchers has found that even though people misunderstand online status indicators (OSIs) — those little dots or lines of text that indicate online status — they still shape their behavior around them. 
Camille Cobb, a recent doctoral graduate from the UW department of computer science & engineering, wanted to know about people's experiences with OSIs, how people feel about them, how the indicators affect behavior, what privacy and security risks they pose, and the design patterns of the indicators. 
The study surveyed 200 smartphone users who regularly used a variety of mobile apps ranging from social media and dating, to gaming. 
Alexis Hiniker, an assistant professor at the Information School and a co-author of the paper, said that online status indicators themselves were a familiar concept, but most people couldn't accurately describe what information the online status indicator conveys.
When asked if an app the participants used had OSIs, 62.5% of participants reported being unsure if it had an OSI. This suggests that some OSIs are easier for a user to notice than others. Furthermore, 35.5% of the participants incorrectly believed that an app didn't have an OSI when it did.
According to Hiniker, when asked to locate OSI settings and disable the feature, many participants were unable to do so.
Another component of the study involved gathering personal experiences and whether or not people care about how they use their OSIs.
"People told us that they absolutely do care about who recognizes when they're online," Hiniker said. "They cited all sorts of different situations, like having told someone they were going to bed, [but the participant] won't want them to see that they were actually up later that night or wanting to appear they were working so their boss would think they were online."
Cobb said that there were several instances where people would read more into OSI changes and assume a motivation, or reported being called out for playing games on apps like Discord instead of working.
The study found that people use OSIs to make judgments on others' status, according to Hiniker. According to the study, 23% of participants had gone and changed their OSIs, but it was more common for participants to report changing their behavior.
Hiniker said that this phenomenon is an example of reverse adaptations; instead of designs accommodating the needs of people, people are adjusting themselves to accommodate the design of the technology they're using.
Hiniker listed some possible reasons as to why people are unaware of what their OSI is broadcasting to others.
"One part of it is that it is something that happens without direction from the user," Hiniker said. "This is happening as a byproduct of our online activity and I think it's much harder to keep track of that. Instead of just looking at what you see as the user, you have to imagine what someone else is seeing." 
Not all platforms create their OSIs and designs equally, according to Hiniker. In Google Docs, you can see when someone is on the same document, but not in the same folder. Messenger broadcasts information across platforms such as Facebook, which is hard to keep track of.
Some apps like Google Hangouts take 15 minutes to change one's status from online to offline. Even though Cobb acknowledges the privacy-preserving aspect, it's not as intuitive for others if someone messages you within that timeframe and you're actually offline, as someone might misinterpret reasons for your nonresponse.
Cobb made the point that turning off one's OSI to appear offline is not synonymous to actually being offline, and should be made indistinguishable for privacy and safety reasons. 
For example, WhatsApp has a "last seen" feature, showing when someone was last seen using the app, which can be turned off. Even so, other people can tell when the feature has been turned off because there will be no OSI projected.
Other apps require reciprocity to see other people's OSIs. Cobb cited this to be a problem for people who don't feel comfortable sharing their OSI with others.
Cobb thought that there should be more uniformity in OSIs and their design. 
"It's fairly clear to me at least that you should be able to turn [OSIs] off, and control how your online status indicators appear," Cobb said. "It should be intuitive how your online status indicators will appear to others." 
A design recommendation cited in the paper includes setting one's OSI on the way to opening the app as opposed to after opening the app. In future research, the team would want to take a more experimental approach to test out more intuitive OSI settings and designs.
"People shouldn't be adjusting how they behave just to accommodate the arbitrary design decisions that are put in front of them," Hiniker said.
Reach contributing writer Diana Davidson at science@dailyuw.com. Twitter: @dianavdavidson
Like what you're reading? Support high-quality student journalism by donating here.