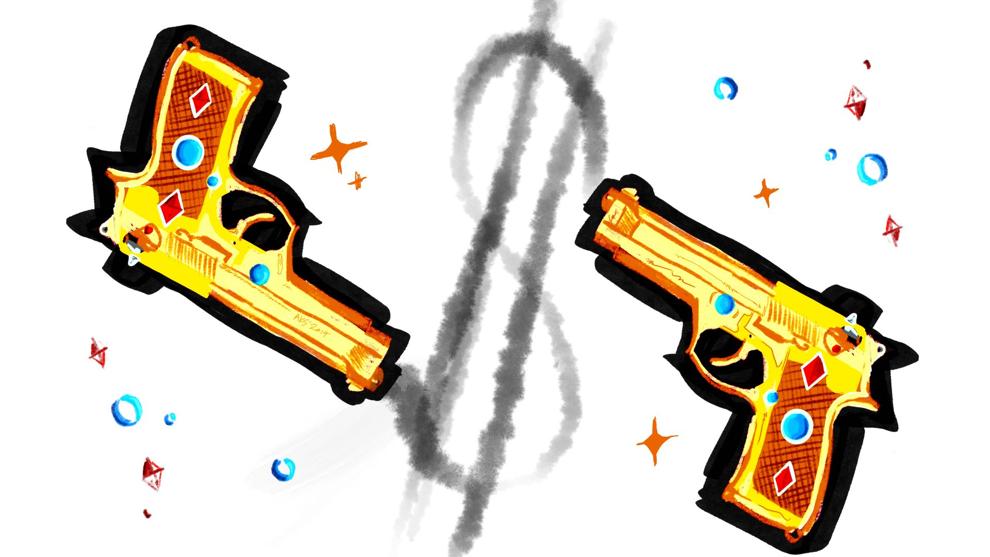 According to a study by UW researchers in the department of epidemiology and at Harborview Injury Prevention & Research Center, high levels of income inequality may have negative consequences beyond economic insecurity that are not often considered.
The study found that counties in the United States with higher levels of income inequality experienced higher rates of firearm-related homicides than counties with lower levels of income inequality. This holds even when controlling for other factors including age, sex, and racial compositions of the counties, as well as deprivation levels, and the percent of county residents living in urban areas.
The research was built upon an earlier study conducted by researchers at Harvard University in the 1990s which analyzed the relationship between income inequality and firearm homicide rates at the state level.
"In this study, we wanted to take a step further and look at that relationship at the county level, because not all counties within a state are the same," lead author of the new study Ali Rowhani-Rahbar said.
The study used the Gini index as a measure of income inequality and analyzed correlations between income inequality and rates of firearm homicide between 2005 and 2015. It focused on adolescents and young adults who are most-likely to be victims of firearm homicide in the United States. The results of the study found that counties with higher income inequality had higher rates of firearm homicide across all races, especially among African Americans.
"We think more research should be done to really understand how income inequality may impact different races and different ethnicities," Rowhani-Rahbar said. "We feel that this could be because some of the drivers of firearm homicide and disparities may particularly impact communities of color, especially African Americans, in a more powerful and negative way than other races and ethnicities."
According to Rowhani-Rahbar, further research on this topic will be important for determining which policies may address the epidemic of firearm-related homicides in the United States, which has increased in recent years after a period of steady decline. While economic policies may not be the most obvious in addressing firearm-related homicide rates, the study shows that they may be appropriate and helpful in reducing their prevalence.
"[There might be] economic policies that maybe hadn't been thought of in the context of violence prevention before, but they actually may have violence prevention features and impacts," Rowhani-Rahbar said.
The study also implies that economic policies which reduce income inequality may be effective in reducing rates of firearm-related homicide in the United States.
One example of such a policy given by Rowhani-Rahbar is earned income tax credit (EITC) programs, which have been proven to be effective in decreasing income inequality. The policies, which have been implemented in some states, provide cash to working low-income individuals, and have been credited with lifting millions of children out of poverty.
The correlation between income inequality and higher rates of firearm homicide needs further investigation. Researchers have hypothesized that one mechanism which may contribute to the correlation is low levels of social capital. In general, social capital can be defined as networks within communities that facilitate communication and cooperation.
"Income inequality disrupts the social network in the communities; it directly damages the element of trust within the community," Rowhani-Rahbar said. "When [social capital] is lost or severely damaged, which it shows it can be damaged by income inequality, then you can imagine that those could be breeding sites for interpersonal violence."
Rowhani-Rahbar pointed out that there are probably more mechanisms which could foster the correlation between income inequality and firearm homicide, but they have yet to be studied.
"One of the most important areas of research in health sciences is the study of social determinants of health," Rowhani-Rahbar said. "One area more specifically that we need more information on is social determinants of gun violence."
In order to fully address the problem of gun violence in America, more research must be done to determine why it is occurring. This may help decide which policies are most likely stop it from happening.
Currently, there is more research on individual "risk factors" which may make one more likely to commit or be a victim of gun violence. However, Rowhani-Rahbar argues that there also must be research on gun violence trends at a societal level, so that we can develop policies which get at the root of the problem.
"Individual-level data is important because we can devise and develop programs and interventions that work at the individual level for prevention," Rowhani-Rahbar said. "But we also need, with that, policies and initiatives and programs that work at the population level."
This study was inspired by the need for more population-level research on firearm homicide by identifying income inequality as one possible social determinant of firearm homicide at the population level. However, there are many more questions left to be researched and answered on the topic of gun violence in America.
"This is one example of a study that was done entirely without the money," Rowhani-Rahbar said. "So there was no funding for it, we just did it."
Lack of funding is an extremely common problem with firearm violence-related research as a result of political interference, which creates barriers to creating useful policy.
"When it comes to gun violence, we really are behind in terms of understanding the causes and consequences," Rowhani-Rahbar said.
Reach writer Emily Young at science@dailyuw.com. Twitter: @emilymyoung7
Like what you're reading? Support high-quality student journalism by donating here.