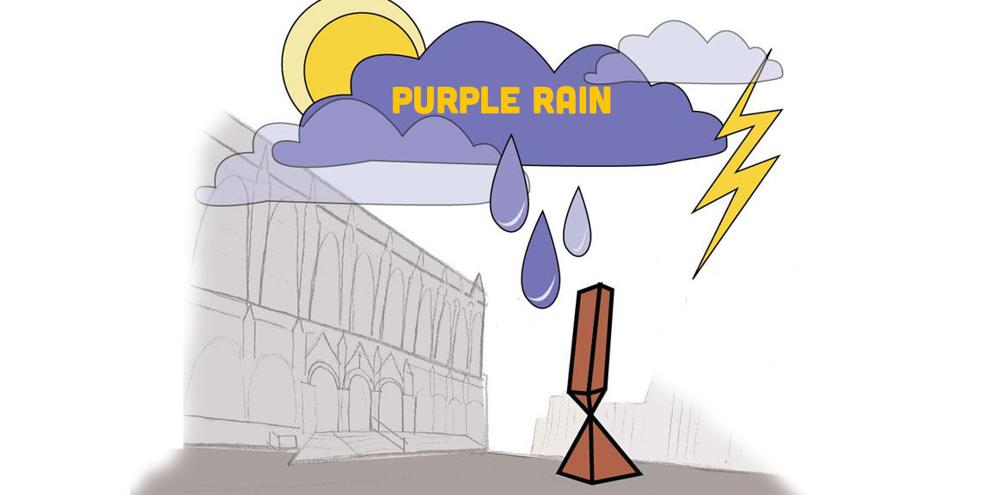 Author's note: Purple Rain is a column that explores relevant weather topics to the Seattle region, highlighting research conducted by UW faculty.
After months of being waterlogged, March tends to be a transition month for Pacific Northwest weather. The sun can often be seen peeking out from behind the clouds, albeit for a few minutes, giving a sense of what is in store for the summer.
This year is no exception to that period of change between winter gloom and summer sun. After a week of dry weather earlier this month, rainfall returned for much of last week and will stick around through the early part of next week. Although it's not the drenching storms of wintertime, the weather can often be more unpredictable in the springtime.
"Often we use the term 'showers and sun breaks,'" KOMO 4 meteorologist and UW alum Shannon O'Donnell said. "The satellite picture is going to look like little pieces of popcorn, with showers popping up and sun breaks in between. Perfect rainbow-catching weather."
The reason for these changing conditions is in part due to the jet stream, a fast-moving ribbon of air that circles the globe, which controls the direction of storms that impact the west coast.
In the winter months, the jet stream is often positioned right over Seattle, which steers strong storms towards the Pacific Northwest. In the spring, the position of the jet stream is much more variable meaning that weather systems are less frequent.
Robert Conrick, a Ph.D. candidate at the UW, is an expert on local weather phenomena in western Washington and also teaches a course titled "current weather discussion" at the UW. He notes that the jet stream often determines the strength of storms impacting Washington.
"Big low-pressure systems impact us the most," Conrick said. "It's certainly possible to get windstorms in the springtime, but the fact that the jet stream is weaker in the summertime — not only is it farther north but it is also a lot weaker — leads us to have weaker storms here as a result."
Although the springtime can often feature some sun, the short term doesn't promise much in the way of sunshine. A cold front will move through the region Monday morning featuring some gusty winds and a round of lowland rain and mountain snow. Showers linger Tuesday and Wednesday before drier weather moves in for the rest of the week.
"We should have a powerful front coming through, and then the leftover showers behind it on Monday," O'Donnell said. "Some of those showers are going to be locally heavy with hail, thunder, and lightning. If you're ever going to get a funnel cloud around western Washington it's going to be in a routine like this. Winter and spring are fighting it out over the top of us."
Along with her work at KOMO, O'Donnell also teaches a course at the UW called the UW Dawgcast. Students learn valuable forecasting skills and work with university weather models and faculty. The Dawgcast focuses on forecasting for university-specific events such as sports and gatherings.
While most activities have been canceled for the foreseeable future due to COVID-19, the Dawgcast will still be a valuable resource for those counting on the weather for exercise. With gyms, pools, and other recreational facilities closed, many are hoping for the weather to comply with their outdoor exercise routines. For the upcoming week, O'Donnell notes that the weather will continue to be a mixed bag.
"Be prepared for anything," O'Donnell said. "It's not start-and-stop like late fall and winter. With this sort of routine, March is one of the hardest times of the year to give a forecast."
It may be a good idea to wear your rain jacket or carry an umbrella if headed outdoors, Huskies. Besides, there won't be many people outside to see you.
Reach reporter Anthony Edwards at science@dailyuw.com. Twitter: @edwardsanthonyb
Like what you're reading? Support high-quality student journalism by donating here.