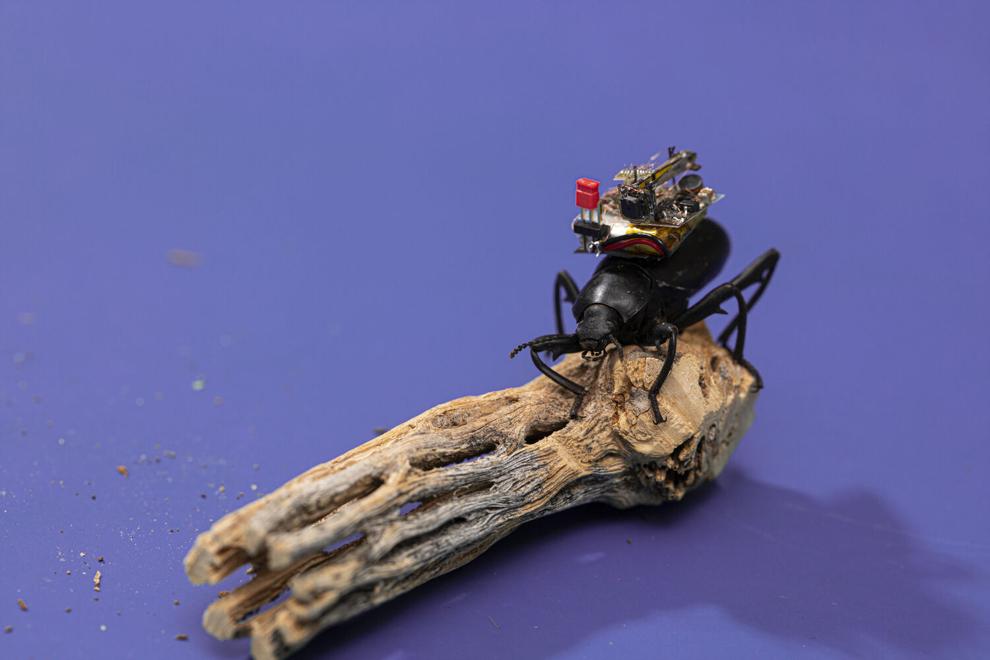 A team of UW researchers in mechanical engineering and electrical engineering has developed a tiny, steerable wireless camera about the size of a penny.
At first, inspiration for this project came from just wanting to know how small one could shrink a camera, inspired by the 2018 project RoboFly. Vikram Iyer, a doctoral student in the electrical and computer engineering (ECE) department and co-lead author of a recent paper, works mainly on wireless robotic technology. 
"Live insects are much better at storing energy than the batteries that we can build," Iyer said. A battery-driven drone can fly around for about 20 minutes, while insects can fly for hours.
This project is an "important evolution of the promise of this idea of sensor networks," according to assistant professor of mechanical engineering Sawyer Fuller. In this project, the network of sensors can move around by being attached to an insect or can move itself around.
The addition of the camera on this project was important — as vision can enable more applications for this innovation — and it came with its challenges. 
"One of the big challenges that come with a camera this small is: If you think about your smartphone camera, the camera itself is not very big," Iyer said. "But the rest of your phone, there's a large processor and battery that goes with that." 
Ali Najafi, co-lead author and a doctoral student in ECE, wrote a lot of the code for the system and worked with Iyer to make the circuitry of the wireless camera as efficient as possible.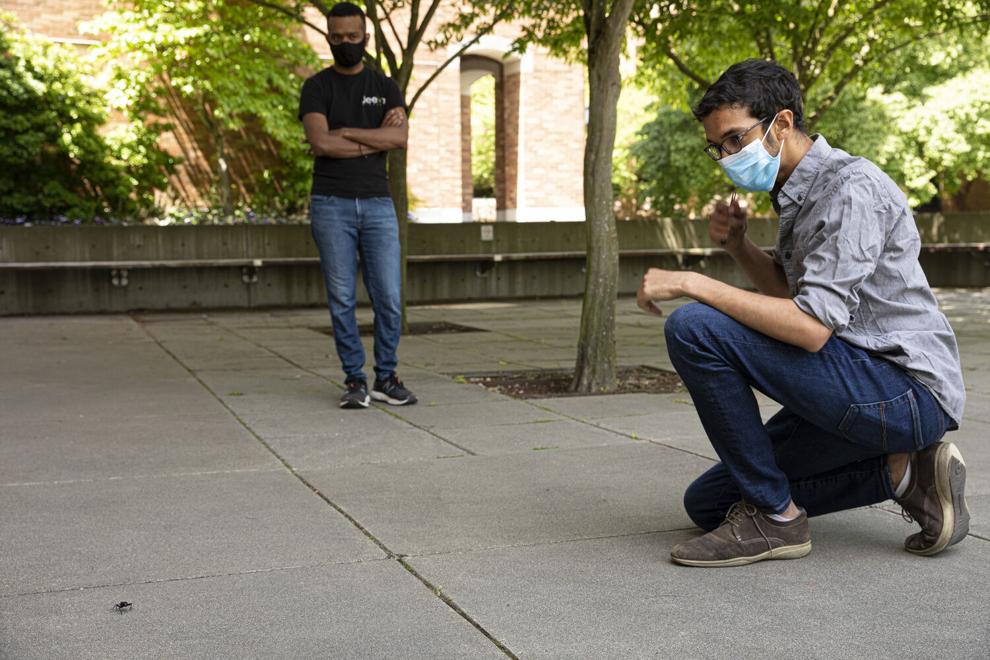 "The main thing we wanted to build was vision," Najafi said. Bringing the power down to get the camera to work with a small processor was really challenging, according to Najafi. 
Vision through a camera takes a lot of processing power and energy. Iyer's team started thinking about how insects have a similar problem. Bug eyes take up 10% or more of their mass and resting metabolism, meaning that insects are using up a lot of resources just to see, according to Iyer.
Even so, Iyer and his team used nature as an inspiration in solving this problem. 
"There are a lot of insects where their eyes have evolved not to have a lot of high resolution vision in all directions just because of how much energy that would take" Iyer said. "But instead what they do is they have special regions that are more sensitive to things like fast motion, or have higher resolution, and then they can move their heads to focus on different things." 
The team took a similar approach: they took a small, lower-power and lower-resolution camera and mounted it on an actuator that could steer the camera back and forth to get a panoramic image. 
What the camera sees can be streamed to a smartphone app, which can open up applications in multiple disciplines. 
"I think that one of the big applications is in the science of what animals do and experience over the course of their lives," Fuller said. "So the smaller that you can make any sensor that's watching or seeing what they do, the more natural and realistic that animal's behavior is going to be, or the smaller then animal you can cover."
This wireless camera can be used in multiple applications — for example, with robots in confined spaces in an industrial context, as part of pill-cams to look at what's happening in intestines, or for studying small birds, moths, and flies.
"Now that we have this small computing platform that we can put on something like an insect, we can also think of other ways that we can leverage that," Iyer said. "Can we take advantage of their own senses?" 
A lot of insects have more acute and sensitive senses than electronic sensors that we can build. Some insects' sense of smell can be 1,000 times better than the instruments we can make, according to Iyer. Measuring insects' neural signals could be a way to tap into their senses and use nature to researchers' advantage. 
"Maybe a good way to think about this is how can we take advantage of the best things nature has evolved," Iyer said. "Nature has had a couple million years' head start in making any of these things happen. Can we tap into some of these things and use them for human applications?" 
Reach reporter Diana Davidson at science@dailyuw.com. Twitter: @dianavdavidson
Like what you're reading? Support high-quality student journalism by donating here.