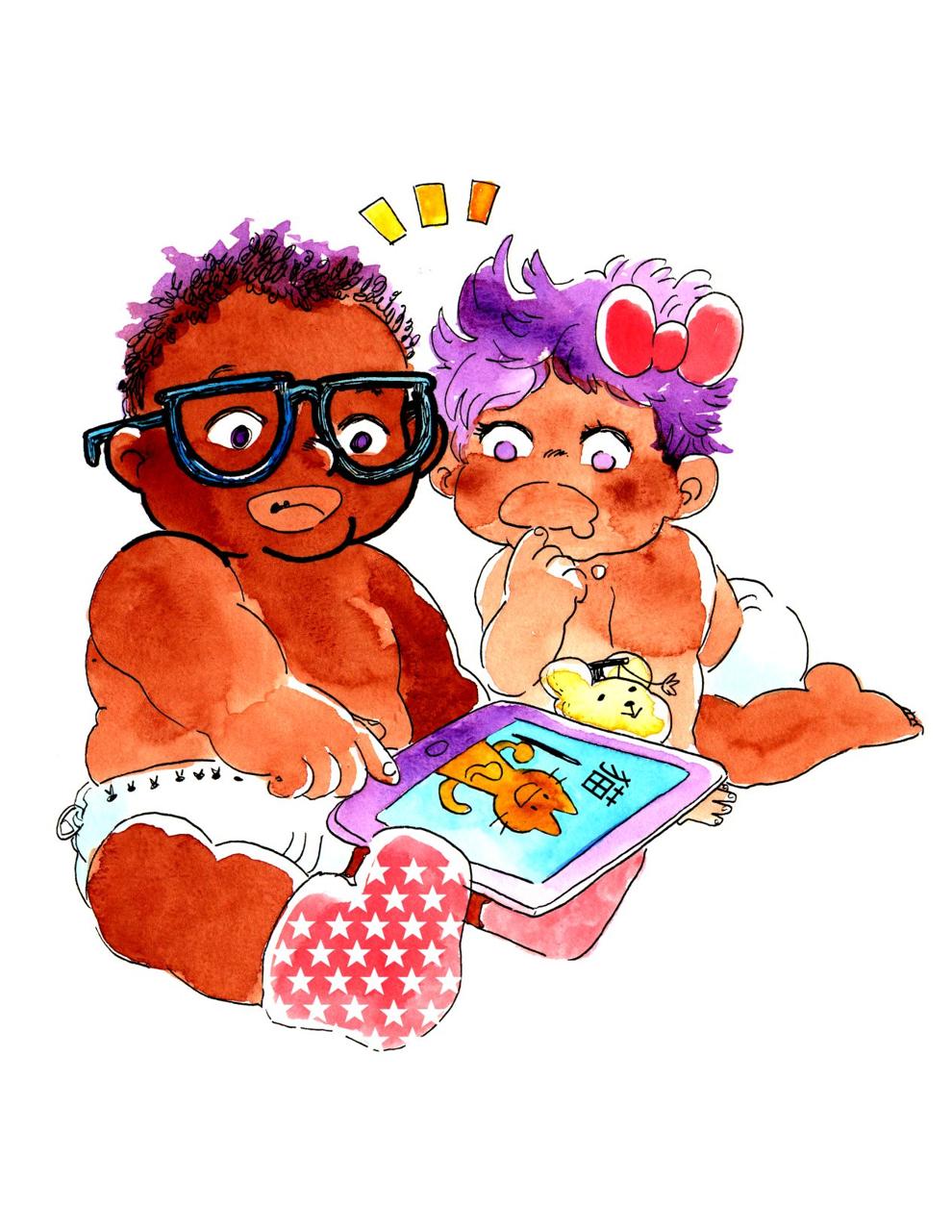 Not all scientists mix chemicals or analyze DNA. For one recent study, researchers from the UW and the University of Connecticut sat in a lab and watched babies crawl, drool, and interact with one another. These researchers recently published a study that analyzed infant language development.
In the study, 9-month-old babies raised in English-speaking households interacted with a touchscreen that played different Mandarin videos. By touching the screen, the child would activate a 20-second video, giving them exposure to a native Mandarin speaker.
Sarah Roseberry Lytle, director of the outreach and education division at the Institute for Learning & Brain Sciences; Patricia K. Kuhl, co-director of the UW Institute for Learning and Brain Sciences; and Adrian Garcia-Sierra, assistant professor of speech, language, and hearing sciences at the University of Connecticut spearheaded the study and proposed the hypothesis "that infant learning from a screen would be enhanced in the presence of a peer, as opposed to learning alone." Upon completion of the study, the researchers confirmed this hypothesis.
The scientists randomly assigned infants to either an "individual-learning condition" or a "paired-learning condition." Infants in the individual-learning condition interacted with the screen by themselves, while infants in the paired conditions played with the screen alongside another child.
The babies went into the lab for 12 sessions over four weeks. Each session was around 30 minutes, giving each infant about six hours of exposure to Mandarin at a critical time during their language development.
"When you are learning speech sounds, at first, your brain is using a lot of attentional resources and as you get better at it, your brain processes that information more efficiently and more fluently so the attentional demand's reduce," Garcia-Sierra said.
The results did not shock Garcia-Sierra, and Lytle explained that the babies who interacted with the screen by themselves still showed signs of learning the language. However, the babies who were paired with other babies demonstrated a higher level of understanding Mandarin.
"The kids who had just the interactive component, the one-baby group, showed us a brain response indicative of a very immature form of learning," Lytle said. "So almost as if they were giving us hints that they were starting to learn something, whereas the kids who had both the interactive experience and the social partner showed us a more mature evidence of learning neurologically."
To explain this phenomenon, Garcia-Sierra used the metaphor of learning tennis. In tennis, a beginner will go through training, learning how to serve and hit similarly to how an infant will begin to learn the foreign language. Once the tennis player is strong enough to compete, the instructor will have them play different opponents. The key aspect is that the player is playing a different person every time, so they do not get used to how one individual plays.
"The study is basically the same thing, but now we have put it to the level of babies and having them learn something way more complex than tennis, which is language," Garcia-Sierra said. "It is something that is not even in their linguistic atmosphere, which is Mandarin. So just by making them be with unique partners, that created a quick boosting in their learning curve."
While researchers conducted the study in labs with strict scientific regulations, the findings are applicable to everyday life for parents, teachers, and family members of young children.
"I think the power of social interactions is just unbelievable, especially with childrens' language learning, but we know that it extends to other domains as well," Lytle said. "I think the study has implications for teachers, parents, aunts, uncles, and neighbors in terms of thinking about how we can help kids learn — it's really by having those rich social interactions with them."
Although the study is over, Lytle is hopeful that the scientific community will continue to investigate the effect of technology on learning.
"I think the field has a way to go," Lytle said. "I think there is a lot of really rich research that can come with this and I hope there are people who are willing to do it."
Reach contributing writer Clara Kobashigawa at development@dailyuw.com. Twitter: @clarakobash
Like what you're reading? Support high-quality student journalism by donating here