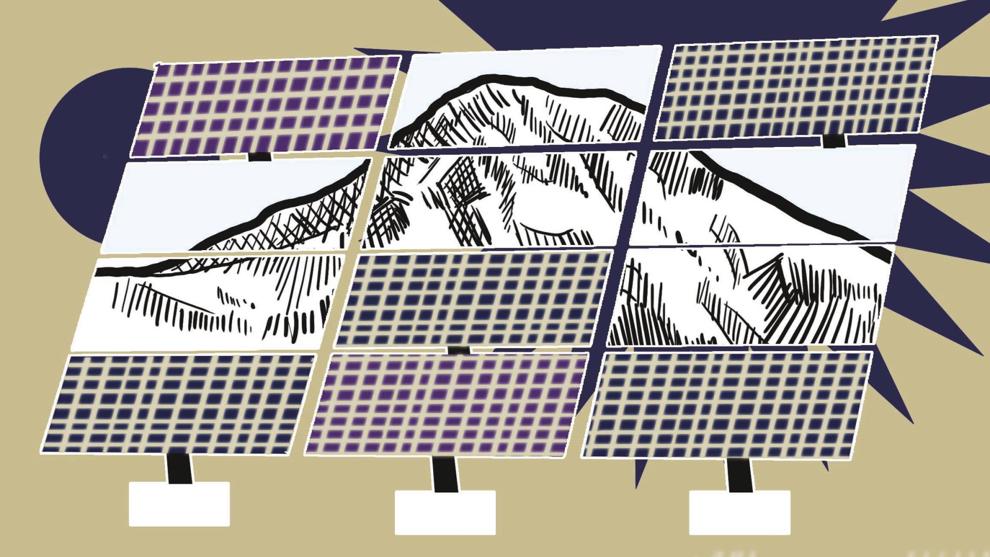 Disclaimer: Jared Silvia has written for The Daily.
The sun has been elusive this winter quarter, but that hasn't stopped UW researchers from advancing their solar projects. 
Two separate UW solar research projects received a combined $5.9 million from the U.S. Department of Energy's (DOE) Solar Energy Technologies Office (SETO) to develop solar technologies that will operate on personal to industrial scales.
The first project will be receiving $4.9 million and is led by electrical and computer engineering (ECE) assistant professor Brian Johnson. It is a large, multi-institutional project with the ambitious long-term goal of creating technology for an all-renewable-energy grid. 
"The grid of the future is going to be vastly different than the one we have today," Johnson said. "The one we have today is an electromechanical based system with lots of rotating, moving machinery, and the grid of the future is an electronics-based system."
 Johnson and his colleagues are designing the controllers for this electronics-based system, which ensure that the various forms of renewable energy will be able to connect to the grid and transfer power as a single system.
The DOE funding will be spread out over the next three years, and Johnson has three goals he hopes to accomplish by the end of that period.
The first objective is to build a scaled representation of a future energy grid in the basement of the ECE building. This will be a physical, functioning model that will give researchers a tangible idea of what a future grid would look like. 
The second is to create computer simulations. The only way researchers can test how a massive, countrywide power grid might function is in a virtual environment. 
The third goal is to use the data from the model and simulations to create new mathematical theories. The project's extreme ambitions have put it in an unknown realm of science and mathematics such that they don't help researchers tackle the most complex problems.
"The system of the future that I'm describing has so many unknown factors to it that we will have to develop new theories to understand how these systems behave," Johnson said. "We want to develop sophisticated mathematics so we can extract out of it design rules."
By accomplishing those three goals over the next three years, the groundwork will be laid for the ultimate, long-term objective of a fully-renewable power grid. 
The second project receiving $1 million from the DOE is BlueDot Photonics, a solar energy startup that began in the lab of UW chemistry professor Daniel Gamelin. 
BlueDot is working on a new type of solar cell using perovskites, which are a class of semiconductors. Most solar cells right now are made using silicon, but perovskites have shown promise as a more efficient option in recent years. The only issue has been the manufacturing process.
The most common method of making perovskite cells has been using solution processing, where the materials are made into an ink to coat the solar cell. BlueDot uses an alternate vapor deposition method where perovskites are heated into a gas, which condenses on the cell's surface. This is a simpler process that creates an even coat for a cheaper cost and is therefore more scalable overall.
Vapor deposition is also flexible so cells can be tailored to absorb different types of light for different applications. BlueDot CEO Jared Silvia said the possibilities for low-cost perovskite-based solar are far-reaching. 
"A whole lot of things just start opening up and becoming possible when you have very, very low cost solar power," Silvia said. "We could open up whole new avenues of applications that we don't even know of yet."
Perovskite cells weigh much less than silicon cells which, according to Silvia, would allow solar panels to be placed in areas with infrastructure that can't currently support solar. Or the cells could power things like high-altitude drones, which have a multitude of applications themselves.
"Some companies want to build global wireless internet using drones that hover above the surface of the Earth for two years," Silvia said. "What we can do if there was high-speed internet everywhere on our planet — who knows? It just changes the game."
But that will be in the future. In the next 18 months, Silvia simply hopes to create small working modules to attract investment and slowly scale up from there.
Both projects are confident they'll be able to develop the necessary technology to create a solar-powered future, but according to Johnson, politics and economics will ultimately decide the extent of renewable energy utilization.  
"But if the system does reach that point where it is based on almost 100% renewables," Johnson said. "We need to be prepared and have the technology available."
Reach contributing writer Spencer Kelly at science@dailyuw.com. Twitter: @spencerwkelly
Like what you're reading? Support high-quality student journalism bydonating here.