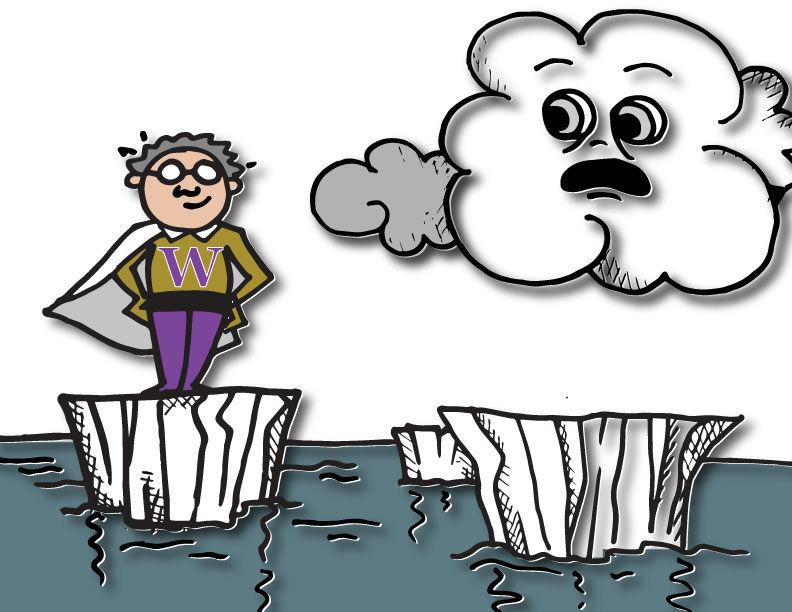 The UW has been a leader in research for many years with projects ranging from the Earth's core to the stars, spanning all seven continents and all five oceans. It receives over $160 million annually to conduct its research on climate, ecology, natural resource management, marine science, earth science, and space. Research and accurate reporting is vital to understanding the world and the climate as it is rapidly changing, and the effects this will have on daily lives. 
Four faculty, chosen for their expertise, were selected to play a role in the world's authoritative report on climate change.
Every few years, the United Nations' Intergovernmental Panel on Climate Change (IPCC) does a climate assessment report that looks at how the climate is changing. It gathers experts from around the world to collaborate on its sixth assessment report, which is expected to take about three years. The fifth assessment report, which was completed in 2014, had two UW science professors as lead authors. 
After receiving 2,585 expert nominations from 105 countries, the IPCC chose 721 experts from 90 countries based on their capabilities to become lead authors, coordinating lead authors, and review editors.
The IPCC is vital to inform our responses to climate change, and the four UW faculty members were chosen to either write or edit the sixth assessment report created by the IPCC.
"It's an honor," said Jeremy Hess, a lead author and an associate professor in the environmental and occupational health sciences department. "It feels gratifying. A little anxiety provoking because it is such a large undertaking, but I am excited. It's a great opportunity to work with scientists from all over the world."
Hess will be contributing to the chapter about "Health, wellbeing, and the changing structure of communities." 
Kyle Armour, an associate professor of oceanography and atmospheric sciences and another lead author from UW, is working on the chapter about "Earth's energy budget, climate feedbacks, and climate sensitivity." 
Both Richard Feely, a scientist at the National Oceanographic and Atmospheric Administration and an affiliate faculty member in oceanography, and Kristie Ebi, a professor of global health and of environmental and occupational health sciences, are review editors. Feely will be editing chapter five, "Global carbon and other biogeochemical cycles and feedbacks," and Ebi will be contributing to "Point of departure and key concepts" concerning climate change.
"It's a fascinating process," Ebi said. "The IPCC has led across a number of issues. It's impressive that they've been around for 30 years and they are still highly informed."
Ebi, who has been studying the environment for over 20 years, has a lot of experience with the IPCC. Her advice for students who are interested and passionate about the environment is to get involved.
"There are lots of opportunities to engage on campus and lots of courses to take at UW," Ebi said. "I know a lot of undergraduates work in labs. Seattle is a highly aware city, with lots of NGOs who are delighted to get student volunteers. It's important for students to inform themselves on the issues, so they can see what their interests are."
The IPCC is evaluating climate changes that are relevant to all parts of the world, including the Pacific Northwest.
"There have been changes in precipitation, the ecosystem, vector-borne disease risks," Hess said. "Many are affecting people in Washington. It's gotten warmer, which has impacts on long-term illnesses and wildfires. The ocean is acidifying. In 20 to 30 years, there will be substantial impacts."
The IPCC continues to make changes in the world as they publish their findings and analysis, publicizing the climate change updates and the real-world effects that those changes will have on everyday lives.
Reach contributing writer Rebecca Andrews at development@dailyuw.com. Twitter: @rla867