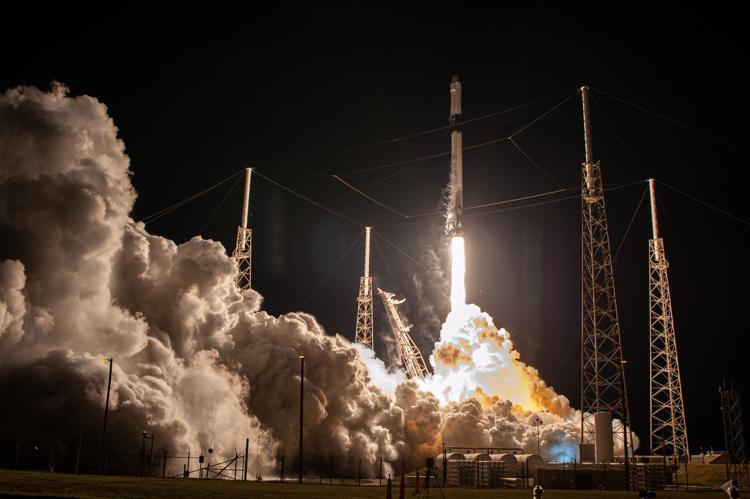 Engineered heart muscle tissues, contained inside a chip smaller than a cellphone, took a "splashdown" near Long Beach, California, on April 6 after its launch to the International Space Station (ISS) in a SpaceX CRS-20 rocket a month prior.
Mechanical engineering professor Nathan Sniadecki and graduate student Ty Higashi led the research study that is investigating the damaging effects of microgravity on the human heart. They soon expect to develop medications for space travelers to stay healthy outside the Earth's atmosphere.
"Using engineered heart tissues gives us a surrogate to the human heart," Sniadecki said. "They have very similar genetics and physiological environment[s] that would allow us to try different drug compounds for different treatments that might protect the heart during space travel."
The heart-on-a-chip mission is a part of the nationwide Tissue Chips in Space project, funded by the National Institute of Health (NIH) and National Aeronautics and Space Administration (NASA), that launches engineered organ tissues into zero gravity. Heart tissues are the second organ to be sent to the ISS by the UW, after the first launch of kidney tissues led by Dr. Edward Kelly and Dr. Jonathan Himmelfarb.
"There is a number of different body systems that are being sent up to the space station," Sniadecki said. "Altogether, you're kind of having a whole human body … without actually having to use humans for this."
The outer space environment is proven to be hostile to the human body. A NASA study, done with twin astronauts Scott and Mark Kelly, concluded that the influence of microgravity, radiation, and confinement accelerates the human aging process. 
Scott Kelly was chosen to live in space while his "control" brother stayed on Earth. When comparing the twins' cellular expressions a year later, the study found that Scott's health and physiology drastically declined.
Since the aging process is faster in microgravity, studying heart tissues in space not only gives insights on how to protect the heart health of astronauts, but can also speed up the development of cardiovascular treatments for people on Earth. 
Sniadecki, who was inspired by the twin study, split nearly 100 heart muscle tissues made from stem cells between the ISS and Earth. The heart tissues, each containing half a million cells, were kept in a fluid environment at body temperature to ensure that they received the same nutrients as tissues in the human body. 
"It's a cocktail of amino acid, vitamins, sugars, proteins, and a whole bunch of good yumminess for these cells," Sniadecki said. 
When the tissues were up in space, Sniadecki also received live data that monitored the speed and strength of heart tissue contraction from the space station. Although the results were only in the early stage, he noted that the tissues were "a little weaker" than those on Earth. 
To measure the contraction, each heart tissue was attached to a pair of magnetic pillars that move when the tissue creates a beat, Higashi explained.
As a life-long researcher in biomechanics, Sniadecki never expected to work on a project with NASA. He reminisced back to his childhood dream in science fiction and how his desire to create the "future reality" is actualizing in his current work. 
While understanding organ tissue behavior in microgravity gives opportunities to medicine and space travel, Sniadecki mentioned that it is also becoming possible for NASA to send people to Mars and, ultimately, achieve space colonization.
After a month-long wait for the tissues to return, the researchers are excited to bring the heart tissues back to the lab and find how they have changed in zero gravity. 
Reach reporter Anh Nguyen at science@dailyuw.com. Twitter: @thedailyanh
Like what you're reading? Support high-quality student journalism by donating here.