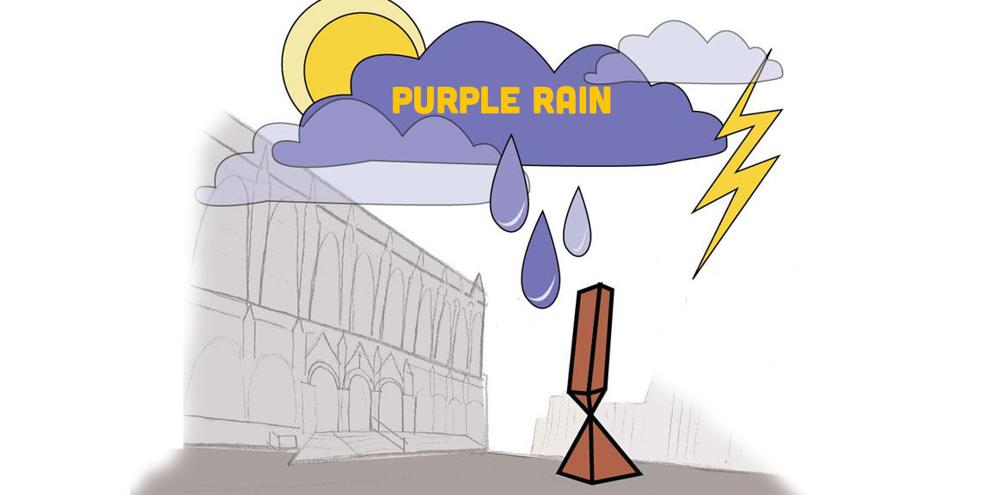 Editor's note: Purple Rain is a column that explores relevant weather topics in the Seattle region, highlighting research conducted by UW faculty.
It has been one month to the day since the UW made one of its first preventive measures against the coronavirus: moving to online instruction. 
Since then, Seattle has virtually shut down. Many people chose to work from home, which was later mandated by Gov. Jay Inslee's "Stay Home, Stay Healthy" order. With most people staying home, traffic volumes into Seattle sharply declined compared to February numbers: a 65% reduction on the I-90 bridge and 77% on SR 520.
The lack of vehicular traffic has not only cleared up traffic congestion, but also has improved air quality.
China, the initial epicenter of the outbreak and one of the world's worst polluters, was locked down months before the virus became a major issue in the United States. Since, satellites that monitor nitrogen dioxide, a pollutant emitted by combustion, noticed a sharp decrease in NO2 emissions over China within days of the lockdown commencing.
While the most well-known pollutant from automobiles is CO2, the largest greenhouse gas source, nitrogen dioxide is another pollutant. In fact, vehicles account for 53% of NOx emissions in Washington state. In terms of pollution, NOx and NO2 are often used interchangeably.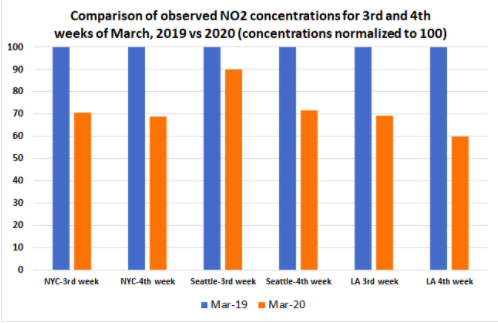 "Car traffic is only one source of pollution," atmospheric sciences professor Joel Thornton said. "It's not the only source, but a major source of nitrogen oxides. In a place like Seattle — automobile traffic, mostly diesel trucks, but for sure cars because there are a lot of them — transportation is the dominant source of NOx which leads to ozone and particulate matter."
According to UW Bothell chair of physical sciences Dan Jaffe, 15 million Americans live in places that do not meet the air quality standard for NO2.
"The reason nitrogen oxides are important pollutants is three reasons," Jaffe said. "They're directly a toxin at high levels, they are a major contributor to acid rain, and they are a major pollutant responsible for lower atmospheric ozone smog: the ozone that forms in cities that we breathe that's harmful to our lungs."
While COVID-19 cases in China have begun to decrease, the NO2 levels in China have again increased since the lockdown was lifted. In the United States, though, COVID-19 cases are still sharply rising and NO2 concentrations continue to fall.
This improvement in air quality coincides precisely with the reduction of vehicular traffic. Seattle Department of Transportation reported a 55% decrease in weekday traffic in March compared to February average. That same week saw NO2 concentrations average 16.4 parts per billion (ppb), down from a February average of 19.5 ppb.
While the air quality improvement since vehicle traffic declined in March is nearly instantaneous, if emissions return to normal, the NO2 concentrations will bounce back just as quickly as they declined.
"It is pretty much a day-to-day thing," Jaffe said. "Air pollutants generally have lifetimes in the atmosphere for days to weeks."
This is apparent in China, where pollution levels have returned to more typical values after residents were allowed to return to work. So, the long-term solution would be to pull cars off the road and for many people to continue working from home.
"If everybody in the Seattle area started working two days a week at home, our traffic problem would probably disappear," Jaffe said. "We don't have to take a huge number of cars off the road, it's that last 10 or 20% of the traffic that really causes you to have all these bottlenecks."
This is apparent in vehicular travel for the second week of March when people or companies were choosing to stay at home voluntarily. With traffic volumes down, NO2 concentrations in downtown Seattle declined 10% between February and March. 
Jaffe thinks this is a potential solution for not only traffic congestion, but for the environment, too.
"So if everyone figures out, 'Hey, now I know how to telework and I can actually do this two days a week,' our pollution levels would go down, our greenhouse gas emissions would go down, and traffic would get a lot better."
Reach reporter Anthony Edwards at science@dailyuw.com. Twitter: @edwardsanthonyb
Like what you're reading? Support high-quality student journalism by donating here.